LEGENDARY VOCALIST JOHN SCHLITT GUESTS ON TBN's PRAISE THE LORD CHRISTMAS SPECIAL
Legendary Vocalist Performs Songs From New CD,
The Christmas Project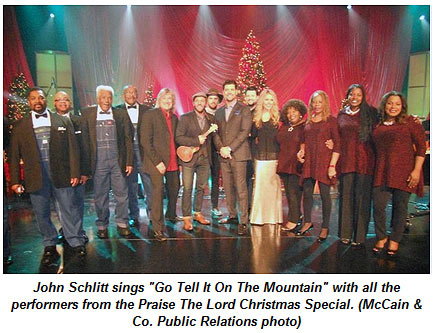 NEWS SOURCE: McCain & Co. PR
December 17, 2013
NASHVILLE, Tenn. (December 17, 2013) - Grammy and Dove Award-winning vocalist John Schlitt joins a cast of gospel music entertainers when he appears as a guest on Trinity Broadcasting Network's Praise The Lord Christmas Special, which airs at 7 to 9 p.m. P.T. Wednesday. The special, which was taped recently in front of an audience at the TBN studio in Nashville, features Schlitt performing "O Holy Night" and "We Three Kings" from his new CD, The Christmas Project.
"I was blessed that Jason Crabb and TBN opened their doors once again to allow me to share my music," Schlitt says. "They certainly know how to celebrate the birth of Christ."
Other guests on the show include singer/songwriter Andrew Greer, the four daughters of the late gospel singer/preacher Sam McCrary, known as the McCrary sisters, singer/songwriter Andrea Thomas and the legendary Fairfield Four, which has been existence for more than 90 years.
For the show's finale, all of the guests gathered to sing "Go Tell It On The Mountain."
For a list of stations airing Praise The Lord Christmas Special, visit tbn.org. To watch online, visit tbn.org/watch-us.
Schlitt recently released the video for "Little Drummer Boy," a song from The Christmas Project. The video, which was produced by Saylors Brothers Entertainment, has already garnered more than 90,000 views on YouTube. The video can be viewed on YouTube at youtube.com/DrummerBoy.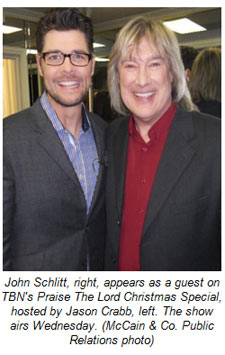 The Christmas Project, produced by Dan Needham (The Katinas, Everlife, Paul Wilbur), is Schlitt's first Christmas recording during his singing career. Two singles are currently playing at Christian radio: Schlitt's arrangement of "The Hallelujah Chorus" from Handel's "Messiah" at Rock and CHR-formatted stations, and "That Spirit of Christmas," a ballad made famous by Ray Charles, at AC-formatted stations. Schlitt co-wrote the CD's standout original tune, "What Christmas Needs to Be," with industry veteran Needham, who has worked on more than 40 Dove and Grammy Award-winning projects with the likes of Michael McDonald, Amy Grant, Michael W. Smith and Kenny Loggins.
The Christmas Project has already landed on several lists of new Christmas favorites, including About.com's Top Christian Christmas Music for 2013 list, (christianmusic.about.com/TopChristianMusicof2013) and BreatheCast's Top 12 Favorite New Christmas Worship Songs (breathecast.com/articles/favoriteChristmassongs), as well as garnering rave reviews.
"No Christmas song expresses worship with greater perspicuity than 'The Little Drummer Boy.' While many renditions offer a mawkish elevator style read, Schlitt's is one of the few versions that does justice to this ode of abandon worship. Just as the little boy plays his best for the king, Schlitt gives the King his voice in its fullest glory with all the range of emotions and nuances," says Breathecast.
"John Schlitt's first Christmas offering is the picture of a success," says NewReleaseTuesday. "...Definitely a Christmas release worth your ears this Christmas season, and Christmas seasons to come."
"Judging from the high quality of his latest release, it would seem that, just like true love and fond memories, the much-loved singer only gets better with time," says JesusFreakHideout.
To purchase The Christmas Project, visit schlittshop.com. For more information about The Christmas Project and Schlitt, visit johnwschlitt.com.
About The Christmas Project: The Christmas Project, Schlitt's first recorded project of Christmas music, released online November 19, with a brick and mortar retail store release to follow in 2014. The full-length CD is comprised primarily of beloved traditional Christmas carols, but that doesn't mean The Christmas Project is all egg nog and holly. This album rocks with the unmistakable John Schlitt style that legions of fans have come to know and love. The icing on the Christmas confection is an original tune, "What Christmas Needs to Be," which is destined to become a seasonal classic.
Schlitt launches The Christmas Project with what is arguably the greatest Christian song of all time, "The Hallelujah Chorus." While Handel's masterpiece has been interpreted by a multitude of musicians over the past 250 years, no one sings "hallelujah" like Schlitt. "The Hallelujah Chorus" transitions seamlessly into a guitar-driven, barn-burning version of "Do You Hear What I Hear." "Little Drummer Boy" gives Schlitt the freedom to explore his full range of vocal prowess, starting at a muted whisper before embracing his full-throttle, wailing rock roots while holding fast to the traditional melodies of the beloved carol.
Schlitt reins in his potent vocals for a gentle, reverent interpretation of "Oh Holy Night," then ratchets up the intensity on "God Rest Ye Merry Gentlemen," a rock-inflected fist-pumper that is guaranteed to get the listeners' blood flowing. The versatile vocalist shifts moods to one of pure fun with the funky Irish reel "Good Christian Men Rejoice," then slides comfortably into the mellow, bluesy "That Spirit of Christmas."
Melancholy keys and strings embellish Schlitt's emotion-laden vocals on the traditionally arranged "We Three Kings." The gently rocking "What Christmas Needs to Be" leads into the project's closing tune, the reflective "What Child Is This." "What Child Is This" provides the perfect foil for Schlitt's signature vocal stylings, allowing him to channel his passionate delivery through a filter of awe at the enormity of this central event in history.
Schlitt utilized the popular crowd funding platform Kickstarter to raise financial support for the new album.
To purchase The Christmas Project, visit schlittshop.com.
About John Schlitt:
For more than three decades, JohnSchlitt has enjoyed a stellar musical career as a solo artist, as the lead singer for Grammy Award-winning Christian band Petra, one of the most successful Christian rock bands of all time, and as the former lead singer for popular '70s mainstream rock band Head East. He has been inducted into the Gospel Music Hall of Fame as the lead singer of Petra during the years when the band won 10 Dove Awards and four Grammy Awards. Schlitt was named the best rock singer in Christian music history by GospelMusicChannel.com. According to the website, Schlitt "remains one of the most distinctive and impactful men to ever stand behind a microphone." Schlitt was also named Male Vocalist of the Year in About.com's 2011 Readers' Poll in a category that included Chris Tomlin, Jeremy Camp, Brandon Heath and Bebo Norman.
Since Schlitt released his fourth solo CD, The Greater Cause, in May 2012, the legendary vocalist's busy schedule has included appearances on The Mike Huckabee Show, 700 Club Interactive and the Faith & Freedom Celebration--the faith-based kick-off to the Republican National Convention, as well as extensive international touring.
For more information on Schlitt and The Christmas Project, visit johnwschlitt.com or follow him on Twitter (@johnwschlitt) or Facebook (facebook.com/johnwschlitt).
About TBN's Praise the Lord:
Praise the Lord, broadcast from Costa Mesa, Calif., is the only live, two-hour Christian program in the world. The program brings the highest caliber of guests from well-known celebrities to laypersons for interviews, as well as singers, musicians, evangelists and the coverage of revivals and crusades from around the world. This award winning program has been on each week night for more than 30 years. For more information, visit tbn.org.
- ### -
For more info on John Schlitt visit the JFH Artists Database.