TOOTH & NAIL RECORDS ANNOUNCES ADDITION TO THEIR ROSTER: NEW EMPIRE
GET THE BAND'S SONG "RELIGHT THE FIRE" AS A FREE TRACK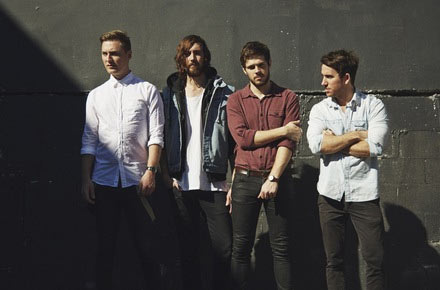 NEWS SOURCE: Merge PR
February 5, 2014
SEATTLE, WA. -February 05, 2014 -Tooth & Nail Records is proud to announce the addition to their acclaimed roster with the signing of Australian foursome New Empire. Hailing from Cronulla Beach in Sydney, Australia, New Empire is excited to take their music around the world. Celebrating their label signing, Tooth & Nail Records is giving away the band's song "Relight The Fire." Click here to get the single and watch the music video, which already has over 1 million views.
"We love to create music and sounds that listeners can get lost in and explore," shares frontman Jeremy Fowler. "We aim to create songs that encourage, inspire and can be a part of a persons journey through life. We know that partnering up with Tooth & Nail Records will be a great experience to help grow our fan base and share our music with new fans."
New Empire is Jeremy Fowler (Lead Vocals, Guitars, Piano), Nathan Cairns (Bass, Vocals), Kyle Lane (Lead Guitar) and Kale Kneale (Drums, Vocals). Before New Empire was born, Jeremy and Kale played together in High School as well as a hard rock band. They grew up with musical influences such as the Beach Boys, The Eagles, Fleetwood Mac, Toto The Beatles, as well as newer artists like Coldplay, Phoenix, Bon iver and Jonsi. New Empire aims to create songs and tell stories that are honest and add a sense of encouragement and hope to listeners. They want their music to become a soundtrack to people that makes a difference in their everyday journey.
The band will release their Tooth & Nail debut later this spring - release date TBA. Connect with New Empire and their journey by following them on Twitter (@NewEmpireBand) and on Facebook ( http://www.facebook.com/newempireband).
- ### -
About Tooth & Nail Records: What began in a bedroom over twenty years ago has grown organically to become the enthusiastic support system behind many of the most influential rock bands in history. From inception, Tooth & Nail Records Label founder Brandon Ebel quickly became immersed in a connected network of musicians, clubs, fanzines and promoters. Tooth & Nail Records has been the home to many staple and innovative artists including MxPx, Underoath, Anberlin, Norman Jean, mewithoutYou, MAE, Thousand Foot Krutch, Hawk Nelson, Haste the Day and The Chariot. Headquartered in Seattle, Tooth & Nail Records is the parent company to Solid State Records. Combined with Solid State Records, Tooth & Nail Records has released over 600 projects and sold more than 20 million records including multiple RIAA Gold-certified albums, GRAMMY® nominations and other prestigious honors. For more information visit www.toothandnail.com.
For more info on New Empire visit the JFH Artists Database.