GRAMMY-NOMINATED ARTIST DAVE BARNES KICKS OFF THE "GOLDEN DAYS TOUR" TO SUPPORT NEW ALBUM
Tour Hitting New York City, Washington, D.C., Chicago, Charlotte, & More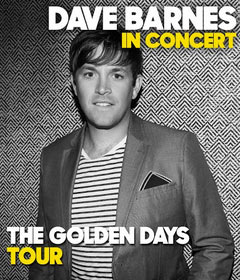 NEWS SOURCE: Merge PR
March 10, 2014
NASHVILLE, TENN. – 10 March 2014 – GRAMMY and CMA Award- nominated artist and songwriter Dave Barnes has announced select dates for his "Golden Days Tour." The tour is in support of his brand-new release, Golden Days (50 Year Plan Records), and will kick off March 30 and run through early May. Singer/songwriter Andy Davis is the supporting act for the tour. Tour dates are listed below.
Concertgoers will be able to hear some of their favorite Dave Barnes songs along with many of the new tunes found on Golden Days. One song guaranteed to be played at each show is "Good," the album's first radio single. A brand new music video for "Good" is out now, so be sure to view it here.
There's no question Barnes is ready to get back on the road, especially to share his new songs from his eighth album to date. "It's always so much fun to play shows after releasing a new album, and playing songs from Golden Days is going to be no exception," he shares. "I haven't played but a couple of these new songs live, and I can't wait to see how people respond, to see what songs translate - which songs resonate with people. We also decided to wait a couple of months before touring on the album in hopes that people will have some time to live with the songs so when they come to the shows, they know them better. It will be a lot of fun!"
GOLDEN DAYS TOUR DATES*
March 30 - The Kessler Theater, Dallas, TX
April 03 - Iron City, Birmingham, AL
April 04 - Red Clay Theatre, Duluth, GA
April 05 - The Neighborhood Theatre, Charlotte, NC
April 11 - The Hamilton, Washington, D.C.
April 12 - City Winery, New York City, NY
April 14 - World Cafe Live, Philadelphia, PA
April 26 - Bijou Theatre, Knoxville, TN
April 30 - Deluxe At Old National Center, Indianapolis, IN
May 01 - City Winery, Chicago, IL
May 02 - The Music Box, Minneapolis, MN
*All dates subject to change
ABOUT DAVE BARNES: When he first showed up on the music scene 12 years ago, Dave Barnes hit the college circuit with limitless energy and an equally unrestrained expectation for the future. Since then, this singer-songwriter has written and released numerous albums, played hundreds of cities each year and received GRAMMY® and CMA nominations for Blake Shelton's cut of his song "God Gave Me You." Barnes became a father and formed deeper relationships in the industry than his 23-year-old self could have dared hope.
Now, Barnes is in a season of both nostalgia and reality about what it means to be a traveling musician, and those reflections have become the life and breath of his latest release, Golden Days. "It tells a story of beginning something, where you are now and, as the season changes, the things you look back on," he explains.
# # #
For more info on Dave Barnes visit the JFH Artists Database.