JOHN MARK MCMILLAN'S BORDERLAND MAKES NO. 4 DEBUT ON CHRISTIAN ALBUM CHART
Album Continues To Receive Acclaim From Media And Fans

"Are We All Animals" Tour Kicks Off March 29
NEWS SOURCE: Merge PR
March 13, 2014
NASHVILLE, TENN. - March 13, 2014 - On March 4, critically-acclaimed singer/songwriter John Mark McMillan released his third album, Borderland. The LP debuted at No. 4 on Billboard's Top Christian Album chart and No. 41 on Billboard's Top 200 chart, marking it as his best debut release week to date. During street week, the album debuted at No. 1 on the iTunes Christian and Gospel chart and continued to hold a Top 15 slot in the iTunes Overall Albums chart. Borderland is McMillans' first independent project with his imprint Lionhawk Records.
Media and fans alike cannot get enough of McMillan's latest effort as acclaim continues to pour in. Relevant Magazine's March/April issue charges that "McMillan's voice is what grabs you - it hits deep and strong, rugged as an oak. On his new album, this voice is used to project your thoughts skyward, with songs overcome with heavenly emotion."
And according to Worship Leader, "Borderland is paradoxically restful-even in the midst of lyrical assault and cultural confrontation... At the center is God's enduring love and presence over our lives and times, His friendship, the one alone who gives context and meaning to a world off its hinges and hopelessly broken. In the tradition of classics like Orbison, Dylan, and Cash, McMillan arrests and captivates with timeless artistry." Read the full review here.
Borderland was funded solely by a successful Kickstarter campaign, with close to $70,000 raised and more than 1,500 contributors. A few of those Kickstarter supporters will be opening for McMillan's shows during his "Are We All Animals Tour" this spring. Kicking off on March 29 in Orlando, singer/songwriter Brady Toops will also open during select dates in the southeast. Official tour dates are listed below.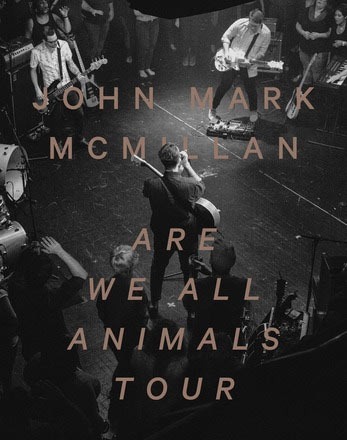 Are We All Animals Tour dates*:
3/29 Orlando, FL
3/30 Miami, FL
3/31 Bradenton, FL
4/02 Tallahassee, FL
4/03 Pensacola, FL
4/04 Monroe, GA
4/05 Rainbow City, AL
4/06 Oxford, MS
4/08 Nashville, TN
4/09 Campbellsville, KY
4/10 Knoxville, TN
4/20 Kalispell, MT
5/07 Richmond, VA
5/08 Vienna, VA
5/09 Manheim, PA
5/12 New York City, NY
6/20 Spokane, WA
*All tour dates subject to change
ABOUT Borderland:
To create the genre-bending Borderland, McMillan returned to the studio in rural North Carolina where he created much of his first two albums. He and producer Elijah Mosely spent a year out in the woods, an hour outside McMillan's native Charlotte, patiently and intensely crafting an album that would do justice to the songs that McMillan brought to the table. Dispensing with much of the folk and the rock n' roll that informed his earlier work, McMillan opened up his palette to include deep grooves and arena-filling sounds. Drawing inspiration from the likes of Peter Gabriel, Simple Minds and 80's era-Springsteen, McMillan and Mosley stripped the songs to their bare essence, building them back from the foundation one element at a time. As a result, every song exudes a kind of primal soul and raw swagger only matched by the studied strength of McMillan's voice.
As for the songwriting, Borderland borders on the literary. Full of metaphors that twist around themselves and images and adjectives that are at once both literal and figurative, McMillan bends words to his own devices. Religious imagery is pressed into service to describe the mundane while the mundane is often elevated to the ecstatic. "This album is about life between the crevices, about life on the verge," McMillan explains. "The literal concept of Borderland is that it's that space in between spaces...we all walk these lines between work and family, passion and responsibility, art and commerce. We all feel these pressures-and it's where I've been living as a person, as an artist and as a believer. I think Borderland speaks to my experience living in that thin space."
ABOUT JOHN MARK MCMILLAN:
In addition to the anticipation around Borderland, this Charlotte, North Carolina native's previous work continues with its own success. In 2012, the song "Seen A Darkness," from McMillan's last album Economy, was featured in the promo for ABC's "Grey's Anatomy" episode, "Hope for the Hopeless" (Season 8: Episode 12). His single "How He Loves" was recently listed by Integrity Music as one of the 25 most influential worship songs in the past 25 years and still today ranks on CCLI's Top 25 chart. John Mark McMillan is proud to be an ambassador for World Vision and an advocate for its work in Bahkari, India.
###
For more info on John Mark McMillan visit the JFH Artists Database.