Audrey Assad Releases Indie Film, O Happy Fault To iTunes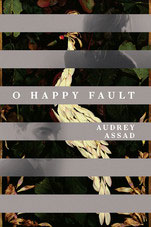 NEWS SOURCE: Jesusfreakhideout.com / Audrey Assad
April 4, 2014
Singer/songwriter Audrey Assad has just released a unique indie film titled O Happy Fault that she was able to put together with funds from her latest album Kickstarter campaign. According to the iTunes download page, the synopsis reads, ""O Happy Fault" is a visual meditation- story and song woven together into one rich, mature, and beautiful short film. Live concert footage from Audrey Assad and fictional narratives alternate in a prayerful rhythm. Songs performed include: I Shall Not Want, Humble, Lament, Lead Me On, and You Speak."
About the concept for the project, Audrey writes, "My husband, William Price, directed the concert film-and through a series of conversations we decided to go ahead and try something weird. What if, we wondered, through music and film, we could manage to create a reflection on some of the themes of the record without sticking to a traditional storyline? We decided to aim for a meditation in film and in music-so William wrote and directed a short film of sorts that ended up weaving in and out of the concert footage, creating what I hope is a unique and lovely experience, and one that leads each listener/viewer to a place of contemplation in his/her own heart."
Assad continues, "I think my husband probably had more than one anxious moment as he tried to meet my objectives for this project-I didn't want any dialogue. There are two storylines in the film and I didn't want them to intertwine at all. I didn't want a beginning, middle, and end or a traditional story arc. He was forced to be creative within the restraints I placed on him, and in the end I think he nailed that. The short film is painstakingly beautiful visually, and the way that he ended up having the film scored/spoken brought it to a place I was so happy with that I almost wished I could leave the concert footage out altogether! We were blessed with the help of some immensely talented friends-actors, producers, cinematographers, and musicians-and I am so proud of how they all did. Anyway, the film is out now-and I would be absolutely honored if you'd check it out. I hope and pray it is a respite in a busy world-a quiet forty five minutes amidst all the noise of life. Presenting O Happy Fault-directed and written by William Price III, produced by Identity Visuals, shot by Samuel Cowden, and executive produced by myself."
Check O Happy Fault, which released April 1st, on iTunes here
O Happy Fault was also released as an EP on March 18th.
###
For more info on Audrey Assad visit the JFH Artists Database.