Free sampler feat. Lecrae/Tenth Avenue North with The Overflow Devo Winter Jam Edition
The Overflow also offers Christian music's largest ever Bible devotional event with free music from Lecrae, Tenth Avenue North and other great artists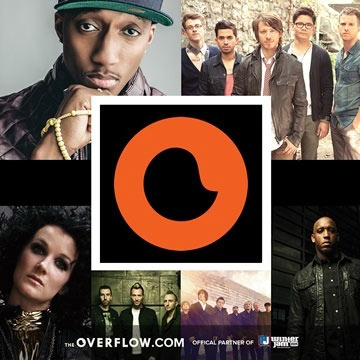 NEWS SOURCE: The Overflow
May 1, 2014
TheOverflow.com - soon to be the world's first Unlimited Christian music subscription streaming service, is excited to be partnering with Winter Jam - the World's Largest First Quarter Concert Tour, and YouVersion - the World's Largest Bible App to announce the May 1 release of 'The Overflow Devo: Winter Jam Edition'.
The Overflow Devo Winter Jam edition is an extension of the popular, free written and video devotional plan where Christian artists break down their songs in biblical terms. The Winter Jam Edition will feature Devos from Lecrae, Tenth Avenue North, The Newsboys, Plumb, TFK, NewSong, Derek Minor, Colton Dixon, Everfound, Love & The Outcome, and Evangelist Nick Hall from Pulse, representing Reset Movement. To complement the devotional, users can download an exclusive, free sampler of songs from Lecrae, Tenth Avenue North, Plumb, TFK, NewSong and Derek Minor.
"We're humbled to have seen over 1.3 million days of Bible engagement to-date through our partnership with YouVersion. Until we launch our US-based Christian music subscription service at a great everyday value, we're thrilled to offer our future users free music from these great artists" said Stephen Relph, Co-founder of TheOverflow.com. Users can start the Devo, access the free downloads, and sign-up for TheOverflow's future service at TheOverflow.com
"We're excited to partner with The Overflow on their devotional plans with YouVersion. We believe this initiative helps deepen the Winter Jam experience by bringing people closer to Christ - the true passion of Winter Jam" says Troy Van Liere, Winter Jam Tour Producer.
Aimed at bringing the Gospel to more students and young adults in the United States than ever before, Pulse Movement's Nick Hall says "The Overflow Devo on YouVersion is a great way to take next steps in your faith journey with Jesus, and get to know God's heart for the world".
Introduced in 2008 and with over 138 million downloads, YouVersion is the #1 rated Bible app and a completely free resource, offering hundreds of translations and more than 800 Bible Plans. "Our YouVersion community has really enjoyed devotionals from The Overflow, so we're excited to be able to add this new collection of plans. Combining text and video has proven to be a popular way for people to engage with God's Word daily," said Bobby Gruenewald, Pastor, Innovation Leader at LifeChurch.tv, which started the Bible App.
About TheOverflow.com
A Winter Jam 2014 Partner and YouVersion partner since September 2012, TheOverflow.com will soon launch the world's first subscription music service in the world. The Overflow will offer Unlimited Christian Music Anytime, Online or Offline. To join The Overflow's waiting list, go to TheOverflow.com/waiting-list. Follow TheOverflow: Twitter/Instagram @theoverflowapp, Facebook @theoverflowsite. For media enquiries, please contact info[at]theoverflow.com
About Winter Jam
Since creating Winter Jam in 1995, NewSong hosts and continues to oversee the exponential growth of Christian music's largest annual tour. Winter Jam has ranked as the World's Most Attended Tour on Pollstar's 1st Quarter Tour Rankings for 4 consecutive years. Through the years the Winter Jam Tour Spectacular has featured such defining artists as TobyMac, Skillet, Steven Curtis Chapman, Francesca Battistelli, Third Day, Jeremy Camp, Kari Jobe and David Crowder Band, among many others, and provides a powerful platform for the Gospel message across the country. Learn more at JamTour.com.
About YouVersion and the Bible App
YouVersion and the Bible App were created by a team at LifeChurch.tv in Edmond, Oklahoma, to help increase access and engagement with the Bible. Featuring over 800 versions for free in more than 500 languages, YouVersion was created to help people with busy, on-the-go lifestyles read the Bible at any time and in any place. The Bible app can be downloaded for free from all major app stores and at bible.com/app.
About Pulse and Reset:
Nick Hall is one of America's preeminent young evangelists. PULSE Movement, which he founded in 2006, is among the fastest growing youth evangelistic movements in the country today. Hall is also the Winter Jam Tour Spectacular's featured speaker-the world's top first quarter tour for four consecutive years-and is a partner evangelist with the Billy Graham Evangelistic Association (BGEA) and the Luis Palau Association through festivals and training events. For further information on the RESET Movement, including a complete list of events this year, visit www.resetmovement.com. Follow RESET on Twitter @resetmovement
###
For more info on Lecrae visit the JFH Artists Database.
For more info on Tenth Avenue North visit the JFH Artists Database.
For more info on Plumb visit the JFH Artists Database.
For more info on Newsong visit the JFH Artists Database.
For more info on Derek Minor visit the JFH Artists Database.
For more info on Thousand Foot Krutch visit the JFH Artists Database.