HillaryJane Aims To Make An Impact With Debut EP 'Stix and Stones' July 29th
HillaryJane releases "Chimneys" single + EP available for pre-order on
iTunes
for $2.99!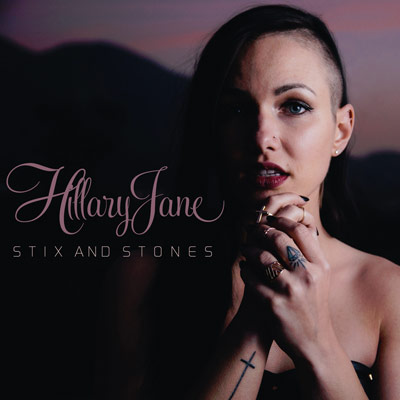 NEWS SOURCE: Infiltrate Music
June 13, 2014
San Diego, CA - 20 year old Houston artist, HillaryJane is excited to make a positive impact on popular culture through her debut EP, Stix and Stones. The project is counter cultural, promoting subject matter that doesn't base happiness on acquiring material things, and encourages people to be confident in who they are.
On the title track, HillaryJane addresses bullying - an issue most kids and young adults face. As a victim of bullying, she addressed this for personal closure, and to encourage others, while singing on the chorus, "Sticks and stones, may break bones, but words cannot define us."
The musical landscape of the project was produced entirely by Grammy and Dove Award winning duo 808XEliTE, who are known for producing for some of today's most buzz worthy Hip Hop and Reggae artists such as Lecrae, 2Chainz, Papa San, Meek Mill, and Andy Mineo.
"I love 808XEliTE's production, so when I had to chance to create and record with them in person, I was ecstatic. We created 6 songs together organically and that is missing in Hip Hop and R&B today." says HillaryJane. "I hope the final product feels cohesive and organic to everyone that listens."
HillaryJane's writing, vocal, and rapping abilities are really highlighted being that the 7 song EP contains only 1 featured artist and 1 track with a remixed version.
"I really wanted to offer people me, and not a project that stands on the shoulders of other artists." says HillaryJane. "But after we wrote and recorded the song "Celebrity", Thi'sl just popped into our heads." she adds.
"The only track not produced by 808xELiTE is by HXLY KXSS - this mysterious, unknown guy from Europe who recently released his very first produced song that landed on Hillsong United's The White Album (Remix Project)." says HillaryJane. "We reached out to him and he really wanted to remix the song "Shotgun", and so we end the project with something special from him."
Stix and Stones is available to pre-order from iTunes today, and you can also individually download the first single, "Chimneys". Chimneys is a song about not believing the lies that are pushed on you by society. Stix and Stones releases on July 29th at all digital retailers as well as physically, exclusively from Infiltrate Music's online store or HillaryJane's concert dates.
About Infiltrate Music
Infiltrate Music was founded in 2012 by Philip Rood and Chad Horton. Rood also founded Rapzilla.com in 2003 and grew it to be one of the most visited Hip Hop destinations online with over 200,000 unique visitors monthly. Horton is a 15 year music industry veteran specializing in online marketing and digital distribution. Infiltrate Music is home to Chicago native artist/producer, Skrip, teenage Las Vegas emcee/producer, KIDD, and Houston writer/singer/rapper HillaryJane.
###
Stix and Stones tracklisting:
1. Chimneys
2. Celebrity ft. Thi'sl
3. Wild Side
4. Shotgun
5. We Fight
6. Stix and Stones
7. Shotgun (HXLY KXSS remix)
Follow HillaryJane on Twitter, Facebook, and YouTube.