GOLDEN YOUTH RELEASE THE CABIN EP AND TOUR WITH U.S. ROYALTY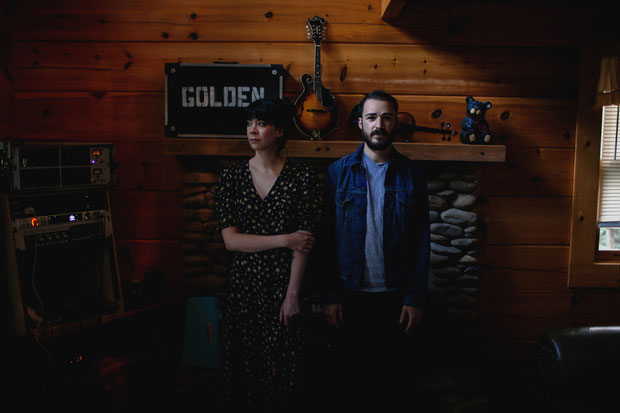 NEWS SOURCE: Slospeak PR
July 24, 2014
NASHVILLE, TN - JULY 25, 2014 - The indie songwriter collaboration, Golden Youth, will release their EP, The Cabin, via Slospeak Records on Tuesday July 29. As spring wrapped up earlier this year and summer crept in, Golden Youth headed to a secluded cabin in the Smoky Mountains to write and record. Surrounded by nature, Stephanie and Kyle immersed themselves in its beauty and inspiration. What they created is more honest and raw than ever.
The Cabin showcases the haunting melodies and unconventional instruments that Golden Youth is so known for. It's authentic and earthy and just the first of a three part EP series - all strategically created in innovative settings. They will begin touring the new music on July 30 as direct support for U.S Royalty, where a limited number of hand stamped physical copies will be available for sale.
Golden Youth focuses on orchestral instruments to convey their driving songs. From timpani's and vibraphones to flutes and celeste, they pair unconventional instruments to accompany their memorable melodies. Top that off with soaring female vocals and this EP will remain in your record collection for years to come. They've received attention and raving reviews from publications such as Nylon and Guitar World for past releases - and The Cabin will be no exception.
For more information, please visit:
Website: www.golden-youth.com
Facebook: www.facebook.com/ourgoldenyouth
Twitter: www.twitter.com/goldenyouthband
Instagram: goldenyouth
Youtube: www.youtube.com/goldenyouthmusic
Track Listing:
01. Tall Trees
02. Plans
03. Where's Your Heart Gone
04. Mountains
05. Stars Apart
Tour Dates:
07-30-2014 : BAR, New Haven, CT
07-31-2014 : MilkBoy Philly, Philadelphia, PA
08-01-2014 : Rough Trade NYC, Brooklyn, NY
08-09-2014 : The High Watt, Nashville, TN
08-10-2014 : Local 506, Chapel Hill, NC
08-14-2014 : The Basement, Columbus, OH
08-15-2014 : Mac's Bar, Lansing, MI
08-16-2014 : Club Cafe, Pittsburgh, PA
08-17-2014 : Strange Matter, Richmond, VA
###
For more info on Golden Youth visit the JFH Artists Database.