St. Louis Rapper Offers Young Adults a Platform to be Heard

Thiísl Partners with Local and National Media to Host Community Open Forum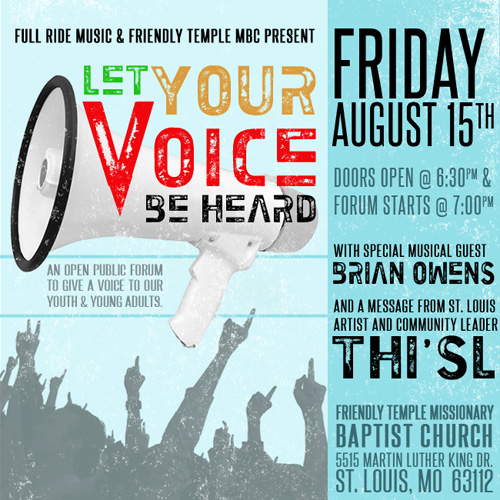 NEWS SOURCE: Gospel PR
August 14, 2014
St. Louis, MO-August 14, 2014-This Friday, August 15 at 7 p.m. the only forum held in St. Louis to give youth and young adults an opportunity to speak out about the Michael Brown case takes place at Friendly Temple Missionary Baptist Church (5515 Dr Martin Luther King Dr, St Louis, MO 63112).
"So many people are mocking protestors and young people who've reached their boiling point without seeking understanding. This is a chance for them to candidly and peacefully speak their mind," Thisl said.
St. Louis GRAMMY Award-winner, Thi'sl has partnered with national and local media to share interviews and opinions voiced from this open forum. Major hip-hop websites, including thesource.com, Rapzilla.com, Hip Hop DX, etc. have agreed to host a live-stream of the forum, cover the news on-site, or share interviews after the forum concludes.
# # #