THOUSAND FOOT KRUTCH, OXYGEN:INHALE 'FIRST PLAY' AVAILABLE ON ITUNES RADIO NOW
OXYGEN:INHALE RELEASES AUG. 26, ITUNES PRE-ORDER INCLUDES
INSTANT DOWNLOAD OF TRACKS "BORN THIS WAY," "UNTRAVELED ROAD"

HIT SINGLE "BORN THIS WAY" MARCHES UP RADIO CHARTS AS
"UNTRAVELED ROAD" REACHES NO. 2 ON ITUNES ROCK SONG SALES CHART

TFK BEST BUY CIRCULAR AD TO REACH 40 MILLION PEOPLE AUG. 24

BAND ANNOUNCES LIVE SIRIUSXM OCTANE CONCERT AUG. 25

NEWS SOURCE: Hoganson Media
August 19, 2014
Modern rock favorite THOUSAND FOOT KRUTCH will release its first new studio album in over two years, OXYGEN:INHALE, Aug. 26 with marketing, sales and distribution through The Fuel Music into all territories worldwide except Europe, where it releases through Hassle Records. Prior to the release of the highly anticipated recording, the band unleashes the entire album a week early for its fans through an exclusive 'First Play' on iTunes Radio: iTunesRadio.com/ThousandFootKrutch. Fans can also exclusively pre-order the album now through iTunes and receive the lead radio single and upcoming music video, "Born This Way," as well as "Untraveled Road," instantly with pre-order (iTunes.com/ThousandFootKrutch).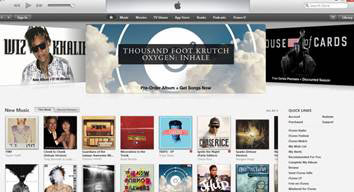 Already having hit No. 2 on the iTunes Rock Song sales chart and racking up more than 108,000 YouTube views and 3,200 likes, TFK frontman Trevor McNevan says, "'Untraveled Road' is about standing up for what you believe in. It's about not being afraid to take the first step, or be the first voice. It's about having the courage to be unashamed, and the faith you need to take a step before you can see the ground. The 'untraveled road' is symbolism for being at a crossroads, and having to decide which path you're going to take. Sometimes it takes everything."
"Born This Way," which has been heard on YouTube over 186,000 times, is a 'barn burner' of classic American rock n' roll by way of TFK's native Ontario roots. Premiered at Loudwire, the single is garnering steam at national outlets like SiriusXM Octane, Music choice and numerous other stations around the country. Already tearing up the charts, "Born This Way" broke into the Christian Top 30 at Rock even before the song's official add date and quickly became a Top 20 hit.
With upcoming featured performances and headlining positions on the summer festival circuit after performing at Rock on the Range, Rocklahoma and more for the last two consecutive years, TFK will deliver "Born This Way" and other new hits from OXYGEN:INHALE along with fan favorites while on the road. Prior to its fall headline tour that will be announced soon, the band is set to play a live concert at SiriusXM's Octane studios in New York City Aug. 25. TFK's first-ever live event with Octane, the band further takes over the programming for the national show that week, playing their personal favorite tracks from other rock artists alongside new music from OXYGEN:INHALE.
As radio, touring and digital retail heats up around the new TFK album release, big box retailer Best Buy readies its circular ad for OXYGEN:INHALE that will reach an estimated 40 million people.
Music fans are also chiming in, giving TFK more than 100, 5-star average reviews already on iTunes, while media critics further laud OXYGEN:INHALE. "True to their career track record, TFK sticks to their guns and compromises nothing on this album," says Music Underground as Music Is Immortal agrees in their 5-star review that "this album is arguably their best album yet." Evigshed Magazine says, "These guys know how to rock" while OnStage Magazine shares, "Thousand Foot Krutch set out to make an impassioned, raw rock album and with OXYGEN:INHALE they did just that…[they] have matured through their albums for the better, yet retain what made their previous works stupendous: powerful vocals, visceral lyrics and that potent rock sound."
The Ontario, Canada-bred TFK has been a continuously escalating highlight reel since their formation in 1997. Receiving over 2,000, 5-star average customer reviews on iTunes® alone for its 2012 independently released, SiriusXM Satellite Radio Octane-nominated "Epic Album of the Year," The End Is Where We Begin, the album went on to become the band's biggest ever selling mainstream album (hitting No. 14 on the Billboard Top 200) and spark five Active Rock radio hits ("Let The Sparks Fly," "War of Change," "Light Up The Sky," "Courtesy Call," "Fly on the Wall"), and two No. 1's at Christian radio ("War of Change," "Light Up The Sky"). Remarkably, in combined streaming of each song from the album, The End Is Where We Begin has been played over 215 million times over all of YouTube as TFK receives 310,000 daily views across YouTube.
With additional best-selling albums, Active Rock radio hits "Fire It Up," "Move" and "Phenomenon," plus a slew of soundtrack slots, the group has literally infiltrated every facet of pop culture. They continue to receive ongoing ESPN appearances, as well as various NASCAR, MLB, NHL, WWE, NCAA and NFL airings (including the 2010 Super Bowl), along with the "GI Joe" movie trailer, WGN-TV's "Smallville" and EA Sports' NHL 2010 and 2013 video games.
All the latest tour dates and additional band information can be found at www.thousandfootkrutch.com, http://twitter.com/officialtfk and www.facebook.com/thousandfootkrutch, where the band has over 1,026,000 likes.
About The Fuel Music
The Fuel Music & Management, LLC, is one of the leading independent distributors of music, CD's, tapes and vinyl records internationally and enjoys a growing base in artist merchandise sales. Based in Tennessee, the Fuel team brings nearly 50 years of combined music industry experience in record label operations (Furious? Records), record distribution and marketing (EMI Label Group), and artist management for artists ranging from upstart bands to Dove and GRAMMY Award nominated, multi-platinum artists. More information on the company can be found at www.thefuelmusic.com.
# # #
For more info on THOUSAND FOOT KRUTCH visit the JFH Artists Database.