BEC RECORDINGS WILL HOST FANZONE STAGE AT ROCK THE UNIVERSE

NEWS SOURCE: Merge PR
August 27, 2014
SEATTLE, WA -- August 27, 2014 -- BEC Recordings announce their exclusive Fanzone stage featuring five of their artists during Universal Orlando's Rock the Universe on September 5 and 6.
Artists that can be seen at this year's Rock the Universe include Rapture Ruckus, Manafest, 7eventh Time Down, All Things New and David Dunn. Click here for the complete schedule.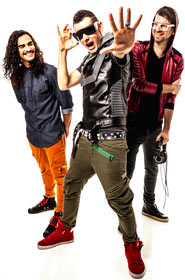 RAPTURE RUCKUS: Rapture Ruckus debuted in 2002 at New Zealand's Parachute Festival (one of the largest music festivals in the Southern Hemisphere) breaking the event's record for highest-selling new act. Rapture Ruckus has continued touring, supporting bands throughout North America, Europe, Africa and Asia. Already releasing three albums since their 2002 debut, and winning the 2007 New Zealand Music Award for Best Gospel Album, Rapture Ruckus released their music to the United States via BEC Recordings in 2010. The self-titled EP was nominated for a 2010 GMA Dove Award. Rapture Ruckus is Brad Dring (vocals, frontman), Mike Aitofi (keyboard, guitar) and Josh Stein (drums).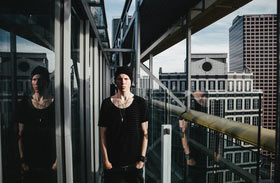 MANAFEST: Over the past decade, Chris Greenwood has used the moniker Manafest to organically build his fan base playing over 1000 shows on 4 continents. In 2012, Manafest released his fifth studio album, Fighter, which debuted in the Top 20 on the iTunes® Rock album chart at No. 16 and was the highest career debut for Manafest landing at No. 7 on the Billboard Heatseekers chart. Manafest spent weeks touring in Japan and China supporting the international release of Fighter where he debuted at No. 8 on the Japan iTunes chart. Fighter was nominated for a 2013 Dove Award. In 2013 he released his first book with the same title as his best-selling album Fighter. Touring worldwide Manafest has traveled to the United Kingdom, Ireland, New Zealand, Japan and United States. This summer Manafest released his sixth studio album The Moment.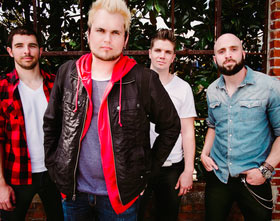 7EVENTH TIME DOWN: The Kentucky-based foursome has already garnered an enthusiastic army after their 2011 debut, Alive in You, on BEC Recordings. 7eventh Time Down is composed of Mikey Howard (vocals), Ciff Williams (bass), Eric Van Zant (guitar) and Austin Miller (drums). The band has toured with a long list of impressive artists, including Newsboys, for King & Country, KJ-52, Manafest, Fireflight and Stellar Kart, among others, and was recently a featured artist on Air 1's popular "Club Awesome Tour." Logging nearly 100 shows a year, the band members are true road warriors, carrying full production for their live shows since their earliest days together, handling everything from sound and lighting to stage set-up themselves. The band released their sophomore album Just Say Jesus in 2013 with the title track becoming a huge radio hit.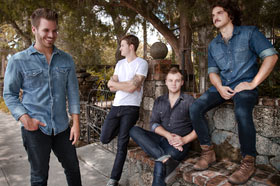 ALL THINGS NEW: Hailing from Deltona, Florida, All Things New is made of Garrett Hornbuckle (vocals), Jeff Stein (guitars), Luke Wycuff (drums), and Josh Schou (bass/guitars). On the surface, All Things New could be seen as a group of four longtime friends living out their dream and playing music across the country, but dig a little deeper and you'll find godly men who know all too much about broken homes, broken hearts, and broken faith. Although the members of this worshipful, contemporary, and often folksy Florida quartet could talk about their childhood like it was yesterday, the songs they write and sing on their self-titled debut album already contain the clarity of a hard-won life lesson: things break apart in this world, but God restores them and makes all things new. The band is currently working on their sophomore album.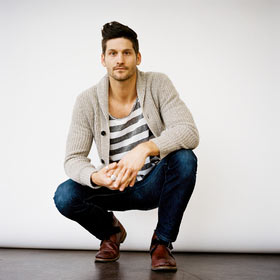 DAVID DUNN: BEC Recordings' is proud to officially announce a new signing to their roster family – David Dunn – with the release of his label debut EP Crystal Clear earlier this summer. Dunn's debut has been a long time coming as music had always been a hobby of his before he started pursuing it full-time. As a student at Texas Tech University, where he majored in engineering, he was an honors student who moonlighted as a singer/songwriter, playing the local acoustic scene in Lubbock. As David tweaked his sound and continued writing, it became increasingly clear that his engineering degree would remain unused. In addition to appearing on TV's "The Voice," his music was gaining traction with audiences in a major way, not always the easiest of feats for an independent artist.
- ### -
For more info on Manafest visit the JFH Artists Database.
For more info on Rapture Ruckus visit the JFH Artists Database.
For more info on David Dunn visit the JFH Artists Database.
For more info on All Things New visit the JFH Artists Database.
For more info on 7eventh Time Down visit the JFH Artists Database.