Worship Leader Shelly E. Johnson Releases New Album
'Your Kingdom Come'
Available Online and in Stores September 23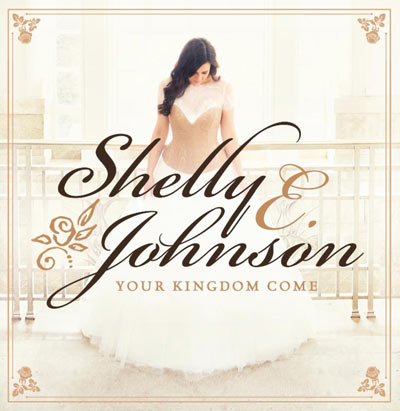 NEWS SOURCE: TKO Marketing
September 16, 2014
ATLANTA (September 16, 2014) - From Shelly E. Johnson, the writer of "Power of the Cross," comes the long-awaited album 'Your Kingdom Come' featuring new anthems of worship for His Church. 'Your Kingdom Come' is released by LifeWay Worship in partnership with Elevate Entertainment Distribution and is available in stores and online September 23.
"I truly believe God inspired me to write the songs on this album for such a time as this," said Johnson. "We are living in a unique time in history, and our culture is influencing the Church in many ways, both positive and negative. Throughout my travels and work in the local church, my eyes have been opened to some of the issues that are challenging our churches today. It breaks my heart to see the division these challenges are causing among the Body of Christ. God has used this to fuel a renewed passion in me to encourage unity and oneness among His people."
Featuring worship-filled ballads and uplifting lyrics, 'Your Kingdom Come' includes 12 fresh tracks penned by Johnson, Sean Hill, and Jason Dyba. The album is produced by Michael Farren.
"This album is a turning point in my life and ministry, and in many ways, has become the catalyst for the new work God is stirring in my heart," added Johnson. "My prayer is that these songs would spark courage in the hearts of listeners and worshippers, so that we can all live and thrive in the hope and Truth of the Gospel."
'Your Kingdom Come' Track List:
1. Kingdom Come
2. Sound of Heaven
3. You Deserve
4. Passion of our Hearts
5. He Is Good To Us
6. Power of the Cross
7. Love of Christ
8. Hallelujah to the King
9. We Bless Your Name
10. Church Arise
11. Open Hands
12. Overwhelmed
LINKS
Website: www.shellyejohnson.com
Facebook: www.facebook.com/shellyejohnson
Twitter & Instagram: @shellyejohnson
ABOUT SHELLY E. JOHNSON:
Worship music is not a career choice, it's a calling, and it's one that LifeWay Worship's 2012 Songwriter of the Year Shelly E. Johnson has embraced with joyful surrender. She has a gift for writing songs that can lift a congregation closer to the Throne, and a heart for serving God that makes her one of the most anointed young worship leaders of her generation. Most well-known for writing the powerful worship anthem "Power of the Cross," which has been recorded by Natalie Grant, Steve Green and is being used in churches worldwide, Shelly has served as worship leader alongside Beth Moore, Tony Nolan, Andy Stanley, toured North America with renown Irish Hymn-writers Keith and Kristyn Getty, and currently serves on staff as a worship leader at First Baptist Woodstock, a 15,000+ member multi-campus church north of Atlanta
- ### -