KATHRYN SCOTT RELEASES SING ON THE BATTLEFIELD TO CRITICAL ACCLAIM
Scott Visiting Select U.S. Cities This Fall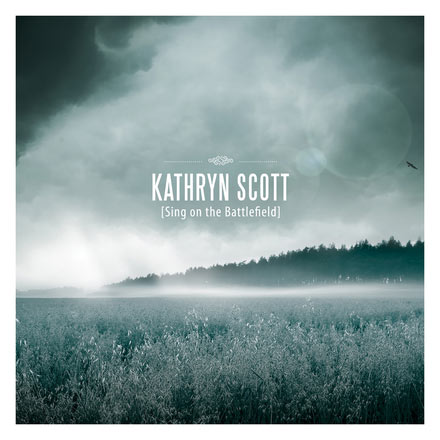 NEWS SOURCE: LW Communications
September 24, 2014
Nashville, Tenn. (September 24, 2014) - Respected worship leader and singer-songwriter Kathryn Scott released her first independent EP, Sing on the Battlefield (The Fuel Music), earlier this month to critical acclaim. A prolific writer, Scott participated in a blog tour during release week that found her guest blogging on a variety of high-profile websites, including WorshipLeader.com, MinistryTodayMag.com and TheSoundOpinion.com, among others. In addition, on street date, Scott hosted a live Q&A twice throughout the day with fans via Facebook and Twitter.
In anticipation of the EP's release, NewReleaseTuesday.com premiered a stream of Sing on the Battlefield in its entirety. Scott was also chosen as LouderThanTheMusic.com's "Artist of the Month" for September and interviewed by an array of media outlets, including JesusFreakHideout.com, Breathecast.com and TheWorshipCommunity.com, among others. Moreover, reviews of Sing on the Battlefield have been pouring in, emphasizing Scott's penchant for authentic songwriting:
"Sing on the Battlefield seems to be flawless. Kathryn's vocals are surprisingly silky and sweet, yet strong and soulful, giving variance to the songs found here." -NewReleaseTuesday.com
"Kathryn Scott's Sing on the Battlefield is an album that digs deep and delivers stirring tracks of worship. These are songs that acknowledge our struggles while not dwelling on them, instead doing what true worship is meant to do-looking into the face of our Savior and giving it all to Him…" -Soul-Audio.com
"This EP proves that Kathryn is a top-quality songwriter who knows how to mix great words with great music, without it feeling like we have heard those words and themes before (no easy task)… She has a voice that stirs the listener's soul." -LouderThanTheMusic.com
"There is an elegance to this collection of songs by Kathryn Scott." -AllAboutWorship.com
Additional upcoming coverage is slated for CCM Magazine, GospelMusic.org's "Full Circle with Andrew Greer" and WeAreWorship.com, among others.
The seven-track Sing on the Battlefield EP is available exclusively at all digital retailers, as well as on Scott's official website, www.kathrynscott.org. Scott is currently on tour in the U.S. in support of the new project. For a full list of tour dates and cities, visit www.kathrynscott.org.
ABOUT KATHRYN SCOTT
Known for penning popular worship anthems like "Hungry" and "At the Foot of the Cross," Kathryn Scott has earned respect from fellow artists and worshippers alike as an acclaimed songwriter. She studied theology at Elim Bible College in England and trained under acclaimed singer/songwriter/worship leader Brian Doerksen. She and her husband, Alan, currently reside in Ireland, where they are the senior pastors at Causeway Coast Vineyard Church, a congregation they helped to plant. Scott has released three full-length albums through Integrity Music (Satisfy, I Belong and We Still Believe) and released her debut independent EP, Sing on the Battlefield, September 9, 2014, via The Fuel Music.
ABOUT THE FUEL MUSIC
The Fuel Music & Management, LLC, is one of the leading independent distributors of music, CD's, tapes and vinyl records internationally and enjoys a growing base in artist merchandise sales. Based in Tennessee, the Fuel team brings nearly 50 years of combined music industry experience in record label operations (Furious? Records), record distribution and marketing (EMI Label Group), and artist management for artists ranging from upstart bands to Dove and GRAMMY Award nominated, multi-platinum artists. More information on the company can be found at www.thefuelmusic.com.
- ### -