VOTA Are Heading To Nepal
NEWS SOURCE: VOTA
October 6, 2014
VOTA launched the "Love Found Me" campaign in early 2013 and partnered with Tiny Hands International and Taylor University in an effort to help curb human trafficking from Nepal into India through the funding of border patrol stations. To date, the campaign has surpassed its initial goal of raising $150,000 to fund five border monitoring stations on the border of Nepal and India for five years. The stations will help prevent and estimated 3000 girls from being trafficked between the countries.
Today, October 6th, Bryan Olesen from VOTA and a team from Tiny Hands International leave for Nepal. They plan to visit one of the Nepali border stations funded by the campaign. "I'm humbled that God would use VOTA's music to help intercept girls from being sold into sex slavery." says Olesen. "I'm so grateful for all of our friends and fans that believed in this cause and were moved to support it. I'm looking forward to seeing the work we've helped support first hand and share that with everyone that helped support this campaign."
Taylor University sponsored a contest to offer the opportunity for one lucky VOTA fan to travel to Nepal with VOTA to witness the work of Tiny Hands International. We are excited to announce Sara Brunson from Greenville, South Carolina is the contest winner and will travel with VOTA and Tiny Hands to Nepal courtesy of Taylor University. We had a chance to visit with Sara and ask her about the upcoming trip to Nepal.
Congratulations Sara on winning a trip to Nepal this fall with VOTA and Tiny Hands International sponsored by Taylor University!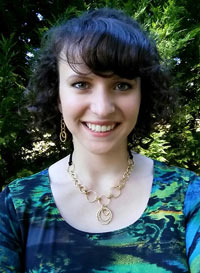 My name is Sara, I am a Sophomore at North Greenville University in Tigerville, SC and I am majoring Interdisciplinary Studies. I am studying Linguistics and Communications and, Lord willing, I plan on helping people in developing countries through literacy work and any other way the Lord may use me. I was actually already familiar with Tiny Hands International because a dear friend of mine had gone to Nepal to intern with Tiny Hands this past summer! Small world right? When I saw that the proceeds from the two albums would go to TH, I was happy to contribute to the cause.
How did you react when you first heard the news you were chosen to go to Nepal?
My poor roommate. When I read the email my heart leaped, but I was skeptical and I wouldn't let myself freak out until I knew for sure that it was "for real." After I talked with Bryan over the phone and realized it was "for real", I then went on for about two hours with a crazy grin on my face and continually stopped what I was doing to say, "What is going on?!", "God, what are you up to?" and "This is crazy!" Thankfully I was contained in my room for that time to calm down before I went out to tell my family and a few friends.
As you think about the upcoming trip to Nepal what are some of your thoughts, hopes and expectations for this trip?
To tell you the truth, I really don't know what to think. All I know is that God has an awesome plan set out for the Nepali people, and I can't wait to witness part of that plan first hand! I hope that the Love Found Me campaign and Tiny Hands will continue to raise awareness for this issue and more importantly inspire prayer and people willing to give their efforts for the lives of others. I know that the trip there and back will be a long one, to say the least, but the time spent there will be more than worth it.
Please pray for VOTA's upcoming trip to Nepal. To learn more about the Love Found Me campaign and download our latest album visit lovefoundme.org
- ### -
For more info on VOTA visit the JFH Artists Database.