Introducing Capitol Kids!

New Series Brings Christian Radio and Worship Songs To Kids; In Stores October 14th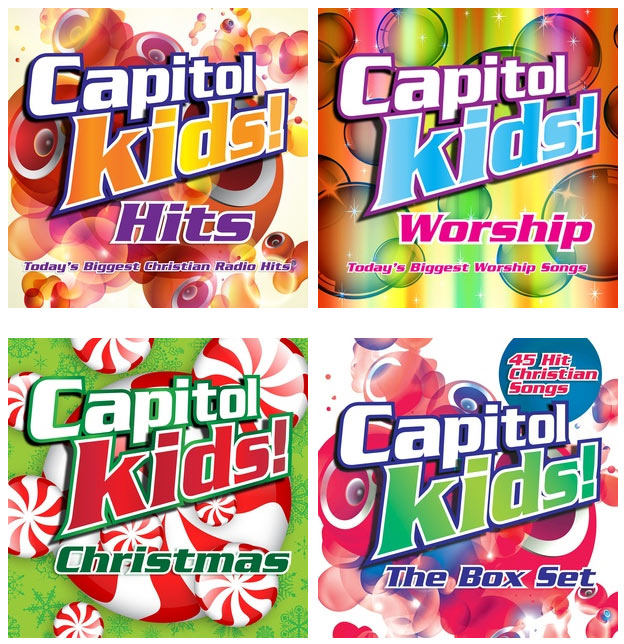 NEWS SOURCE: The M Collective
October 7, 2014
(Nashville, TN) October 7, 2014 - Bring the power of Christian music to your kids! Introducing the new series, Capitol Kids!, launched by Star Song Music, featuring the best in Christian music sung by kids. Whether it's radio hits, worship songs or Christmas music, kids will love these collections of music made just for them. Kids are already singing these songs in the car and at church, but now the songs are more accessible with the voices of their peers.
Capitol Kids! Hits features 15 radio hits heard on Christian radio stations around the country. Songs include No. 1 radio hits like "Hello, My Name Is," "Speak Life," and "We Believe."
Capitol Kids! Worship consists of 15 worship songs sung in churches around the world and spread the message of God's unending love. Songs include "10,000 Reasons (Bless The Lord)," "Mighty To Save," and "How Great is Our God."
Capitol Kids! Christmas features 15 classic Christmas carols and originals songs that kids will love. Songs include Christmas favorites with fun arrangements like "Jingle Bells," "Joy To The World (Unspeakable Joy)," and "The First Noel."
15 songs not enough? All 3 albums are packaged together in Capitol Kids! The Box Set!
Get a sneak peek at Capitol Kids!, releasing October 14th here.
Capitol Kids! Hits
1. Hello, My Name Is
2. Overcomer
3. God's Not Dead (Like A Lion)
4. This Is Amazing Grace
5. Gold
6. We Believe
7. Hold Me
8. Me Without You
9. Good Morning
10. We Are Brave
11. I Am
12. Oceans (Where Feet May Fail)
13. Waterfall
14. Write Your Story
15. Speak Life

Capitol Kids! Worship
1. Your Love Never Fails
2. Happy Day
3. Alive
4. Your Grace Is Enough
5. 10,000 Reasons (Bless The Lord)
6. Everlasting God
7. Blessed Be Your Name
8. Trading My Sorrows
9. Our God
10. Cornerstone
11. Wake
12. One Thing Remains (Your Love Never Fails)
13. How Great Is Our God
14. Mighty To Save
15. You Never Let Go

Capitol Kids! Christmas
1. Jingle Bells
2. Deck The Halls
3. 12 Days Of Christmas
4. Born Is The King (It's Christmas)
5. Joy To The World (Unspeakable Joy)
6. It's Christmas
7. Angels We Have Heard On High
8. Away In A Manger
9. Hark! The Herald Angels Sing
10. The First Noel
11. Do You Hear What I Hear
12. Somebody's Angel
13. O Holy Night
14. Go, Tell It On The Mountain
15. O Come, All Ye Faithful

About Star Song Music & Capitol CMG Label Group:
Brentwood, Tennessee-based Star Song Music is an imprint of Capitol CMG Label Group. Capitol CMG Label Group is made up of several different label imprints. Sparrow, Forefront and Credential Recordings are the proprietary labels under the group's umbrella as well as partnership imprints with sixstepsrecords and Hillsong. The Label Group's reputation is best known for the numerous artist development success stories that have taken place over the past three decades which have been launched and nurtured by this extraordinary team. Capitol CMG Label Group is the market leader in the Christian Music genre at both radio and retail. The Label Group is a division of Capitol Christian Music Group. For further information, please visit www.capitolchristianmusicgroup.com.
- ### -