New Book: I'm Happy for You (Sort of . . . Not Really) Out May 5

THE LOST ART OF CONTENTMENT
Finding Joy in a Comparison-Driven Culture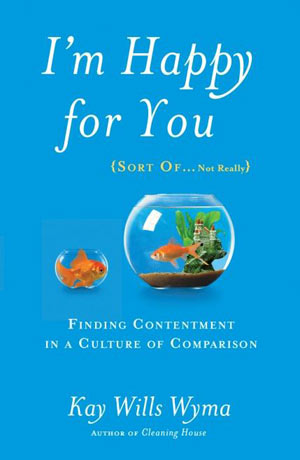 NEWS SOURCE: Lovell/Fairchild
April 2, 2015
DALLAS - April 2, 2015 - Contrast this: Facebook in 2013 reports 1.23 billion monthly active users. Berlin's Humbolt University research, meanwhile, shows how many of those users run into "envy, leaving them feeling lonely, frustrated or angry."
Take a deep breath and slowly set down that smartphone, says Kay Wills Wyma, author of the new I'm Happy for You (Sort Of . . . Not Really): Finding Contentment in a Culture of Comparison (WaterBrook Press, May 5, 2015).
When virtually every moment is spun into an online milestone, cropped and filtered to perfection, it's easy to fall headfirst into the comparison trap.
Now the popular blogger, speaker and author asks the timely and thought-provoking question: "Is it possible to have peace in the midst of relentless pressures to compare?" And her answer comes in candid and often humorous accounts from her life as a mother of five.
Kay witnesses firsthand how comparison, whether in a business meeting or the carpool lane, can steal joy and replace it with a spirit of competition and discontent. With wit and sincerity, Wyma - alongside fellow sojourners honestly sharing their own stories in a fishbowl world - reminds us that contentment can come when we do things like:
Accept, embrace, and do our best rather than fighting to be the best.
Choose to see the beauty in every human being . . . including ourselves.
Shift our focus from what could be to what is - opening a door to extraordinary joy in our ordinary days.

Ultimately the contentment key is learning to celebrate someone else's success. That's as simple-or as difficult-as saying, "I'm happy for you," Wyma says, and really meaning it. I'm Happy for You (Sort Of…Not Really) is a breath of fresh air for every person who feels stifled by the fog of life's constant worries that they just aren't measuring up. Readers love Wyma's laugh-out-loud, straightforward writing style as she shows that contentment comes when we "peel our thoughts away from self-absorption to see those with whom we share life. And not simply see them but fully embrace our life with instead of against each other." Praise for I'm Happy for You (Sort Of . . . Not Really)
"Kay Wyma hit a home run on the Focus on the Family radio program when she talked about ways moms can combat the entitlement mentality in their kids. In her new book, she scores another hit with an insightful discussion on the pitfalls of comparing your life to others, especially through social media. Her advice is timely and relevant." -Jim Daly, president of Focus on the Family
"The pursuit of bigger, better, newer, and more never stops. With a compelling lilt, Kay Wills Wyma's pen pulls us along only to expose and confront our comparison battle. From one co-struggler to another, Kay brings us perspective and relief." -Dr. Michael Easley, former president of Moody Bible Institute; teaching pastor; host of Michael Easley in Context
"Kay Wills Wyma once again champions a much-needed culture shift-with heartfelt insight she challenges us to choose contentment over comparison. I'm Happy for You gently exposes the growing obsession with self-promotion and one-upmanship that's wearing us all out and, thankfully, offers wise solutions." -Tracey Eyster, author of Be the Mom and Beautiful Mess
"With both cultural relevance and biblical foundation, Kay Wills Wyma accurately defines the comparison problem and offers a solution. I'm Happy for You is a must-read for anyone caught in the comparison trap."-Joshua Becker, founder of Becoming Minimalist

ABOUT THE AUTHOR
Kay Wills Wyma, author, blogger and speaker, has five kids, ages 7 to 18, and one SUV with a lot of carpool miles. Before transitioning to stay-at-home mom, she held positions at the White House, The Staubach Company and Bank of America. In 2012, Wyma courageously tackled youth entitlement in her first book, Cleaning House: A Mom's 12-Month Experiment to Rid Her Home of Youth Entitlement (WaterBrook Press, May 8, 2012). She has been featured on The TODAY Show, CNN-HLN, the Glenn Beck Show, and Focus on the Family, among many others. Kay attended Baylor University and the Thunderbird School of Global Management. She and her husband, Jon, live in Dallas.

- ### -