JOHN WALLER UNLEASHES "CRAZY FAITH" RADIO SINGLE, A FEATURED SONG IN THE WAR ROOM MOVIE
Crazy Faith, New John Waller Album, Releases TODAY Through
City of Peace Media, Capitol Christian Distribution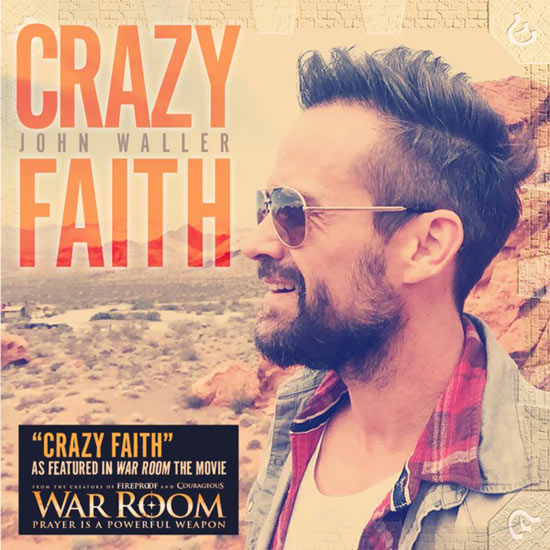 NEWS SOURCE: Hoganson Media
August 21, 2015
Recording artist and songwriter John Waller unleashes "Crazy Faith" as the first single and video from his fourth full-length album, Crazy Faith, which releases today (Aug. 21) to digital and physical retailers everywhere through City of Peace Media and Capitol Christian Distribution. Already garnering acclaim from radio programmers, fellow artists and more, plus receiving more than 20,000 views of the single's music video at https://www.youtube.com/watch?v=J3I9TVikxUE, the album's title track is further featured in the theatrical release, War Room.
The highly-anticipated fifth film from Alex and Stephen Kendrick, the award-winning creators of Fireproof, Courageous and Facing the Giants, War Room will debut in theaters nation-wide through Sony Pictures Entertainment's TriStar Pictures August 28. Prior to the movie debut, Waller performed "Crazy Faith," as well as walked the Red Carpet along with the Kendrick brothers, at the movie'spremiere in Atlanta, GA yesterday.
"I knew when I heard 'Crazy Faith' it would be the perfect song for War Room and would inspire people all over the nation!" exclaims Alex Kendrick as he prepares for the movie debut.
In addition to the film, "Crazy Faith" is gathering significant attention at radio.
"John Waller's song 'Crazy Faith' hits home with those moments in our lives where we've have had to make that leap of faith and trust God," says Rob Langer of "The Morning Cruise" on The Joy FM (Atlanta.) "John's awesome lyrics reaffirm that God is always with us when He calls us out of our comfort zone! It truly takes that 'Crazy Faith' in Him!"
"John Waller's brilliantly catchy song, 'Crazy Faith,' calls us to more than just placing our trust in what is easy to believe, but to a level of faith in Jesus the world might call 'crazy'!" adds Centricity recording artist, Aaron Shust.
Bill Lurwick, program director of Christian Music Broadcasters (CMB) Small Market Station of the Year WKNZ 88.7 The Bridge (Milford, DE), goes on to say that other radio programmers that haven't already added "Crazy Faith" to rotation, will, after seeing War Room, think to themselves, "That John Waller song 'Crazy Faith' from the movie is stuck in my head. Like big time. Why didn't I add it earlier when I had the chance, and all my cume that's now seeing the movie would remember that they first heard it on our station?"
Playing the new single and other music from Crazy Faith while on tour, as well as performing fan favorites like "While I'm Waiting" and "As for Me and My House," songs he wrote that are featured in the hit movies Fireproof and Courageous respectively, Waller will also give away tickets to War Room during select tour dates this month.
Waller's touring includes recent stops in Dothan, AL 8/18 (WIZB Radio), Jacksonville, FL 8/19 ("Brown Bag" event with WMUV FM 100.7 / WSOS FM 94.1 The Promise), Brunswick, GA 8/19 (WAYR-FM "Way Radio" 90.7 FM), Waycross, GA 8/19 (The Lighthouse WECC FM 89.3) and Atlanta, GA 8/20 (WVFJ "The JOY FM"). Today, Waller will be in Augusta, GA 8/21 (88.3 WAFJ) followed by events in Spartanburg, SC 8/23 (Eastside Baptist), Greenville, SC 8/23 (Rocky Creek Church), Greenville, SC 8/24 (His Radio), Winston-Salem 8/24 (WBFJ and Reynolda Church), Asheville, NC 8/25 (WMIT "The Light") and more. For all the latest tour news, go to johnwalleronline.com. (Current tour dates are also listed below.)
From his early days leading the critically acclaimed band, According to John, to his impactful ministry as a solo artist, John Waller has continually used his gifts as a singer and songwriter to inspire, educate and encourage the body of Christ. Waller continues to articulate what it means to live a God-centered life in a turbulent world with "Crazy Faith."
Faith is the key inspiration for all new and original songs on Waller's upcoming album, Crazy Faith. His first new album in four years, the recording features not only the title track, but the compelling anthems "I Know My God" and "The Orphan Song," as well as live bonus tracks of "While I'm Waiting" and "As For Me And My House."
About John Waller
Georgia native John Waller first caught the attention of the Christian music community as frontman for the band, According to John. When the group disbanded, Waller and his wife Josee moved to Colorado where they helped launch Southlink Church. Though he had given up his aspirations as a recording artist, he began writing songs at Southlink that led to a new chapter in his ministry and signing a record deal with Beach Street Records/Provident Music Group. His major label solo debut, The Blessing, introduced a wider audience to Waller's music, earning a Top 10 "Faces to Watch" nod by Billboard (2007). He followed his debut with While I'm Waiting, which included the poignant title track featured in Fireproof. The music video to the title track of his most recent album on City of Peace Media, As For Me and My House (2011), has received over 2.5 million views on Youtube to date. With the release of Crazy Faith this summer, the next chapter for Waller is about to begin. Waller currently resides with his wife and nine children in Atlanta.
For more information on John Waller and his touring, visit johnwalleronline.com or contact management at The Crossover Group, www.thecrossovergroup.com, or jack@thecrossovergroup.com.
John Waller Upcoming Radio Stops/Events:
21-Aug 88.3 WAFJ Augusta, GA
24-Aug His Radio Greenville, SC
24-Aug WBFJ FM Winston-Salem, NC
25-Aug WMIT "The Light" Asheville, NC
09-Sep Momentum Orlando, FL


John Waller Tour Dates:

21-Aug First Baptist North Augusta North Augusta, SC
23-Aug East side Baptist, Presented By Cross Intl Spartanburg, SC
23-Aug Rocky Creek Church ,Presented By Cross Intl Greenville, SC
24-Aug Reynolda Church, Presented By Cross Intl Winston-Salem, NC
26-Aug Burning Bush Baptist, Presented By Cross Intl Ringgold, GA
12-Sep New Hope Church Harrisburg, PA
20-Sep Roswell Banquet. Roswell, NM
06-Oct Honor Event Wilmington, NC
13-Oct Honor Event Roanoke, VA
14-Oct Honor Event Lynchburg, VA
15-Oct Honor Event Chesterfield, VA
26-Oct Honor Event Athens, GA
26-Oct Honor Event Anderson, SC
27-Oct Rocky Creek Church Greenville, SC
29-Oct Honor Event Owensboro, KY
29-Oct Honor Event Bowling Green, KY
06-Nov Tba Jacksonville, IL

* Tour dates and radio stops subject to change
About City of Peace Media and City of Peace Films:
The primary focus of City of Peace Media and City of Peace Films is to provide a framework where music, films and video with "redeeming value" can be developed, produced and distributed worldwide, bringing a message of hope, love and encouragement to this generation.
City of Peace Media is home to video award nominated and winning artists such as John Waller, who as an artist has been cumulatively streamed nearly ten million times on YouTube, and Sean Spicer, winner of Canada's GMA Covenant Award in the category of Best Instrumental Album. The City of Peace Worship line of music has reached millions, leading with the internationally acclaimed albums Adonai and Elohim. City of Peace Films is also home to the recent theatrical release of the major motion picture, The Identical (Ray Liotta, Ashley Judd), winner of the 2014 Nashville Film Festival (one of America's oldest and more popular in the Southeast).
The label's seasoned leadership includes Founder and CEO Yochanan Marcellino, the son of legendary Motown A&R producer Jerry Marcellino (Michael Jackson, Diana Ross &The Supremes, Lionel Richie & the Commodores and Smokey Robinson). Yochanan was the founder of FM Management; managing such artists as Kerry Livgren of Kansas (Dust in the Wind), Cindy Birdsong of the Supremes, Kyle Henderson of the Producers and John Waller, who has featured songs in the Fireproof, Courageous and War Room motion pictures and soundtracks. Marcellino also founded several successful record labels over his 40-year career, including Kerygma Records/Bright Star Records, City of Peace Media and its affiliates, and most recently, Identical Production Company (The Identical motion picture). Marcellino has released over 70 major music projects worldwide through his record labels and has led key divisions of several other music companies.
Record industry veteran, Don Noes serves as COO, with more than 30 years of retail marketing and music industry experience. The last two decades found Noes as SVP, Sales and Distribution, overseeing the launch and growth of Provident /Sony Music Distribution, distributing major artists such as Jars of Clay, Michael W. Smith, Third Day, Casting Crowns and Mercy Me.
City of Peace Media and City of Peace Films includes, but is not limited to, the following list of creative services: major physical and digital distribution, record production, artist management, artist development, music publishing, song development, art direction, graphic design, website development, music video production, motion picture film production and film development. City of Peace Media also consults in the following strategic areas: marketing plan development, public relations planning, radio promotion, publicity, advertising, touring and name branding. (http://cityofpeace.com/)
About Capitol Christian Distribution:
Capitol Christian Distribution is the market leader Christian and Gospel music distribution and represents a diverse range of chart topping Christian films and books reaching the US Christian and general retail marketplace, and the international Christian marketplace. Since this distribution division was launched, Capitol Christian has had more charting titles annually on Billboard's Top Christian charts than any other Christian distributor and has been named Billboard Magazine's Top Christian Music Distributor 15 times since 1995.
In addition to distributing Capitol Christian Music Group's fully-owned labels, which include Sparrow, ForeFront, and Credential imprints, as well as Motown Gospel and Worship Together, Capitol Christian Distribution has exclusive distribution agreements with Centricity Records, City on A Hill, City of Peace Media, Difference Media, Dream Records, Gaither Music Group, Green Hill Productions, Inpop, Hillsong, sixsteps records, Sonoma Music, Maranatha! Music, North Point Music, Spring Hill Music Group, Troubadour for the Lord, Universal Music Group, VSR Music Group, Advent Film Group, Alchemy, Anchor Bay Entertainment/Starz, Cinedigm Entertainment, City of Peace Films, Creative Trust Media, Getty Music, Goose Creek Productions, Friends Media, For Our Fathers Films, Foreshadow Productions, Glorious Films, Guardian Studios/Bananas, Jason Campbell Films, Jellyfish Labs, Ocean Avenue Entertainment, Pure Flix Entertainment, Vertical Praise Productions, Wanderlust Productions, Whitestone Media, Zayatoonz, Worthy Publishing, Authentic Publishers and many more. Capitol Christian Distribution is a division of Capitol Christian Music Group, which is part of Universal Music's Capitol Music Group. For more information, visit capitolchristiandistribution.com.
###
For more info on John Waller visit the JFH Artists Database.