Come&Live! Joins Steiger International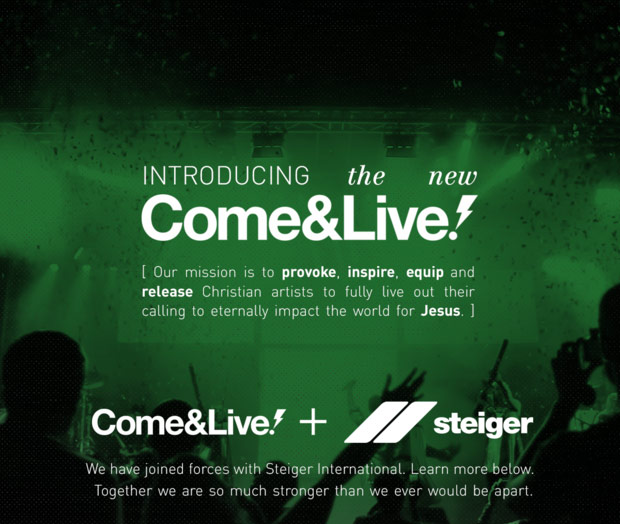 NEWS SOURCE: Come&Live!
November 6, 2015
Record label Come&Live! has been changing things up in recent years. The label that formerly brought listeners artists like The Ember Days and Showbread (among many others), is still representing quite a few artists, including Rivers & Robots and White Collar Sideshow.
This week, the label announced the next phase in what Come&Live! stands for...
Come&Live! is a non-profit missions community that provides musicians and artists the opportunity to live beyond themselves – creatively, openly, transparently and on mission. Our founder, Chad Johnson, was an artist relations executive for a top Christian record label, when in 2005, he collaborated on a four day charity tour called "Come and Live" in partnership with several artists willing to benefit non-profit organizations. Over $80,000 was donated to charity from those four shows. Chad was so moved by the experience of Christian artists living authentically for Jesus, that he felt compelled to leave the record business at the height of his career.

Come&Live! was founded, which began to have a tremendous impact on the Christian music scene. Come&Live!'s online videos alone have been viewed over 2.2 million times in 142 countries and 1.5 million albums were gifted to people in 190 countries.

Starting in 2013, God orchestrated various events to bring Steiger International and Come&Live! together. It soon became apparent that Come&Live! and Steiger's artist-equipping ministry, "Platform" were nearly identical. We felt God calling us to join forces, so we prayerfully agreed that Platform & Come&Live! should become one initiative under Steiger International with the unified vision of training, equipping, and releasing Christian artists to reach those outside of the church.

Our passion is to provoke, inspire, equip, and release Christian artists and creatives to not only share their talent, but live out their faith and inspire others in doing the same. We desire artists of every kind - and in every season to have an eternal kingdom impact through their art and music.

We hope to achieve this goal in three major ways:

Discipleship. Offering training, pastoral care, and strategic mentorship to our artists.
Teach and Training
Story-telling. Celebrating what God is doing though our artists by highlighting the "fruit" of their efforts to our growing community of followers, fans, and supporters.

We believe God is going to use the new Come&Live! as a major voice for using art and music to change the world for Jesus! Watch the video below to learn more about our merger with Steiger International!
###