AUDREY ASSAD RELEASES INHERITANCE FEB. 12
Thousands Pre-Buy Through PledgeMusic,
iTunes Pre-Order Begins Jan. 29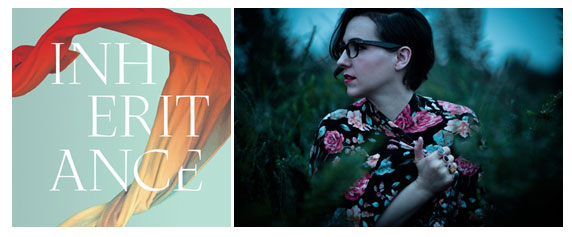 NEWS SOURCE: Hoganson Media
January 7, 2016
Critically lauded singer, songwriter and musician, as well as author, speaker, producer and daughter of a Syrian refugee, Audrey Assad internationally releases her second independent album, Inheritance, Feb 12 on Fortunate Fall Records with Tone Tree Music distribution. A collection of hymns and original songs that both pay homage to her childhood heritage and to her Catholic faith and charismatic spirituality, the highly anticipated album has already been pre-ordered by thousands of fans through a PledgeMusic campaign while the iTunes pre-order campaign launches Jan. 29.
Approaching this collection of songs with a sense of delicate appreciation balanced with artistic integrity, Audrey co-produces Inheritance with Daniel James (Canon Blue, Joy Williams, Among Savages). The resulting album projects a unique soundscape through a cinematic-styled approach featuring lush textures and wide, expansive rhythms that allow her voice to glide effortlessly over a diverse landscape of prayerful contemplation.
"I knew that Inheritance had to be much more than me going into the studio and simply doing pretty renditions of hymns we all know and love," says Audrey. "I couldn't be satisfied with that-I had to make something both bright and dark-colored honestly with my own doubts and weaknesses, so that the Lord who inspired these songs could be even more visible in it. Inheritance is an offering I am humbled, privileged and challenged to make-and I pray it will be a gift to anyone who hears it."
In many ways, a hymns album is a return home for Audrey who grew up learning to sing in a Plymouth Brethren community. "I was raised in a church where we didn't use any instruments on Sunday mornings," Audrey notes. "I learned to sing there, from the old hymnbooks, in four-part harmony, with my family and my neighbors. It was multi-generational, it was deep and rich and beautiful, and like most of my favorite worship music, it was steeped in community."
All the songs on Inheritance infuse a modern sensibility with Audrey's influences to form something entirely new. The full Inheritance track listing follows:
01) Ubi Caritas
02) Holy, Holy, Holy
03) Be Thou My Vision
04) I Wonder As I Wander
05) How Can I Keep From Singing
06) Oh, The Deep, Deep Love Of Jesus
07) Jesus' Blood Never Failed Me yet
08) New Every Morning
09) It Is Well With My Soul
10) Even Unto Death
11) Abide With Me
* Album cover design by Ben Fehrman-Lee
* Photography by Mary Caroline Russell
About Audrey Assad:
Lauded by the New York Times, multiple Dove Award nominee and iTunes Christian Breakthrough Album of the Year recipient (The House You're Building, 2010) Audrey Assad releases music she calls "soundtracks for prayer" on Fortunate Fall Records, which she co-owns with her husband, William G Price III. In addition to her own albums, Audrey has written songs for Matt Maher, Christy Nockels, Brett Younker, Sarah Hart, Meredith Andrews and others, and is featured on Chris Tomlin's RIAA certified Gold record, Glory in the Highest (2009). Having toured with Tenth Avenue North, Matt Maher, Jars of Clay and others, Audrey also speaks about art, faith, womanhood, justice and pornography addiction at Catholic and evangelical events such as Q Ideas, Focus Conferences and more. She has further been featured at an IHOP One Thing conference, Mass at St Patrick's Cathedral, and during the Papal Event "World Meeting of Families." Writing reflective and devotional entries for the likes of Christianity Today, the Magnificat and Blessed is She, more information on Audrey Assad is available at www.audreyassad.com, Facebook, Twitter, Instagram and YouTube.com.
About Tone Tree Music: Established in 2010, Tone Tree Music offers sales, retail marketing, distribution and project management for its artists. Tone Tree Music has represented such acclaimed artists as The Civil Wars, Lindsey Stirling, Holly Williams, Matthew Perryman Jones, Leagues, Mindy Smith, Paper Route, Peter Bradley Adams, Jars of Clay, Ruelle, Nashville Indie Spotlight, Jillian Edwards, The Vespers, The Saint Johns and more. (www.tonetreemusic.com)
###
For more info on Audrey Assad visit the JFH Artists Database.