The City Church Opens Registration for
The WKND Annual Youth Conference
February 26-28, 2016 in Seattle
Line-up Includes Pastor Judah Smith, Kramer Rasmussen, David Kroll, Hillsong Young & Free, and Other Special Guests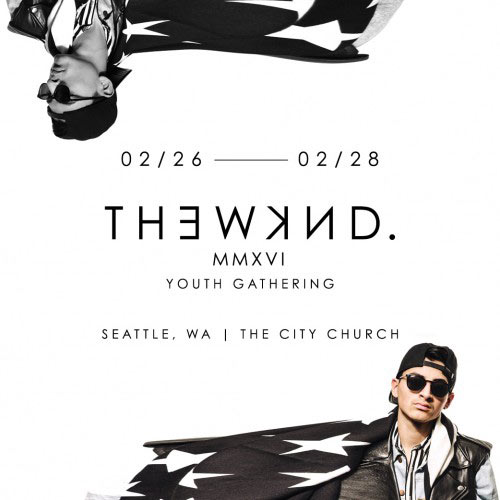 NEWS SOURCE: Providence PR
January 20, 2016
(Nashville, Tenn.) January 20, 2016 - The City Church is gearing up for their highly anticipated The WKND annual youth conference kicking off Friday, February 26 through Sunday, February 28 in Seattle. The WKND is The City Church's annual youth gathering for students ages 12-21. The WKND is a three-day event of music and speakers from around the world sharing a message focused on the good news of Jesus while encouraging and uplifting students to live a life that is bigger than themselves. Registration for The WKND 2016 is open now.
"The WKND is an annual three-day event that The City Church puts on for young people," said Pastor Judah Smith. "Our heart behind The WKND is for anyone and everyone to experience God in a real way."
Speakers and artists lined up for The WKND 2016 include Pastor Judah Smith, Kramer Rasmussen, David Kroll, Hillsong Young & Free, and other special guests. Stay tuned for more details.
For information on The WKND 2016 and to register, visit: http://thecity.org/thewknd and http://www.premierproductions.com/tour/wknd/seattle-wa.
About The City Church: The City Church is a thriving multi-site church noted for its cultural relevance, commitment to biblical integrity and faith, and love for Jesus. Judah and Chelsea Smith are the Lead Pastors of The City Church in Seattle, Washington. For more information on The City Church, please visit http://thecity.org/.
About Premier Productions: Formed in 1996, Premier Productions is the largest producer of Christian concert events in the nation and the co-founder of the Winter Jam Tour Spectacular, Christian music's largest annual tour! Premier promotes award-winning artists with No. 1 hits such as - TobyMac, Skillet, Casting Crowns, Hillsong Worship, Hillsong UNITED, Lecrae, Bill Gaither & Friends Homecoming, Jesus Culture, Kari Jobe, Matthew West and many more! For more information on Premier Productions, please visit premierproductions.com.
###