Jason Gray to Release Highly Anticipated New Album
"Where The Light Gets In"
June 17th
First Single "Sparrows" Going for Adds at Radio with K-Love Early Add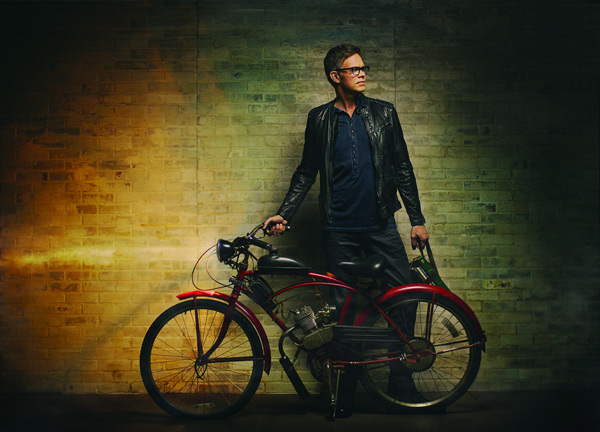 NEWS SOURCE: Bozeman Media
March 23, 2016
Nashville, TN (March 23, 2016) ---- One of Christian music's premiere singer/songwriters, Jason Gray, is scheduled to release his new studio album, Where The Light Gets In, June 17th. Gray worked with nine high-profile producers on the project, including Jason Ingram (Chris Tomlin, Matt Maher), Ben Glover (MercyMe, for KING & COUNTRY) and Colby Wedgeworth (Jordan Feliz, Lincoln Brewster). Where The Light Gets In features 12 new songs plus his Top 15 single from 2015, "Glow In The Dark." The first single, "Sparrows," is going for adds at radio on April 1st and already has airplay at two key outlets, K-LOVE and WFRN/South Bend, IN. The full album presents a more hope-centered message than Gray's last three albums and shows God's redemptive presence even in the midst of difficulties.
"My last album was all about grief," says Gray, "and so I wanted to make a statement right at the beginning of this record that it's about hope and that it's got some fun in it too. So I put the pop song 'Learning' at the beginning of the record. I'm usually annoyed by empowerment anthems, which this song is, because I think they can be self-focused and ignore a lot of reality. But in this case I thought, 'I want to tweak the genre to create an empowerment anthem that's based, not on my own power, but on a real confidence in the grace of God.'"
The record's title track, "The Wound is Where the Light Gets In," was co-written with Jars of Clay frontman Dan Haseltine, who is also featured on the song. The tune is a message about suffering and how that can develop into hope even when the worst things happen. Gray has definitely been dealing with devastating issues over the last couple of years that include his stepfather battling cancer, while he and Gray's mom almost lost their home to high medical bills. This followed the 2014 breakup of his marriage and the balancing act of becoming a single dad, while remaining an active touring artist, and providing a stable home for his three sons.
"The subversive irony of the gospel is that if you've gone through depression or divorce or loss or failure or a sickness, you are uniquely equipped to be able to bring mercy to other people going through those same things," explains Gray. "It removes judgment from your life. It removes self-righteousness or misguided opinions. That's what Where the Light Gets In is about. Don't be anxious about the worst thing that happens to you. The message of the resurrection gives hope that even the worst will produce something beautiful in us, and will ultimately help make us who we most want to be."
Gray is sharing his new music with fans on the road as he is winding up his three-month tour with Josh Wilson and JJ Heller that concludes on April 17th. The upcoming summer will include solo tour dates, promotional tours for the new project and festivals that include HopeFest, FaithFest and Bash on the Farm. For more info on Gray visit: www.jasongraymusic.com, www.facebook.com/jasongray, www.twitter.com/jasongraymusic, www.instagram.com/jasongraymusic.
About Jason Gray
Jason Gray is an award-winning songwriter and considered one of the most prolific writers in the Christian music industry. His eagerly awaited new album, Where The Light Gets In, releases early summer and already the first single, "Sparrows," is garnering early radio adds at K-LOVE and WFRN/South Bend, IN. In 2014, Jason Gray delivered his strongest record to date with Love Will Have The Final Word. The project became Gray's and Centricity Music's highest debuting record at that time by entering the Top Ten on Billboard's Christian Albums Chart. The album also gave Gray his first No. 1 AC radio hit, "With Every Act Of Love." Gray's previous two projects, A Way To See In The Dark and Everything Sad Is Coming Untrue, delivered the talented singer/songwriter five Top Five singles in a row with "Nothing Is Wasted" becoming his first No. 1 single at radio. Gray has won two ASCAP Performance Awards for "More Like Falling In Love" (2011) and "Good To Be Alive" (2012). He remains active on the touring circuit by appearing on the high-profile The Bible: Son of God 2014 Tour and sharing the stage with such major artists as Michael W. Smith, Steven Curtis Chapman, Third Day and TobyMac among many others. Gray headlined his With Every Act Of Love Tour in 2014, along with his popular Christmas Stories Tour that had its third annual run last December.
Where The Light Gets In track listing
1. "Learning" (produced by Colby Wedgeworth)
2. "Sparrows" (produced by Jonathan Smith)
3. "I Will Rise Again" (produced by Casey Brown)
4. "Stolen" (produced by Ben Glover)
5. "Resurrection" (produced by Justin Ebach)
6. "More Yours" (produced by Jason Ingram & Paul Mabury)
7. "Death Without A Funeral" (produced by Andy Gullahorn)
8. "The Wound Is Where The Light Gets In" (produced by Justin Ebach)
9. "Where We Go From Here" (produced by Justin Ebach)
10. "Learning To Be Found" (produced by Casey Brown)
11. "Glow In The Dark" (produced by Ben Glover)
12. "Celebrate" (produced by Joshua Silverberg)
13. "Thank You For Everything" (produced by Jonathan Smith)
###
For more info on Jason Gray visit the JFH Artists Database.