THERAPY SESSION, THE NEW ALBUM FROM NF,
IS OUT TODAY
"I Just Wanna Know" Video Premieres On VEVO

Video for "Real" Premieres Today On VEVO

Therapy Session Follows NF's 2015 Debut, Mansion,
Which Entered Top 10 Of Billboard's Rap Albums Chart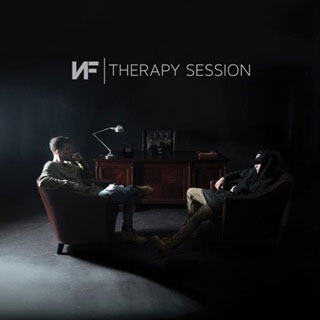 NEWS SOURCE: Capitol Music Group
April 22, 2016
Therapy Session (Capitol Music Group), the new album from hip-hop/alternative artist NF (Nate Feuerstein), is out today and available HERE. Exclusive bundles and a vinyl edition of Therapy Session are available at NF's online store. Therapy Session is the follow-up to the Michigan native's debut album, Mansion, which entered the Top 10 of Billboard's Rap Album chart after its March 2015 release.
The new video "Real," which premiered today on VEVO and can be seen below, features an explosive performance by NF that speaks to the central theme of the album - likening music to therapy, a way to confront the storms that rage inside the mind. The clip was directed by Patrick Tohill, who also lensed the videos for "Intro 2," the first single from Therapy Session, and "I Just Wanna Know" plus videos for four tracks from Mansion.
Therapy Session was produced by Tommee Profitt and David Garcia, who also helmed Mansion. With vulnerable lyrics stemming from a personal story of abuse and loss, Mansion resonated deeply with fans. Album sales have surpassed 123,000 and streams exceed 67 million, with an average of more than one million streams per week in 2016 thus far. NF's videos have racked up more than 22.5 million views cumulatively. The songs of Mansion were widely licensed, with "Intro" featured in the season finale promotional campaign for FOX's "Empire" and EA's "Madden NFL 16" game and soundtrack. "Mansion" was heard in CBS's "Shades of Blue" and "Wake Up" was licensed by ESPN's "Monday Night Football," NBC's "Chicago PD" and VH1's "Love and Hip Hop," among others.
AllMusic.com hailed Mansion as "awesome" and noted, "Coming on strong with the speed of Eminem...NF gets dark and introspective on his debut album, but there's plenty of hope and honor here as well."
Track Listing - Therapy Session
1. Intro 2
2. Therapy Session
3. I Just Wanna Know
4. How Could You Leave Us
5. Breathe
6. Real
7. Oh Lord
8. I Can Feel It
9. Got You On My Mind
10. Grindin' (feat. Marty of Social Club Misfits)
11. Wish You Wouldn't
12. Statement
13. All I Do
14. Lost In The Moment (feat. Jonathan Thulin)
For more information on NF, visit:
http://www.nfrealmusic.com
https://www.facebook.com/nfrealmusic
https://twitter.com/nfrealmusic
https://www.instagram.com/nfrealmusic/
https://www.youtube.com/user/NFVEVO
###
For more info on NF visit the JFH Artists Database.