All About Worship's MY PURSUIT Releases
Globally As AAW Community Gathers
In Tennessee For Conference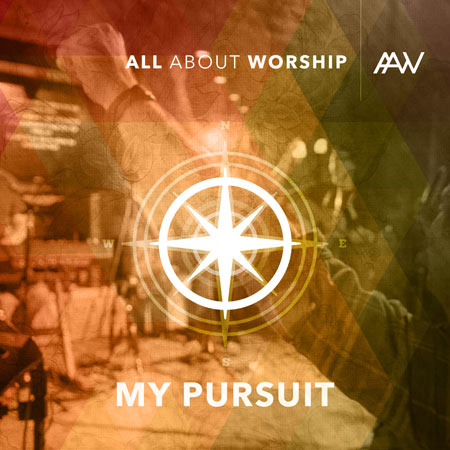 NEWS SOURCE: Hoganson Media
April 29, 2016
My Pursuit, a new 10-track album from the All About Worship community of worship leaders and songwriters, is available globally today through Integrity Music following an exclusive "First Listen" preview offered online by Worship Leader magazine.
All About Worship, which is dedicated to equipping, encouraging and inspiring worship leaders, worship teams and songwriters, is sharing songs from the new album this weekend (April 28-30) at the All About Worship Conference in Franklin, Tennessee. It is the first of two AAW conferences this year, with a second event planned for Phoenix, Arizona November 3-5.
My Pursuit features new songs written and performed by the AAW community composed of individuals rooted within their own local churches, serving on worship teams and in ministry leadership. They include: Michael Farren, Krissy Nordhoff , Dustin Smith, Benji Cowart, Corey Voss, Tony Wood, Scott Ingegneri, Lydia Ingegneri, James Galbraith, Rhyan Shirley, Alisa Turner, Lincoln Davis, Chris Clayton, Amanda Kinner and Aaron Tomberlin.
Album producer, vocalist, songwriter and AAW president Michael Farren says the album was created by worship leaders for worship leaders with one thought in mind: "Can I lead this on Sunday?"
"These are songs that we have wrestled through and prayed for," explains Farren, who is the worship pastor for Franklin's Gateway Church. "They are songs that are prayer conversations... songs that we hope will help worship leaders to be better shepherds and pastors."
Integrity Music and All About Worship have created chord charts and related song resources that are available at WeAreWorship, with a companion songbook to follow at http://www.integritymusicdirect.com.
The All About Worship: My Pursuit track listing with featured worship leaders follows:
1. Lift My Eyes (Featuring Alisa Turner)
2. God Most High (Featuring Michael Farren)
3. I Can't Contain It (Featuring Dustin Smith)
4. Faith Forevermore (Featuring Aaron Tomberlin)
5. Hope Of The Cross (Featuring Benji Cowart & Krissy Nordhoff)
6. Great Is The Lord (Featuring Rhyan Shirley)
7. I Will Call (Featuring Corey Voss & Lydia Ingegneri)
8. My Pursuit (Featuring Benji Cowart)
9. Back To Life (Featuring Amanda Kinner)
10. Royal Blood (Featuring Michael Farren)
Integrity Music is part of the David C Cook family, a nonprofit global resource provider serving the Church with life-transforming materials. Headquartered in Colorado Springs, Colorado, and with offices in Tennessee and the United Kingdom, Integrity is committed to taking songs of substance to the local church and its leaders around the world. Integrity publishes many of the top songs in the Church, including the No. 1 radio hit "We Believe" (Newsboys) as well as church standards "Revelation Song," "Open The Eyes Of My Heart," "Your Great Name" and "I Am Free." Additional information can be found at www.integritymusic.com.
###