THE UNION OF SINNERS AND SAINTS RELEASES 'INDEPENDENCE DAY'
Remake of Whiteheart Classic Hit Features Petra's John Schlitt on Vocals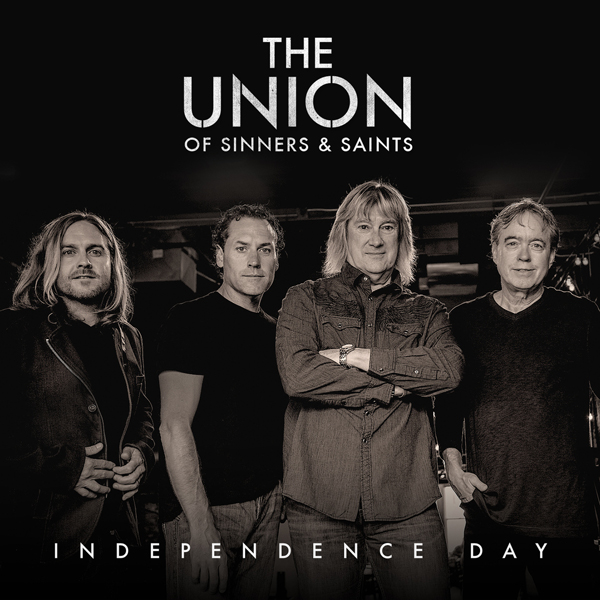 NEWS SOURCE: INNOV8 PR
May 24, 2016
May 24, 2016 (Springdale, Ark.) – The Union of Sinners and Saints, a band featuring Petra's lead singer John Schlitt and Whiteheart founding member Billy Smiley, is bringing back an oldie, but a goodie with a new recording of the No. 1 hit "Independence Day." The remake, originally from Whiteheart's popular "Powerhouse" album, was produced by Smiley and features Schlitt's distinctive vocals. The single, which is being released today, is going for adds at Christian Rock and Christian CHR-formatted radio stations.
Jeff Van Driel, CEO and Founder of Suite 28c Records, commented "Whiteheart and Petra were a big part of what formed my musical taste growing up in a small rural town in Canada and this album combines the best of what made those groups so special. It is truly an honor for Suite 28c to represent The Union of Sinners and Saints and hope that this record reaches many with its message."
"Independence Day" is from the eponymously-titled CD of ten original songs and updated versions of Petra's Beyond Belief and Whiteheart's Indy Day, set for release on June 17 and available for preorder now on iTunes. In addition to Schlitt and Smiley, the band features Whiteheart bassist Anthony Sallee, Jason Fowler, Jon Knox and Jonathan Crone.
Though a new band, The Union of Sinners and Saints combines members from two of the best-selling Christian rock bands in history. Petra and Whiteheart collectively have sold more than 12 million records, charted 25 No. 1 songs and garnered numerous Grammy and Dove Awards. In addition to the musical histories, the band also merges the friendship between Schlitt and Smiley.
"John and I got together last Fall and started writing some songs and discussed both of our histories and journeys," Smiley said. "After seeing the chemistry and friendship that developed, we were excited with the new material we were creating, and started brainstorming about taking this out on the road this year."
"It only made sense to feature Petra and Whiteheart favorites along with some of the new songs we were writing in the studio." said Schlitt. "We realized we had a lot of new ideas swirling around in our heads that we wanted to share, both musically and lyrically, songs that were on our hearts and minds. And yet we also wanted to celebrate with all of our friends and fans some of the memorable songs, moments, and performances that they have been a part of over the years.
"The album and live events," Schlitt said, "will incorporate the kind of artistry and ministry that will remind (fans) of the early years of Christian Rock, but also usher in a new energy and excitement."
The Union of Sinners and Saints currently is touring throughout North America in support of the new music.
For tour dates and more information about The Union of Sinners and Saints, visit the band's website and like them on Facebook.
###
For more info on John Schlitt, visit the JFH Artists Database.
For more info on Whiteheart, visit the JFH Artists Database.