HIGHLANDS WORSHIP RELEASES DEBUT STUDIO ALBUM
"HERE I SURRENDER"
The Church of the Highlands Worship Team Presents Their Second Album Project, Available July 29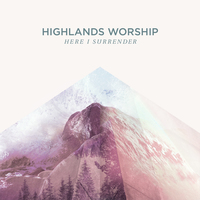 NEWS SOURCE: Frontgate Media
July 21, 2016
BIRMINGHAM, Ala.-- With a passion to encourage congregational worship, create resources for churches, and draw listeners closer to God, Highlands Worship is set to release their debut studio album "Here I Surrender" on July 29. Highlands Worship features the talents of gifted songwriters and vocalists from the Birmingham, Alabama-based Church of the Highlands. Together, this diverse group of individuals strives to bring the local church community together through praising God.
The album includes 13 tracks, all original to Church of the Highlands. Highlands Worship has an incredible team, consisting of 560 active worship team members as well as 30 full or part-time musicians worship staff. On "Here I Surrender," the project features three main vocalists John Larson, Nicole McLean and CJ Blount, and musicians made up from their various worship teams.
"My hope for this album is that people will truly encounter the Living God in a real and authentic way -- and when they do, they are encouraged, empowered, and transformed by His presence," explains McLean. "I am believing that these songs will be more than just music and lyrics, but that they will literally be anthems of truth for people to declare in this generation and for many generations to come."
The album will be first given, in physical form, to the 4,000 pastors who will attend Grow Conference hosted by Church of the Highlands on July 22, 2016. The digital release of the album will launch in tandem with the Motion Conference, one of the largest young adults conference in the nation, on July 29, 2016. At both conferences, members of Highland Worship will be leading the congregations in musical worship. Today, Highlands Worship has also launched a new website, complete with training videos, helps for worship leaders and members of a church technical staff, articles and blogs on church leadership, tutorials for worship team development and other creative resources. The site can be viewed here: http://www.highlandsworship.com.
In 2012, Highlands Worship released their first major project, "Place of Freedom," a live-recorded album that introduced songs and worship anthems that thousands of churches have embraced. Highlands Worship also leads worship at various conferences and events throughout the year to spread their mission.
Based in Birmingham, Alabama, Highlands Worship comes from the worship ministry of Church of the Highlands. Since being founded in 2001, Church of the Highlands, under the leadership of Pastor Chris Hodges, has expanded to 14 multisite campuses with over 40,000 in weekly attendance.
Worship Pastor John Larson shares, "Worship has been one of the central marks of Church of the Highlands since the beginning, this latest collection of Highlands Worship is the heart beat of our community. It s not about us, it's about Jesus - and because of what He has done for us, we have a reason to sing."
http://www.highlandsworship.com
http://www.churchofthehighlands.com
###