TIM TIMMONS DEBUTS NEW 360 MUSIC VIDEO FOR NEW RADIO SINGLE "EVERYWHERE I GO"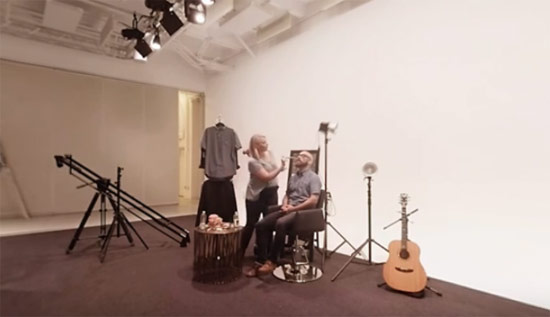 NEWS SOURCE: Merge PR
July 29, 2016
29 July 2016 - Franklin, Tenn - Singer, songwriter and Reunion Records artist Tim Timmons debuts a special new music video today for his new single "Everywhere I Go." The video, filmed in 360 and using a green screen, makes Christian music history as is it the first official music video of its kind filmed in this unique format for the genre. In a 360 video, viewers can see everything at every angle, making it a new experience every time you watch it depending where you look.
Be sure to click on the image above to watch the 360 video. To learn how to watch it in 360 with your smartphone and/or computer, please visit here or click on the image below for the instructional video from Tim Timmons himself accompanied by his children.
"Everywhere we go, Jesus is there," Tim Timmons shares about the song and why he wanted to make a 360 video. "It sounds so simple, but imagine the difference it would make in our lives and in the world around us if we remembered to live that out on a daily basis. The hope for this video is that we would be reminded of that truth 365 days of the year in 360 degrees." The video was filmed at a studio in Nashville where Timmons and the director, Matt Lawrence, gathered 20 friends and folks from Timmons' management team and label. It includes numerous props, costumes, and so much more.
By scrolling all around the video, top to bottom, left to right, the video has everything from pirates sword fighting, people peeking around corners and a Tim Timmons look-alike puppet. "Since 360 videos are relatively new, I was excited about doing something that hadn't been done before," explains Lawrence. "360 videos lend themselves well to showing behind the scenes, so we decided to show behind the scenes of filming a video as the actual music video. You see people doing makeup, changing wardrobe, preparing props and more. We even had a guy in a green suit so that props could move on their own, which is why you see props dancing and floating throughout the video. I've never laughed as hard filming a music video as I did that day!"
The radio single "Everywhere I Go" will go for adds on Friday, July 29. To find out more about Tim Timmons, please visit TimTimmonsMusic.com.


Learn how to watch the "Everywhere I Go" 360 video!
###
For more info on Tim Timmons visit the JFH Artists Database.