Satellites & Sirens Announce Fourth Full Length Album, TANKS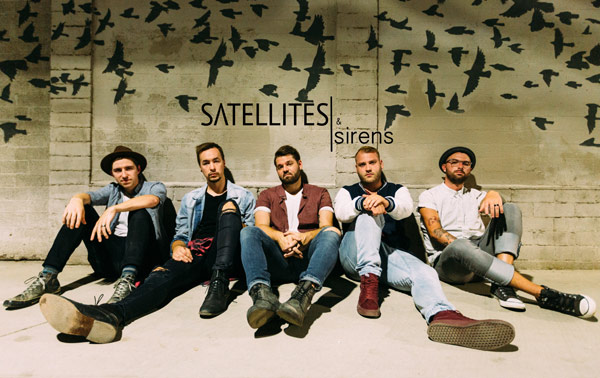 NEWS SOURCE: DREAM Records
August 30, 2016
Los Angeles, CA (August, 2016) -- Satellites & Sirens has announced their plans to release their fourth full length studio album, which will be called TANKS. The title track and lead single goes for adds at radio September 12.
The band has spent over a year writing Tanks, which follows their 2014 album, One Noise. Tanks will be released with DREAM Records, and the band calls it their favorite release yet. "This record is different but familiar, it's fun but challenging, it's roll the windows down and cruise and close the door and think," lead singer Geoff Hunker explained. "I wish you could all have been in the room for the last year as this came together so you could see the time and thought and passion that's been put into this and to see the things God orchestrated to make this record happen."
Satellites & Sirens has been actively sharing album updates on their facebook page, encouraging fans to spread the word. A recent picture shared showed the album's tracklist on a whiteboard, marked to show the progress on each song. Their new album will be released on October 14th on DREAM Records.
You can follow Satellites & Sirens on facebook, twitter and YouTube as they approach the release of TANKS.
ABOUT SATELLITES & SIRENS:
Pop group Satellites & Sirens are no where near to slowing down. After a strong debut on DREAM Records in March, 2014, One Noise and a successful single with Jump Start My Heart, the group is back with their new album, TANKS coming out in October. The 12 song album is chalked full of synth, rock and pop influences with hopeful lyrics.
ABOUT DREAM RECORDS:
DREAM was founded in 2008 to provide artists with a genuine approach to how real artist development should be done. By allowing for a partnership as a business model, Dream's artists empower themselves to develop and carry out a real vision for their lives as they affect other people's lives with their music and message. Incorporating social media, press, radio and touring it's allowing it's artists grow together as a family.
###
For more info on Satellites & Sirens visit the JFH Artists Database.