DEATH THERAPY
RELEASE LYRIC VIDEO
FULL-LENGTH: THE STORM BEFORE THE CALM
SOLID STATE RECORDS 2/24/17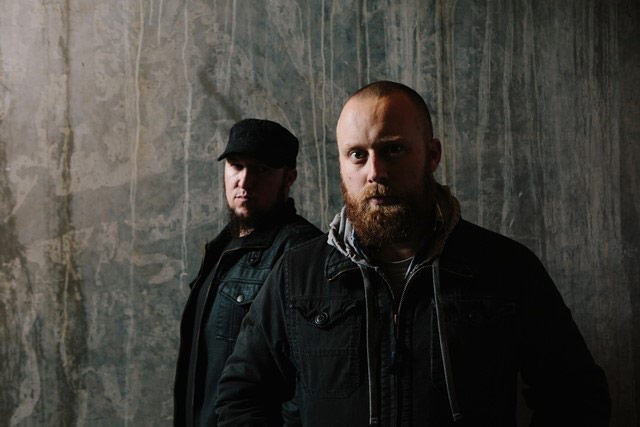 NEWS SOURCE: JG PR
February 11, 2017
Electro-metal duo, Death Therapy has released a new track with lyric video this afternoon. "Slow Dance (With Death)" is a thick-riffed track that intersects robotic 90"s industrial rhythms, crushing metallic riffage and melodic vocals.

A cathartic musical release for vocals/bassist Jason Wisdom he explains the song as inspired by "an actual dark moment in my own soul." The track is taken from the forthcoming debut album The Storm Before The Calm to be released via Solid State Records (Fit For A King, Slient Planet) on 2/24/17.

Check out video to "Slow Dance (With Death) Here:

Death Therapy marks the return of Wisdom, who previously fronted progressive death-core heroes, Becoming The Archetype (BTA) from 1999 to 2011. While his previous band was known for their instrumental acrobatics, Wisdom says that Death Therapy is centered on moods and bass grooves and then expands from there.

The Storm BeforeThe Calm is the result of that new musical path. Speaking on the album title and themes, Wisdom related "In the years since I left BTA, I"ve faced, and still continue to battle, a lot of personal struggles. I feel like a lot of Christian metal bands like to write about the end times Armageddon, and the like--I definitely did when I wrote for BTA--but this time around, what I needed to say was something more personal, more internal and not being afraid to confront things head on, when the solution may not seem clear. I feel like anything else wouldn"t be true to what I"ve been through, and where I"m at right now. Sometimes life sucks. Sometimes I feel depressed. But I still have hope. And I feel like I should be able to say those first two things without sugar coating them."

Death Therapy was very active on the road in 2016, playing in twenty plus different states, and several festivals. Performing as a bass/drums duo, Wisdom uses an intricate live set-up to produce a huge wall of sound. In recent months the group was on the road in support of Project 86 and To Speak Of Wolves.

Pre-Order here: http://smarturl.it/solidstore

More Info: https://www.facebook.com/deaththerapy
###
For more info on Death Therapy visit the JFH Artists Database.