SWITCHFOOT
Teams up with CURE to Raise Money
For Children With Treatable Disabilities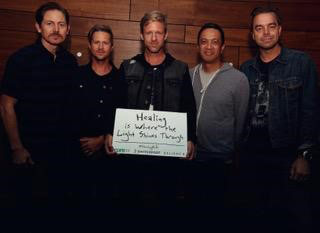 NEWS SOURCE: Big Picture Media
February 13, 2017
San Diego, CA - February 10, 2016 - Multi-platinum selling, Grammy-winning band SWITCHFOOT has teamed up with CURE to help heal kids with treatable disabilities. The organization first joined the band on tour last fall and is out on the road with them again for "Looking For America: Part II." Together they have raised enough funds to provide over 200 surgeries for children in need. Learn more about to contribute and how your donation could affect the life of a child, here: https://youtu.be/i2EiXqj8P-Q
From now until February 18th, anyone who donates to CURE will be entered to win a round trip for two to the Philippines to visit the CURE hospital as well as see SWITCHFOOT live in Manila. To donate, visit: https://goo.gl/iAieuR
On working with CURE, Jerome Fontamillas shares: "I had the incredible honor to go to the Philippines, not to play a show, but to visit a hospital operated by CURE. A hospital that specializes in treating children with orthopedic conditions. I was born in the Philippines and being Filipino made it that much more special to go back to my birth country. During this trip I had some pretty incredible experiences that I will cherish for as long as I live."
SWITCHFOOT is currently on tour with Relient K for "Looking for America: Part II & Looking for Canada." The tour kicked off in Fresno, CA on January 21st and concludes in Rochester, NY on February 18th. For additional information and a full list of upcoming dates, please see below or visit: www.switchfoot.com.
Formed in San Diego in 1996, SWITCHFOOT is Jon Foreman (vocals, guitar), Tim Foreman (bass), Jerome Fontamillas (keyboard, guitar), Drew Shirley (guitar), and Chad Butler (drums). Since their start, the band has sold over 5.7 million copies worldwide of their first nine studio albums (including their 2003 double-platinum breakthrough The Beautiful Letdown and 2009's Grammy Award-winning Hello Hurricane), racked up a string of Alternative radio hit singles, and performed sold-out world tours with over 4 million concert tickets worldwide.
SWITCHFOOT released their latest album, Where The Light Shines Through, on July 8th, 2016 via Vanguard Records. Where The Light Shines Through is the band's tenth album and the first since 2014's highly acclaimed Fading West. The album was self-produced in collaboration with John Fields, who helmed the multi-platinum breakthrough The Beautiful Letdown.
Beyond their career achievements, SWITCHFOOT has also been active in a variety of philanthropic efforts, raising over a million dollars to aid kids in their community through the band's own Bro-Am Foundation, a long-running annual benefit surf contest and concert that's held every summer in Encinitas, CA. $1 of every ticket sale will be donated to SWITCHFOOT's BRO-AM Foundation providing services to underprivileged and disadvantaged youth. They've also maintained a deep commitment to a variety of humanitarian causes, lending their support to such worthy organizations as CURE International, DATA, the ONE Campaign, Habitat for Humanity, Invisible Children, andTo Write Love on Her Arms.
For More Information, Please Visit:
Website: http://www.switchfoot.com/
Facebook: https://www.facebook.com/switchfoot
Twitter: https://twitter.com/switchfoot
Instagram: https://instagram.com/switchfoot
Upcoming Tour Dates:
2/10 - Ottawa, ON @ Algonquin Commons Theatre
2/11 - Portland, ME @ State Theatre
2/12 - New Haven, CT @ College Street Music Hall
2/14 - Knoxville, TN @ The Mill & Mine
2/15 - Louisville, KY @ Mercury Ballroom
2/16 - Cleveland, OH @ House of Blues
2/17 - Lancaster, PA @ American Music Theatre
2/18 - Rochester, NY @ Roberts Wesleyan College - Voller Athletic Center
###
For more info on Switchfoot visit the JFH Artists Database.