JONATHAN FIREY AND HOBBY LOBBY PARTNER TO RELEASE BLESS THIS HOME
Two Disc Instrumental Album Available Exclusively at the Arts and Craft Store's Locations Nationwide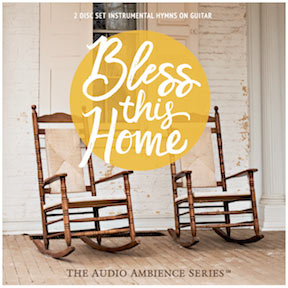 NEWS SOURCE: Springboard Entertainment
April 4, 2017
Los Angeles, CA (April 4, 2017) – Much-acclaimed instrumentalist, Jonathan Firey, has partnered with arts and crafts mega-store, Hobby Lobby, to release a two-disc compilation of acoustic guitar hymns. Available now, Bless this Home is being sold exclusively at Hobby Lobby locations across the country and can be heard via the overhead music system in-store. This is Firey's second instrumental album for the company.

"I have always enjoyed working with Hobby Lobby, and creating Bless this Home has been another great experience with their company. I greatly appreciate them giving me the freedom to create the type of music I love, and making that music available to such a wide audience through their stores."

Filled with Firey's favorite hymns, the track listing includes many well-loved songs such as "What A Friend We Have in Jesus," "Amazing Grace," "'Tis So Sweet To Trust in Jesus," and "Battle Hymn of the Republic," as well as several original songs.

In addition to his instrumental releases, Firey has spent the last ten years recording, touring and ministering with his wife, Allison, as the duo, NewFire. Taking a break from the road to have a quiet season as they focus on raising their two daughters, ages 3 and 4, the couple is currently on staff as music pastors at Valley Christian Fellowship in Solvang, CA. They are also working on Beauty Somehow, a ministry project about sharing life stories – and hope – that is near and dear to their hearts.

ABOUT HOBBY LOBBY
With almost 750 stores, Hobby Lobby is the largest privately owned arts-and-crafts retailer in the world with approximately 32,000 employees and operating in forty-seven states. Headquartered in Oklahoma City, OK, the chain is primarily an arts-and-crafts store but also includes hobbies, picture framing, jewelry making, fabrics, floral and wedding supplies, cards and party ware, baskets, wearable art, home accents and holiday merchandise. What began as a $600 start-up, continues to grow and expand–enabling customers across the nation to live a creative life®.

ABOUT JONATHAN FIREY
A professional studio player and touring musician for over 12 years, Jonathan Firey has spent his career as a member of the Christian band, FFH and country band The Henningsens, among others. He has had the privilege of playing with several notable artists, including: Phil Keaggy, Dennis Jernigan, 33 Miles, Aaron Shust, Wayne Watson, Warren Barfield and Pocket Full of Rocks. He has made television appearances on TBN, Daystar Television, The Harvest Show and more, as well as having the honor of performing on the famed, Grand Ol' Opry. As an instrumentalist, he has recorded and produced various albums for Walmart, Hobby Lobby, Lifeway and Parable Music Stores. In addition to studio work, producing and touring, Firey also plays, performs, records and tours with his wife of 11 years, Allison. The couple currently resides in Solvang, CA and is on staff as music pastors at Valley Christian Fellowship. Firey proudly endorses Elixir Strings and Larrivee Guitars.

For more information about Jonathan Firey, Bless this Home or his partnership with Hobby Lobby, please visit www.newfiremusic.com or follow him on social media at www.facebook.com/fireyguitar.

###