FORMER MISS USA KRISTEN DALTON LAUNCHES
CROWNED: A DAUGHTER GATHERING, A
FAITH-BASED WOMEN'S CONFERENCE TO BE HELD ON
APRIL 21 & 22 IN NEWPORT BEACH, CA
Two-Day Event Features Special Guests "Days of Our Lives" Actress Jen Lilley, Best-Selling Author Sheri Rose Shepherd and Worship by Influence Music feat. Will Matthews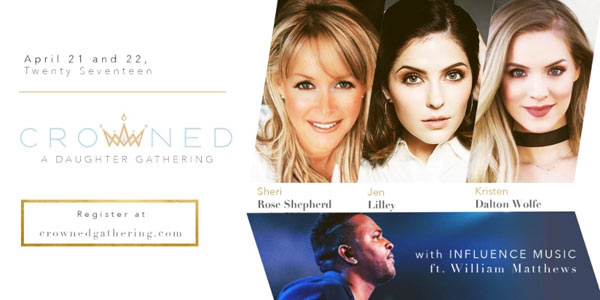 NEWS SOURCE: Sundari PR
April 4, 2017
LOS ANGELES, CALIF. (April 4, 2017) – Former Miss USA Kristen Dalton has launched "Crowned: A Daughter Gathering", a 2-day women's faith-based conference where women of all ages can come together and experience God in a new and powerful way. The event will kick off on April 21 at 7pm with a one-hour LIVE special on the national networks JUCE TV and TBN and will continue on April 22 from 10am-2pm PT at the Hyatt Regency in Newport Beach. Tickets can be purchased here.

The event will feature special guests including best-selling author Sheri Rose Shepherd, known for penning His Princess Devotionals, Days of Our Lives actress Jen Lilley, and worship will be lead by music artist Will Matthews. All of the speakers, including Dalton, will light a fire within the hearts of all who attend and lead them into a fresh encounter with God.

"Many women are experiencing burnout, staleness and stillness in their lives and their relationship with God," explains Dalton. "It's time to get your radiance back. This weekend will be about renewal and refreshment and for every woman to remember who they are as God's daughter through encouragement, worship and fellowship."

Dalton is a current host on the nationally syndicated network JUCE TV, a speaker, actress and model who took home the crown for Miss USA in 2009 and placed in the top 10 for Miss Universe that same year. She is the founder of the inspirational online magazine She Is More: Revealing Your Radiance, which impacts over 400,000 readers each month. Though she wore the Miss USA crown, Dalton's life was changed when she realized her true identity was rooted in being a daughter of the King. She is the author of Rise Up, Princess: 60 Days To Revealing Her Royal Identity and Rise Up With God: The Guided Journal. Her next book, The Sparkle Effect will be announced in the near future.

For more information on Crowned: A Daughter Gathering, please visit: www.crownedgathering.com.

###