TINA CAMPBELL'S "IT'S STILL PERSONAL"
RELEASES TODAY, SEPTEMBER 29
MULTI-CITY FALL US TOUR TO FOLLOW
OCTOBER 18th-NOVEMBER 18th 2017
DATES/CITIES AVAILABLE ON IAMTINACAMPBELL.COM

"TOO HARD NOT TO" VIDEO OUT NOW,
SINGLE CURRENTLY AVAILABLE AT ALL DIGITAL OUTLETS-
FREE DOWNLOAD WITH ALL ALBUM PRE-ORDERS!

FLURRY OF MEDIA APPEARANCES INCLUDE ET,
FOX GOOD DAY NY,
THE REAL, ABC NEWS LIVE FROM THE COUCH, SIRIUSXM, NEWS ONE NOW WITH ROLAND MARTIN, CHRISTIAN BROACASTING NETWORK TAPINGS, HALLMARK CHANNEL'S HOME & FAMILY, GOOD MORNING DALLAS, GOOD DAY TEXAS, ALABAMA LIVE!, NASHVILLE'S "TALK OF THE TOWN," GOOD DAY D.C., WPIX MORNING NEWS, AND MORE…

WETV HIT SERIES "MARY MARY" SIXTH AND FINAL SEASON PREMIERED THURSDAY, SEPTEMBER 28th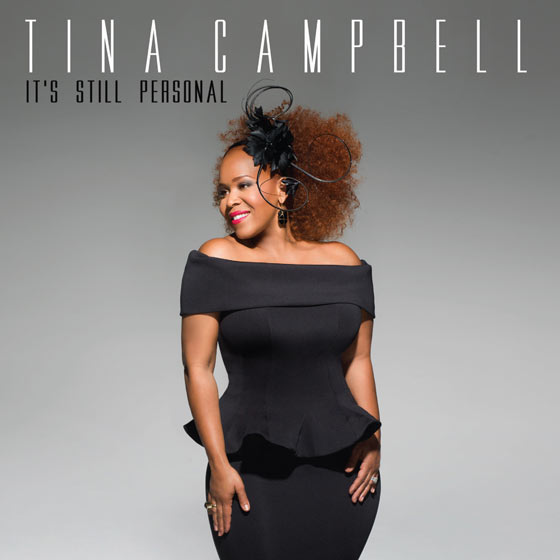 NEWS SOURCE: Ignition PR
September 29, 2017
LA/NY September 29th, 2017: Tina Campbell, the multiple award winning soloist, multi-Grammy® winning recording artist, author, WE tv original series star, and now web series star, who, with sister Erica is one-half of the iconic Gospel duo, Mary Mary, releases her newest solo album It's Still Personal today, September 29th, 2017. The album is a re-working of Tina's 2015 solo debut It's Personal, the NAACP Image Award winner for Outstanding Gospel Album in 2016. It's Still Personal features three new original tracks—the heart felt new single, "Too Hard Not To," plus a rousing soulful Southern Gospel tune, "Evidence," and the rap/hip hop tinged "We Livin."The singer also includes a re-production of the previously recorded track "Woh, Oh, Oh."
Check it out here: http://smarturl.it/ItsStillPersonal
Along with husband Teddy Campbell and Grammy® winning producer Warryn Campbell, among others, Tina set out to create a series of new songs representing multiple musical genres, from the pop sounding, inspirational ballad, "Too Hard Not To," to World Music/Caribbean sounds and Southern Gospel to Hip Hop and Urban Soul, to Praise & Worship, and even Country/Rock, all while shining a white-hot spotlight on her inimitable and powerful vocal range, and her ongoing impact as a songwriter/producer.
The album release tomorrow precedes Tina's "It's Still Personal Tour," kicking off in LA October 18th and running up until just before Thanksgiving. A gathering of top Gospel stars have assembled for the tour, including Grammy® winner Erica Campbell, Grammy® nominated Gospel artist Jekaylin Carr, Grammy® nominees The Walls, Inspirational a cappella group Resound, comedian/singer Jermaine Dolly, hot newcomer Jor'dan Armstrong, spoken word poets Ezekiel Azonwu, David Bowden and Matthew Strange and host Thomasina "Goo Goo" Atkins. Tour dates and ticket purchase info is available at http://iamtinacampbell.com/calendar.
Fans will be treated to a free, live viewing of Tina and husband Teddy's hit web series, "10 Minutes with Teddy and Tina Live" followed by audience Q&A on Saturday mornings in most tour markets, as stand-alone events, and will be streamed live at @iAmTinaCampbell on Instagram, Periscope and Facebook on Saturday mornings.
Check out the newest episode "Forgiving and Forgetting" at https://www.youtube.com/watch?v=2WguAA6dAGA, with all previous episodes available to watch at http://teddyandtina.com/.
The singer unveiled a video for "Too Hard Not To" in an exclusive premiere Friday, August 11th, on Essence.com. Sitting at the top of the home page of the popular web site, Tina's gorgeous video fully enhances the song's lyrics, a message that Tina has lived by and has shared with fans since overcoming a near devastating marital crisis a few years ago.
Watch the video here: https://youtu.be/kUQSSehepBM
The creation and recording of It's Still Personal will be highlighted throughout the upcoming sixth season of Tina's original hit WE tv show, "Mary Mary." The final season of the NAACP Nominated series premieres September 28th, 9PM ET/PT
For the most updated information, please visit:
Instagram: @teddyandtina and @iamtinacampbell
https://www.instagram.com/iAmTinaCampbell/?hl=en
Twitter & Periscope: @IAmTinaCampbell
Website: www.IAmTinaCampbell.com
Web Series "10 Minutes with Teddy and Tina" on
###