FIVE-TIME GRAMMY-NOMINATED ARTIST BRANDON HEATH'S NEW ALBUM
FAITH HOPE LOVE REPEAT AVAILABLE NOW
SPECIAL AMERICAN SIGN LANGUAGE VIDEOS RELEASED OF THE ENTIRE ALBUM

NEWS SOURCE: Merge PR
October 25, 2017
NASHVILLE, TENN. (OCTOBER 25, 2017) Five-time GRAMMY-nominated singer/songwriter Brandon Heath has released his sixth studio album, Faith Hope Love Repeat, available now for download and streaming. The collection of songs on Faith Hope Love Repeat are a reflection of Heath's current season of life including everything from his faith to learning he's going to be a first-time father later this year.
Today Heath released a special video series for each song on the album in American Sign Language featuring ASL Interpreters. This is the first of its kind for an artist to release videos of an entire album in ASL - click here to watch the entire album's playlist. See below for his current radio single "Whole Heart" in the ASL video collection.
"Good music isn't just heard, it's experienced," shares Brandon Heath. "Anyone who knows how a song stirs emotion knows that. I wanted to share my music with an audience that relies on visual communication, like the deaf and hard of hearing community and that's why I'm making the new record, Faith Hope Love Repeat, available in American Sign Language."
Celebrating his new album, Heath attended the 48th Annual GMA Dove Awards last week and presented the award for BLUEGRASS/COUNTRY/ROOTS ALBUM OF THE YEAR to Reba McEntire. In addition to speaking to speaking with on the red carpet and backstage, Heath stopped by NBC's TODAY in Nashville to talk with co-host Kelly Sutton about the new project as well as performed the title track.
Media have stated that Faith Hope Love Repeat "is certain to become a fan favorite," (The Christian Beat) that it "is certainly an album for anyone's collection," (CMAddict) and that it "taps right into the sounds of today, merging both his singer-songwriter side and soulful pop strides" (CCM Magazine). Last month Heath also exclusively revealed with PEOPLE.com that he and his wife were expecting their first child - a girl - in December. Fans can also catch Heath on tour this fall on the Tenth Avenue North "I Have This Hope" tour. See the remaining tour dates here.
Brandon Heath Photo Recap...
Here are images from Brandon Heath's week leading up to his release of Faith Hope Love Repeat, available now.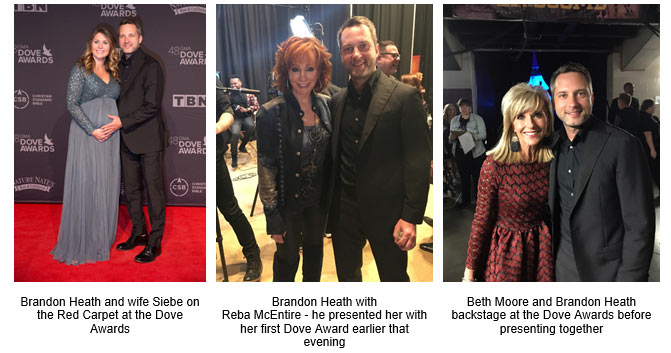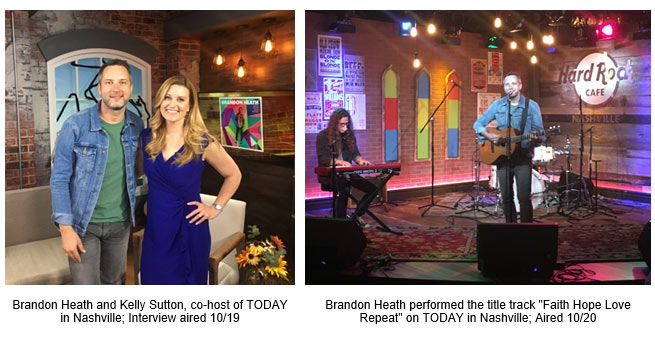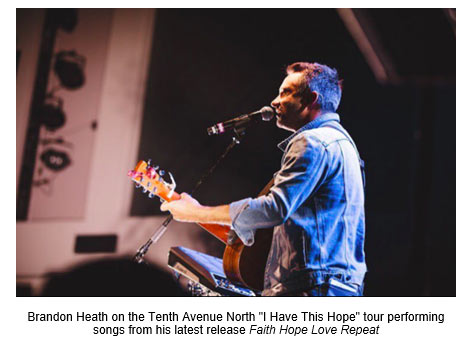 About Brandon Heath: Since Brandon Heath's debut on Reunion Records with Don't Get Comfortable (2006), he has become one of Christian music's most beloved and respected artists and songwriters. Heath has garnered an Emmy Award, five GRAMMY® nominations and an American Music Award nomination. He has been honored as an eight-time GMA Dove Award recipient, including "Male Vocalist of the Year" (2009 and 2010), BMI's 2014 Songwriter of the Year, and earned multiple additional songwriting honors. His award-winning songs and signature vocals reflect a soaring radio career that includes top hits "I'm Not Who I Was," "Wait and See," the 2009 GMA Dove Award-winning Song of the Year and RIAA Platinum certified single "Give Me Your Eyes," the eight-week chart topper "Your Love," "The Light In Me," and many others.
Heath first began writing at age 13. His artistry and ability to connect with audiences have compelled countless media outlets across the nation to platform his story and music. Highlights include coverage in The New York Times, Billboard, The Wall Street Journal, Relevant, CBS Evening News and The Discovery Channel.