PROVIDENT DISTRIBUTION RE-SIGNS AND CONTINUES LONGTIME PARTNERSHIP WITH CEDARMONT KIDS
CEDARMONT KIDS: CELBRATING 25 YEARS IN 2018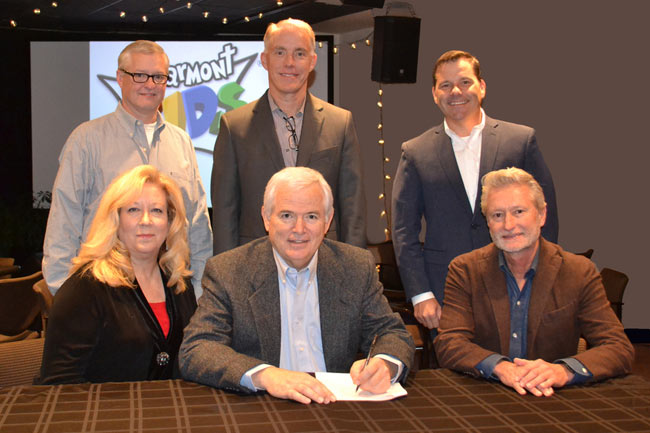 Front Row L –R: Sue Gay, Co-Founder Cedarmont Kids, Mike Gay, Co-Founder Cedarmont Kids, Terry Hemmings – CEO Provident Music Group
Back Row L-R: Scott Knight – VP Business Affairs – Provident Music Group, Darren Elrod – COO – Provident Music Group, Jimmy Wheeler – VP Sales & Distribution – Provident Distribution

NEWS SOURCE: Merge PR
December 13, 2017
NASHVILLE, TENN. (DECEMBER 13, 2018) Provident Distribution celebrates the longstanding partnership with Cedarmont Kids as they re-sign their distribution deal. Selling more than 22 million units, Cedarmont has scanned more units than any other Christian artist and has four titles, Bible Songs, Sunday School Songs, Action Bible Songs, and Toddler Tunes, that have been on the Soundscan charts for over 1,000 consecutive weeks.
"Cedarmont's mission is to provide families with quality Christian music for their children," states Mike Gay, Cedarmont Kids co-founder. "One of our early slogans was,'The Best Songs Never Go Out of Style' and the longevity of these products proves that to be true. As we add to our line of children's products, we're committed to continuing this 'Music With a Message They Can't Outgrow!' The Provident family has a proven record of supporting us in that goal"
Cedarmont products have generated nearly 120 million dollars of retail sales in their storied history. As their only distribution partner in their successful 24 years, Provident Distribution is looking forward to the continued relationship with the No. 2 kids audio label behind Disney.
"Our long-standing partnership with Cedarmont Kids is mutually beneficial," shares Jimmy Wheeler – Vice President Sales & Distribution – Provident Distribution. "We are elated that we have extended our agreement with them and will celebrate 25 years of bringing quality, faith-based children's product to consumers around the world."
Celebrating their 25th Anniversary next year, Cedarmont Kids continues to build on their history of focusing on well-known classic songs and selling their products at affordable prices. In addition to various Dove, CBA and NARM awards, Cedarmont has five albums that are RIAA Platinum Certified, and three albums that are RIAA Gold Certified. Also producing long-form videos, the label group has 11 RIAA Platinum and Gold Certified products including Toddler Tunes that is quintuple Platinum. Growing with the digital age, Cedarmont Kids' products' "Wheels on the Bus" and "Old MacDonald" have combined streams of more than 30 million. And thanks to voice activation devices like Amazon Echo, Cedarmont Kids 100 Singalong Songs For Kids is consistently one of Amazon's Top 100 Prime albums, hitting as high as No. 45 in August 2017.
ABOUT PROVIDENT DISTRIBUTION: Provident Distribution, a division of Sony Music Entertainment, is distribution home to top Christian labels including Provident Label Group, RCA Inspiration, Essential Worship, Fair Trade Services, StowTown Records, Gotee Records, Elevation Worship, New Haven Records and Bridge Music as well as home entertainment companies Provident Films, Twentieth Century Fox, INSP and others. Its distributed projects include titles from Casting Crowns, MercyMe, Matt Maher, Zach Williams, Laura Story, Elevation Worship, Ernie Haase & Signature Sound, and films from The Kendrick Brothers, The Erwin Brothers, The Bible Series among others. For more information, visit TheP.com.
ABOUT CEDARMONT KIDS: Since its founding 24 years ago, Cedarmont Kids has sold over 22 million albums and garnered numerous Platinum and Gold certifications for both its audio and video titles. Cedarmont has built a broad customer base by focusing on well-known classic songs and selling their products at affordable prices. Their diversified catalog now features CDs on five labels: Cedarmont Kids® Classics, Cedarmont Kids Gospel®, Cedarmont Niños®, Cedarmont Baby®, and Cedarmont Worship for Kids.® Fifteen of these titles were Spanish releases. They have also developed a series of eleven DVDs, which are live-action, sing-along versions of the audio recordings. For more information, visit www.cedarmont.com.
###