Phil Madeira to release Providence on April 6
Legendary musician, producer and writer teams up with John Scofield and The Red Dirt Boys on introspective new record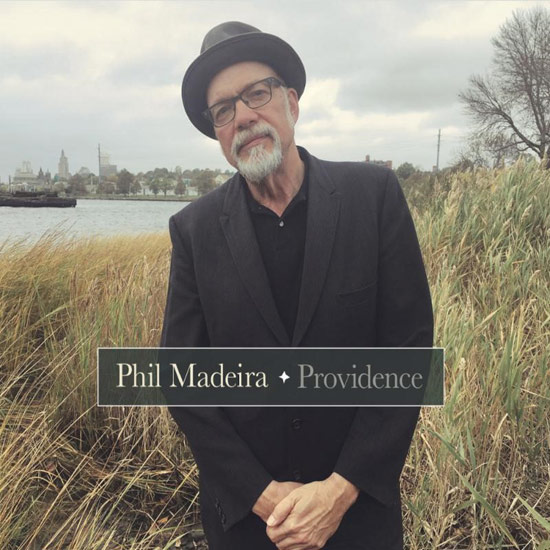 NEWS SOURCE: The Press House
January 30, 2018
Nashville, TN -- Most people who know Phil Madeira know him as one of the most seasoned players in Nashville. Since his arrival in 1983, Madeira has seen success in a plethora of different ways. He has quietly released five solo critically-acclaimed records and has shared the stage with Neil Young, Sheryl Crow, Leon Russell, and Jack White. If you can think of it, Phil Madeira has probably lived it; but that's what most people don't know about Phil Madeira — his own story — and he's finally ready to tell it. Releasing on April 5, Providence is a rare look at the man behind the music, a chance for listeners to get to know Madeira's own stories, after having spent decades helping other songwriters and musicians tell theirs. Today, American Songwriter Magazine premieres "Crescent Park," the first single from Providence. Click here to listen and to read a short essay from Madeira about the song.
Comprised of 10 songs, Providence gives listeners a closer look at Madeira's life and the inner conflict of being raised in New England, yet feeling an undeniable attraction to the music of the South, "It's an album full of love songs to where I'm from and where I've come to." Songs like "Rich Man's Town" reflect on his childhood in Barrington, a suburb of Providence, Rhode Island. Others, like "Dearest Companion" with the words "We're Dixon and Mason, lost in translation. If love ain't frustration, I don't know what is," make the connection between where he was raised and Nashville, his home of over 30 years.
Independently produced, the album is a complete change from anything he's ever done, "I don't know what happened, but I fell in love with piano again." The record straddles his iconic Americana style and jazz, more specifically, a sixties jazz piano style. Made at Nashville's Sound Emporium Studios, the live album features "three quarters" of The Red Dirt Boys, with Chris Donahue on bass, Brian Owens on drums, and Madeira providing lead vocals and piano. Will Kimbrough (also a Red Dirt Boy) lends guitar work on one songs, and jazz icon John Scofield adds guitar to another. Touches of brass and reeds round out the sound, but it all hinges on the trio of Madeira, Donohue, and Owens.
If Madeira has proven anything to the world, it's his ability to bring people together in whatever capacity he's working in. Though he didn't intend on the "feel good" record having one overarching theme, he says the most important message is evident in the last track, "Gothenburg", the Swedish city from which his maternal grandparents immigrated to America from. "It's a reminder that most of us are immigrants. Most of us picked out a city and trusted that the community was going to embrace us, which is what Nashville has been to me." Just like Nashville embraced Phil Madeira, Providence embraces the ultimate universal truth — we all have our differences but are, inherently, the same.
As an instrumentalist, playing electric guitar, lap steel, accordion, dobro, or a Hammond B-3 with icons like Emmylou Harris, Buddy Miller, Sixpence Pence None the Richer, Mavis Staples, and Garth Brooks -- to name a few. As a producer, producing tracks for Keb' Mo', Emmylou, The Civil Wars, Humming People, The Band Perry, and the 2012 release of Americana Paul McCartney covers, Let Us In: Americana. As a songwriter, with a cut list that includes Alison Krauss, Amy Grant, Toby Keith, and The Civil Wars' 2014 Grammy-winning single, "From This Valley."
About Phil Madeira:
The last of three children, Madeira was born in Rhode Island to a Baptist minister and a church pianist. He's lived and breathed music since he can remember, but that didn't always coincide with his religious family. By high school, he had joined the school band and eventually began to write songs and dabble in piano. From then on, Madeira continued on his own path. He left Rhode Island for Taylor University, a conservative, religious school in small town Indiana, to study art. He continued to write and play songs in his free time, but everything changed when he met popular Christian guitar player Phil Keaggy. "When I met Phil, he said, 'I think you're gonna be in my band someday,' and sure enough, three years later, I was playing with this guy." He joined Keaggy's band in 1976, but after recording just one record, the band broke up. Five years later, he made the move to Nashville and was immediately embraced by the Christian world, but always knew that he belonged elsewhere. In the early nineties, Buddy Miller hired him for studio work, which eventually led to him joining Miller's band and finding his place in Americana.
In 2008, Madeira joined Emmylou's famed band "The Red Dirt Boys", a group with alumnus like Ricky Skaggs, Sam Bush, Al Perkins, and Buddy Miller himself. During the first campaign for Barack Obama, he became disheartened with the political climate and approached Emmylou with an idea. "I went to Emmylou and said, "You know? I want to do kind of a Gospel record. I want to do a record that says God loves everybody." Shortly after, the two began working on what would become Mercyland: Hymns for the Rest of Us. The critically-acclaimed album, released in 2012, featured an all-star track listing — beginning with The Civil Wars' "From This Valley". The album featured songs from the likes of Shawn Mullins, Buddy Miller, Carolina Chocolate Drops, Mat Kearney, Amy Stroup, John Scofield, Emmylou, and Madeira himself. The same year, the Americana Association asked Madeira to perform Mercyland at the legendary Downtown Presbyterian Church, as part of the AmericanaFest. A second volume was released in January 2016, that included Americana staples Will Kimborough, The Wood Brothers, John Paul White, and The McCrary Sisters; as well as newcomers like The Lone Bellow and Humming People, among others.
###