MULTI-FOCUSED WORSHIP LEADER, RECORDING ARTIST, COMPOSER AND ACTOR JESSE PRUETT PREPS THE JOURNEY TO RELEASE MARCH 9
Up-and-Coming Musician and Film Actor Has Shared the Stage with Robert De Niro, Bruce Willis, Liam Hemsworth, Dwayne (The Rock) Johnson, Sylvester Stallone, Switchfoot, Smash Mouth, Blink 182, Jason Mraz, P.O.D., and More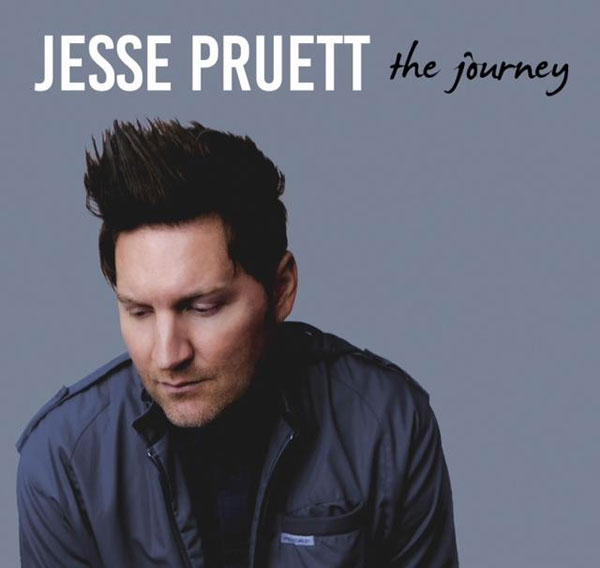 NEWS SOURCE: The M Collective
February 13, 2018
NASHVILLE, Tenn. (February 13, 2018) - It's rare to meet a worship leader who has shared the stage with such varied artists and actors as Robert De Niro, Bruce Willis, Liam Hemsworth, Sylvester Stallone, Switchfoot, Smash Mouth, and P.O.D., but multi-focused worship leader, recording artist, composer and actor Jesse Pruett, who is prepping the release of his latest worship project, The Journey, has a story that is a little different than most. The independent project is slated to release on March 9, 2018 to online retailers, including Amazon and iTunes.

The gifted, multi-talented artist was signed to his first record deal right after high school as part of the punk band Gutfiddle, which toured with Blink 182, among other bands. Pruett first cracked the national consciousness in 2000, when he formed the band Parker Theory and caught the attention of Smash Mouth lead vocalist Steve Harwell.
"Someone gave Steve a copy of Parker Theory's debut 5-song EP," Pruett explains. "He liked the music and reached out to me. He helped us get management and a lawyer, and took us out on tour with Smash Mouth."

Opening for Smash Mouth widened the band's exposure and led to a new recording contract and international tours, with opportunities to share the stage with artists including Switchfoot, Jason Mraz, P.O.D., OneRepublic, and others. Parker Theory then appeared in the mixed martial arts film, Never Surrender, which led to a string of 20 film appearances to date for the charismatic Pruett, alongside established actors like Robert De Niro, Sylvester Stallone, Dwayne (The Rock) Johnson, Liam Hemsworth, and John Cusack, as well as six film roles opposite superstar Bruce Willis. It also opened the door for Pruett to expand his influence into the realm of film scoring. He has scored two films, and currently has music credits on 30+ film and television projects.

Although Pruett was raised in church, he acknowledges going his own way and getting lost for a while.
"I lost my way spiritually after high school while I was in the punk band. I was partying a lot and not focusing on my relationship with God," he says. "A lot of great things were happening, but I was destroying myself. In the late 90s, I realized I needed a change. I moved back to my hometown of San Diego, and my uncle took me to church. I was literally in tears, realizing how far I had strayed from my faith. That was the first step. I started going back to church, reading scripture, going to Bible study, and rebuilding my relationship with Jesus. I began surrounding myself with other believers and musicians who loved God."
About 10 years after Pruett rededicated his life to Christ, he and his family were living in Arizona, where he was working on a film score. One day, a friend mentioned that a church in Lake Havasu City, where both Pruett and his wife Valerie had gone to high school, needed a worship leader.
Pruett met with Lake Havasu City's Calvary Baptist Church (now one of the fastest growing churches in America, according to Outreach Magazine) about the position, but he and Valerie were planning to move back to California at the time.
"Valerie and I were not planning on moving back to Lake Havasu City," Pruett remembers. "But they asked me to to help them out while they were in transition. I agreed, and within a month, I realized it was where God was calling our family to serve. Six years ago, I joined the church staff as a worship leader. Along the way, I was ordained, and now I serve as the worship arts pastor. God worked it all out, and my family and I are so happy in Lake Havasu City, where we are surrounded by friends and family who encourage us in the Lord."
In 2014, Pruett explored his faith musically in his debut solo CD, Relentless Love. Now he returns with his most powerful worship album to date, The Journey. The 11-song album includes such original songs as "Come to the Throne," "Praise to You," "At the Cross," and "Light the Way," in addition to Pruett's interpretation of such beloved classics as "I Saw the Light," and "This Little Light of Mine."
"My passion has always been to write and record music that inspires others," says Pruett. "Having the opportunity to act and write music for film and television is incredible, but nothing is more fulfilling to me than leading worship and joining with other believers in singing praise to God. My purpose in life is to serve others and bring hope to the world through Jesus Christ."
For more information on Pruett and The Journey, visit jessepruett.com.
About Jesse Pruett:
Worship leader, recording artist, composer, actor, and producer Jesse Pruett was born in San Diego, California. He was signed to his first record deal right out of high school, and formed the indie rock band Parker Theory in the summer of 2000, releasing four albums and two EP's.

His songs have been heard on MTV, VH1, NBC, ABC, The CW and many other TV shows, movies, and radio, and he has shared the stage with artists such as Blink 182, Jason Mraz, Switchfoot, Smash Mouth, P.O.D., OneRepublic, and more.

Also an up-and-coming actor, Pruett has appeared in films alongside such established actors as Robert De Niro, Liam Hemsworth, Dwayne (The Rock) Johnson, Bruce Willis, Sylvester Stallone and John Cusack.

Pruett currently serves as worship arts pastor at Calvary Baptist Church in Lake Havasu City, Arizona, and continues to act, write, record and release music through Parker Theory and other projects.

For more information on Pruett, visit jessepruett.com
###