Jeremy Camp, Matthew West, Rend Collective With Special Guest Koryn Hawthorne To Unite For "Summer Lights Tour" Helmed By Compassion International
Detroit, Chicago, Kansas City, Baltimore And More On July Routing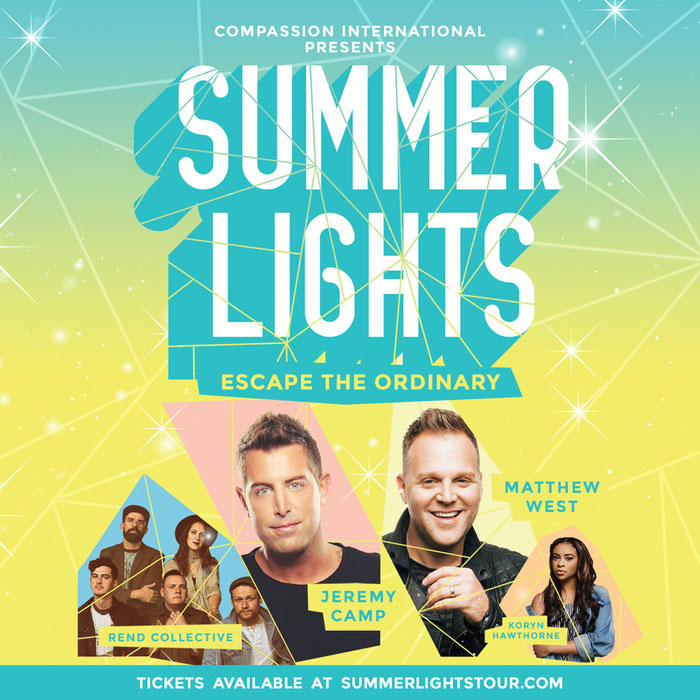 NEWS SOURCE: The M Collective
April 3, 2018
Nashville, Tenn. (Apr. 3, 2018) – Compassion International's "Summer Lights Tour" will find Jeremy Camp, Matthew West, Rend Collective with special guest Koryn Hawthorne trekking the east coast throughout the month of July. Inviting fans to escape the ordinary, this marks the second year for the popular tour to visit a mix of venues including amphitheaters and churches in markets such as Detroit, Chicago, Kansas City, Baltimore and more. Pre-order begins tomorrow, Apr. 4 with tickets available nationwide on Apr. 6 at www.summerlightstour.com.
Noted by Billboard as the top solo artist with the most No. 1 songs (Christian Airplay chart), GRAMMY®-nominated singer, songwriter and storyteller Jeremy Camp released The Answer in 2017. 4X GRAMMY® nominee Matthew West just celebrated his most recent chart-topper "Broken Things" from his latest album All In. Irish hailing Rend Collective's latest, Good News, earned the No. 1 spot on Billboard's Christian Chart while claiming No. 1 on UK's Official Christian & Gospel Albums Chart. Koryn Hawthorne's origins are found in The Voice, but the 20 year-old recently signed to RCA Inspiration and already has a No. 1 hot gospel song with "Won't He Do It."
For all current information, visit www.summerlightstour.com.

"Summer Lights Tour" Dates:
* All dates subject to change.

7/12/18 Detroit, MI Bethesda Christian Church

7/13/18 Chicago, IL Centennial Chapel Olivet Nazarene University

7/14/18 Kansas City, MO Providence Medical Center Amphitheater

7/15/18 Murfreesboro, TN *venue to be announced **Jeremy Camp, Rend Collective and Koryn Hawthorne only

7/19/18 Virginia Beach, VA Rock Church

7/20/18 Baltimore, MD UMBC Events Center **Jeremy Camp, Matthew West and Koryn Hawthorne only

7/21/18 Botkins, OH Only Believe Ministries Christian Church

7/22/18 Corbin, KY Corbin Arena

About Compassion International:
Compassion International is a Christian child development organization that works to release children from poverty in Jesus' name. Compassion revolutionized the fight against global poverty by working exclusively with the Church to lift children out of spiritual, economic, social and physical poverty. Compassion partners with more than 7,000 churches in 26 countries to deliver its holistic child development program to over 1.9 million babies, children and young adults. It is the only child sponsorship program to be validated through independent, empirical research. For more information, visit www.compassion.com.

About Jeremy Camp:
Throughout his 15-year career, Capitol CMG artist Jeremy Camp has established himself with landmark accolades. He has sold 4.5 million albums including four RIAA Gold-certified albums, a RIAA Multi-Platinum long-form video and a Gold-certified digital single ("There Will Be A Day"). At radio, Camp is recognized as a staple artist with 38 No. 1 radio hits across all formats spending more than 175 weeks at No. 1 at radio in his career.

His awards and nominations comprise of a GRAMMY®-nominated project, three American Music Award nominations, four ASCAP Songwriter of the Year awards, an ASCAP Song of the Year award, and five GMA Dove Awards including two-time Male Vocalist of the Year and New Artist of the Year awards. Camp was named in Billboard's Christian Artist of the Decade chart (No. 2) as well as five songs listed in the Top 50 Billboard Christian Songs of the Decade.

Adding author to his name, Camp penned his first book and autobiography, I Still Believe (2013, Tyndale). In 2013, Jeremy founded Speaking Louder Ministries, which provides free crusade-style events and comes alongside local churches or missionaries in the countries where the Gospel needs to be heard. Locations of Speaking Louder Ministries' trips so far include Ukraine, Japan, India, Uganda, Guatemala and Kyrgyzstan.

About Matthew West:
Matthew West is a four-time GRAMMY® nominee, a multiple-ASCAP Christian Music Songwriter/Artist of the Year winner and Dove Award recipient, and was awarded an American Music Award (2013), a Billboard Music Award (Top Christian Artist, 2014), a K-LOVE Fan Award (2016), and named Billboard's Hot Christian Songwriter of the Year (2016). West also received a Primetime Emmy® Award nomination for Original Music & Lyrics for "The Heart of Christmas" from the film of the same name. In addition to his own recording career, he has co-hosted the K-LOVE Fan Awards three times and has more than 130 songwriting credits to his name, including cuts by Rascal Flatts, Scotty McCreery, Michael W. Smith, Amy Grant, and Mandisa, among others, and number one cuts by Casting Crowns and Danny Gokey. Selling more than 1.6 million albums to date (TEA), West's discography includes acclaimed releases: All In (2017), Live Forever (2015), GRAMMY-nominated Into The Light (2012), The Story of Your Life (2010), Something to Say (2008), History (2005) and Happy (2003).

Well known for communicating stories through song, Matthew West has received thousands of stories from around the world. His studio album, Live Forever (2015), continued that storytelling theme and debuted at No. 1 on the Billboard Christian Sales Chart. He has obtained numerous No. 1 singles, most recently with "Broken Things," while achieving a record-setting No. 1 for 17 straight weeks at radio with "Hello, My Name Is" and "The Motions" for 15 weeks.

Adding author to his list of accolades, West has written five books to date: Give This Christmas Away, The Story Of Your Life, Forgiveness, Today Is Day One, and his newest release, Hello My Name Is. He is also passionate about providing hope and healing through the power of prayer and story, so along with his father Pastor Joe West he founded popwe, a non-profit ministry helping others to craft, share, and live a more meaningful life. Please visit popwe.org for more information.

About Rend Collective:
Hailing from a small town off the coast of Northern Ireland, Rend Collective (Gareth Gilkeson, Chris Llewellyn, Ali Gilkeson, Patrick Thompson and Stephen Mitchell) wants to be known as a celebration band, worshiping for God's Glory and fame. Since the release of their first album, Organic Family Hymnal, the group's authentic and energetic style of worship has attracted an international audience, with career sales of more than 300,000 albums. The group saw early success as their first ever single "Build Your Kingdom Here," peaked at No. 12 on the National Christian Audience Chart. Their 2014 release The Art of Celebration, charted at No. 1 on the Billboard Christian Albums Chart within the first week of its release. Known for their electric lively worship, the band has been a part of several major tours with top artists such as Chris Tomlin, MercyMe, Kari Jobe, Lecrae and more. The group released critically acclaimed As Family We Go in 2015, followed by, Campfire Christmas Volume 1, their first Christmas record, and Campfire II, both in 2016. Their latest, Good News is now available everywhere.

About Koryn Hawthorne:
Koryn Hawthorne displays a voice and manner much more mature than her 20 years, and before becoming a finalist in The Voice 2015 Competition, she was "a normal teenager" from a small town in Louisiana, singing with a worship group at church, nursing homes, and benefits. Following The Voice, Koryn signed to RCA Inspiration and released her debut self titled EP; which produced the No. 1 single "Wont He Do It." Koryn is thankful for the opportunities God has blessed her with through The Voice, and is not afraid of the hard work required to achieve her dreams because she knows that singing is what she's meant to do.


Stay Connected With "Summer Lights Tour:"
www.summerlightstour.com
Instagram / @summerlightstour
Twitter / @gosummerlights
Facebook / @summerlightstour
Hashtag / #SummerLights2018
###
For more info on Jeremy Camp, visit the JFH Artists Database.
For more info on Matthew West, visit the JFH Artists Database.
For more info on Rend Collective, visit the JFH Artists Database.