MARRIED COUPLE DUO - PRAYTELL - WILL RELEASE SECOND VOLUME OF THEIR CHRISTMAS PROJECT
IT'S ALMOST CHRISTMAS, VOLUME II AVAILABLE NOVEMBER 2ND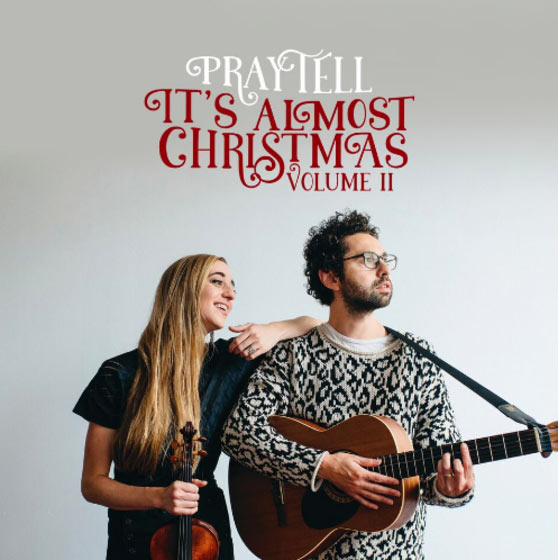 NEWS SOURCE: Merge PR
October 23, 2018
CHICAGO, IL (OCTOBER 23, 2018) Three years after the release of their debut Christmas album, It's Almost Christmas, Volume I, Jon & Valerie Guerra are back to charm your hearts with more warm, nostalgic holiday tunes with Volume II. Since their debut album burst onto the scene in 2015, the married couple have officially become "Praytell," a general market duo that has toured nationally and internationally, while continuing to tour with Jon's solo project, Jon Guerra.
Recorded and produced entirely in Chicago, It's Almost Christmas, Volume II, carries on Praytell's tradition of holiday music as a friends-and-family-affair. The tracks were captured across the city - from the couple's tiny one-bedroom apartment, to their studio downtown next to the clattering L train, to the home studios of friends in scarves gathered around living room microphones - the cacophony of city sirens singing outside, an occasional dog barking, and vintage wood floors creaking under piano benches.
The energy of the city coils through Praytell's new album, from the opening track, "Merry Christmas and a Happy Holiday," featuring languages of refugee populations Valerie has served as a clinical social worker, to the lyrics of Irving Berlin's "I've Got My Love to Keep Me Warm," giving a nod to Chicago's infamously brutal winter temperatures. Another highlight is the duo's signature holiday-mashup-style, this time blending two classics: "The Christmas Song / I'll Be Seeing You."
Accompanied by music videos filmed by Ry Cox in Paris, France this year, It's Almost Christmas, Volume II encapsulates the highs and lows of the holiday season, all while featuring Praytell's signature style of good storytelling, nostalgia, and their recognizable point of view.
"People tell us that It's Almost Christmas, Volume I has become their family's favorite - they listen to it until the CD is worn out," says the couple. "We feel honored to be the soundtrack of such cherished Christmas memories, and hope to continue bringing warmth during the holidays."
Like firewood that has aged and dried in preparation for the holiday hearth fire, the past three years have given a seasoned quality to Praytell's material: by turns crackling, warming and illuminating, full of dreamy vocals and rich harmonies communicating truths both ancient and contemporary. There are fresh originals, jazzy standards, and traditional Christmas hymns sung with an ear toward world events these past three years, as with the little-known lyrics in "It Came Upon a Midnight Clear" that speak of "man at war with man" too consumed by the clamor of conflict to hear the love song the angels are singing over woe and strife.
Tucked in alongside the couple's infectious joy at the wonder and cheer of the holiday season are much needed and insightful acknowledgements of the paradoxical sorrows that can lurk beneath the tinsel and lights. The original "Be Yourself at Christmas" is a love song from Jon & Valerie to all of their friends. "We want them to know that they can be themselves, without filters or pretenses or expectations. Especially at Christmas, life isn't always rosy, and we shouldn't pretend that it is. Holidays can be hard for people, and reflecting on the new year can bring a feeling of sadness for what isn't as well as what is. We wanted a song to give our friends that communicates: 'We accept you! We love you as you are!' After all, there really isn't a better holiday gift than unconditional love."
It's Almost Christmas, Volume II takes listeners on a journey: laughter and tears, joy and longing, new stories and familiar words. It is the much-anticipated continuation of a legacy that began when a young couple in their first year of marriage invited friends over to their tiny apartment to sing Christmas songs. Eight years and two albums later, it feels like the listener is being invited into that living room to share the love, connection, and longing that unites all people during the holiday season.
ABOUT: Praytell is the Chicago-based musical duo of married couple Jon Guerra & Valerie Strattan Guerra. Mixing nostalgic harmonies and poetic lyrics with musical storytelling, Praytell was born in late 2017 to be a home for songs that didn't fit the clean lines of the duo's other musical projects.
Fresh off a national tour with Andrew Belle & a headline Christmas tour (after years opening for Amy Grant and Vince Gill's Christmas at The Ryman), in addition to touring with Jon's solo project, Jon Guerra, Praytell is excited to continue their nationwide tour - during the holidays and beyond.
Valerie has been a clinical social worker in Chicago, working with refugees for the last ten years. Jon is the son of immigrant parents from Cuba and Argentina. Praytell knows as well as anybody that the world doesn't need just another cute folk-pop duo. Love, life, and longing are anything but cute when you get down to it. But, as they say, it's all better together.
https://www.praytellmusic.com/
###
For more info on Jon Guerra and Praytell, visit the JFH Artists Database.