Revived Hymn Reflects Timeless Message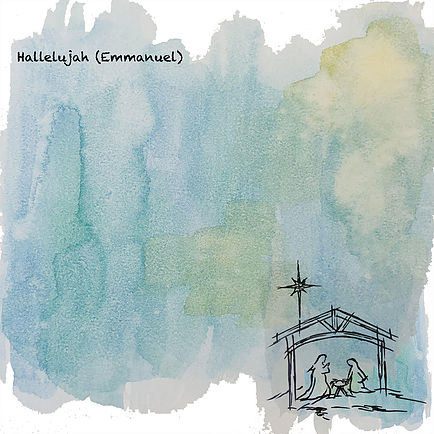 NEWS SOURCE: The Marketing Mixtape
November 27, 2018
While traditional hymns might be considered a rarity in postmodern worship music, "Hallelujah (Emmanuel)" is a reminder of God's unchanging relevance. Simple words without a melody in Fanny Crosby's book of writings for over 100 years, "Hallelujah (Emmanuel)" is a modern take on a traditional hymn, set to music by John Hartley, Jessica Sirls and Zachary Loomis premiered on November 23rd, 2018. After meeting in Nashville, TN, John Hartley (Producer/Composer for artists including Matt Redman, Michael Neale, Leigh Nash), Worship Songwriter, Jessica Sirls, joined Zachary Loomis, a Songwriter and Worship Pastor from Greenville, South Carolina ("Walking Miracle," feat. Mike Donehey of Tenth Avenue North) to help bring the timeless message of the gospel to life.
LISTEN TO "HALLELUJAH (EMMANUEL)"
"I hope this song will be a way for people to connect with the greatest message of all time in a new way," Jessica says. "God is with us: this good news is just as relevant as it was before and will be a thousand years from now."
Although there have been a multitude of hymn books and recordings of Fanny Crosby's songs, over 2,000 of her unpublished works sat in the vaults of Wheaton College; those works have now been made available to a select gathering of key worship songwriters, who are creating a new collection of hymns from the Fanny Crosby catalogue.?
Along with "Hallelujah (Emmanuel)," new hymns have been crafted by other artists/songwriters like Krissy Nordhoff (Your Great Name), Stu G (One Sonic Society), Jon Egan (New Life & Desperation Band), All Sons & Daughters, Michael Farren and countless others; this is the first time these particular lyrics, Fanny's original poetry, have been crafted into a modern worship song.?
A storyteller since childhood, Jessica Sirls began writing songs professionally in 2016, after sensing a call from God to leave her job in journalism to pursue a music career. She began to sense this calling after her first song, "Rest In You," was placed in "The Reason," a film inspired by a book written by her uncle, who is a Christian author; doors continued to open as Jessica became Music Director for the film, soon crossing paths with John Hartley, the producer behind "Hallelujah (Emmanuel)," in Nashville, TN.
When It comes to songwriting, Jessica believes relationships are the first priority, followed closely by the emotional and spiritual connection shared by those with which she writes music. As someone who enjoys celebrating the success of her peers, Jessica values the opportunity to do life with other songwriters and the creative process. Through shared vision, brought forth in fellowship, "Hallelujah (Emmanuel)" is a product of the simple idea of loving God and loving people.
?"I create music that I'm connected to emotionally or spiritually," explains Jessica. "There needs to be a distinct reason for songwriting and an emotional connection to the song and/or with the team of writers behind it."
?Joining songwriters Zach Loomis, Jessica Sirls and John Hartley in this modern-day hymn, "Hallelujah (Emmanuel)" features musicians who have been a part of some of the most well-known bands in Christian music including Matt Gilder (Programming and Keys - Chris Tomlin), Mike Payne (Guitars - Lauren Daigle, Michael W. Smith, Francesca Battistelli, Casting Crowns), Christian Paschall (Drums - Maren Morris, Chris Tomlin, Alicia Keys, Amos Lee) and Matthew Melton (Bass - Chris Tomlin, Rend Collective, David Crowder).
With the holidays just around the corner, Jessica plans to make the move to Nashville from NYC late December, where she will continue collaborating with other musicians to pursue her heart's call to ministry, through music.
For fans of : Keith and Krystin Getty, Phil Wickham, Chris Tomlin, Cory Asbury, Pat Barett, Michael W. Smith
###