CROWDER RELEASES ACOUSTIC VIDEO FOR SONG "GHOST"
Emotive and Powerful Track "Ghost" Featured On Crowder's Acclaimed Album I Know A Ghost Available on Vinyl and at Digital Retailers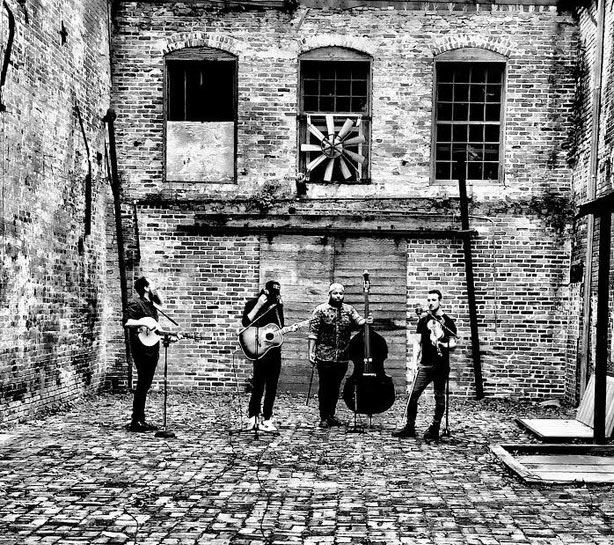 NEWS SOURCE: 1220 Entertainment
December 7, 2018
NASHVILLE, Tenn. (Dec. 7th, 2018) - 3X GRAMMY® Nominated artist Crowder is releasing a new acoustic video for his powerful and emotive song "Ghost" today. Directed by Nate Corrona (DustBrand Films), the video is filmed in black-and-white and offers a stripped down rendition of the track, featuring Crowder and band members, performing the song on stringed instruments. "Ghost" is the closing song on his recently released album
I Know A Ghost
. View the video,
HERE
.
I Know A Ghost
(Capitol Christian Music Group) debuted in the Top 5 on
Billboard
's Christian Albums chart and is now available on vinyl (
HERE
) and digitally across retailers (
HERE
).
"I think anytime you see us as humans continually scratching at something so intently there is usually a foundational truth there in it somewhere. There is a resonance in every culture throughout all of history, I can't list all of the haunted/ghost oriented television shows that play on the History or Discovery Channel, the list of movies is endless; we as humans have always told one another ghost stories. There is something innate in us that is searching for the beyond and it is my belief that we are living in a real live ghost story," said Crowder.
"Ghost" was co-written by Crowder and Ed Cash and is one of sixteen tracks across the album. I Know A Ghost displays the versatility, range and diverse musical palette that Crowder is known for and capable of. With an amalgam of influences including bluegrass, country, electronic-synth, gospel and Southern hip-hop, several of the tracks have been featured by press with rave reviews;
"...a loud, club-worthy banger doubling as a church anthem — one that worships not only at the foot of the cross, but also at the intersection of funk, dance and R&B." ['Wildfire'] - Rolling Stone Country 'Best Songs Of The Week'
"Crowder's twang-ish voice is front and center and the bayou vibe fits right in with his performance, but the instrumentation is worshipful and contemporary…" ['Red Letters'] - Relevant Magazine
"...a powerful collection of Crowder at his very best…" - CCM Magazine, 5 Stars
"The title track is a suitably spooky, yet epic affair, making a great reference to the Holy Spirit as the thing that 'haunts the believer's heart.' ['I Know A Ghost']- Jesus Freak Hideout
"...an extreme level of intensity, forming what feels like an epic movie score to communicate the wildness and mystery of the Holy Spirit." - Jesus Wired
"...a melting pot of an array of diverse sounds from nu-folk, rock, African native chants, country, EDM, bluegrass and pop...an oasis deep enough (with 16 whooping cuts) to drench your thirst in." - Hallels
Crowder recently celebrated the vinyl release of
I Know A Ghost
(11/30) with two performances at Opry at the Ryman. Prior to taking the stage, he received a special surprise, when he was presented with the RIAA GOLD-certified plaque celebrating the success of "Come As You Are," his first-ever #1 radio hit and Gold single of his solo career. For fans in the audience, he performed his widely-embraced song "Red Letters," which is currently Top 20 on
Billboard
's Christian Airplay charts. Featured by
Relevant
,
BREATHECast
and
The Christian Beat
, the
music video for "Red Letters"
has already garnered 800,000+ views since debuting release week. Crowder shared more about the inspiration for the album and the musical influences with an in-depth interview at the
Relevant
podcast, listen
HERE
(40:20).
Kicking off in the Spring of 2019, Crowder will join MercyME (of I CAN ONLY IMAGINE fame) on their "Imagine Nation Tour." For a full list of tour dates and more information, visit
http://www.crowdermusic.com
.
About Crowder:
Over 3 Million records sold and 3 GRAMMY® Nominations. Crowder's first solo album,
Neon Steeple
, debuted at No. 8 on the Billboard 200, was named iTunes 2014 Christian Album of the Year, garnered multiple radio hits, two GRAMMY® nominations, a Grand Ole Opry debut, a Dove Award and multiple nods and numerous K-LOVE Fan Award Nominations.
American Prodigal
, the awaited GRAMMY® nominated follow-up album released in 2016, landing at No. 1 on the Christian & Gospel Album Chart, No. 3 on the Digital Albums Chart, No. 5 on the Top Albums Billboard Chart and No. 12 on the Top 200 Billboard Chart. The song "All My Hope" brought Crowder a No. 1 radio single, in addition to two Top 10 singles prior to that from
American Prodigal
. This record has also earned the solo artist a Dove Award, six Dove Award nominations, and two more K-LOVE Fan Award nominations. As an artist, Crowder continues to challenge preconceived boundaries and engages listeners in a way that is deeply affecting. The brand new album,
I Know A Ghost
, is now available everywhere. Crowder's new music has shown immediate connection as "Red Letters," the first song released to radio, continues to gain support from stations across the country. For more information, visit
http://www.crowdermusic.com
.
###
For more info on Crowder, visit the JFH Artists Database.