BMI HONORS THE LUMINARIES OF GOSPEL MUSIC AT THE 2019 TRAILBLAZERS OF GOSPEL MUSIC AWARDS IN LAS VEGAS
TRAVIS GREENE WINS SONG OF THE YEAR FOR "YOU WAITED"

The Private Luncheon Also Recognized the Top Ten Most Performed Gospel Songs Of 2018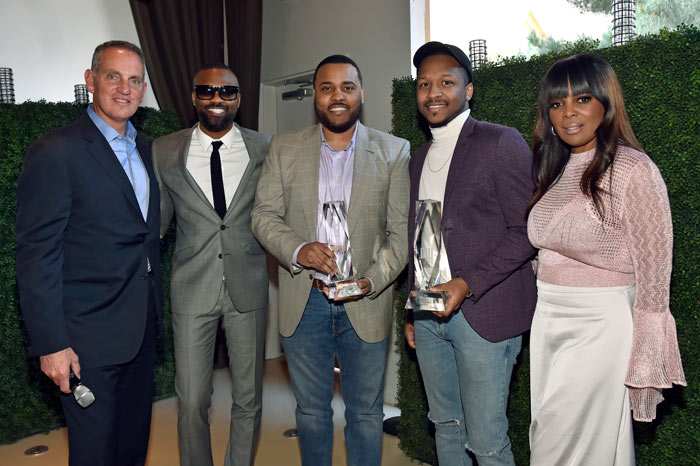 BMI President & CEO Mike O'Neill, Assistant Vice President, Creative, LA, Wardell Malloy and Song of the Year winners Phil Thornton and Norman Gymafi pose with BMI Vice President, Creative, Atlanta, Catherine Brewton at the 2019 BMI Trailblazers of Gospel Music luncheon at La Cave in Las Vegas, Nevada (Photo credit: David Becker/BMI)

NEWS SOURCE: BMI
April 1, 2019
(New York, NY) April 1, 2019 - BMI honored the best and brightest in gospel music at the BMI Trailblazers of Gospel Music luncheon, held on March 28th at La Cave in Las Vegas, Nevada. Multi Stellar Award-winner and two-time GRAMMY nominee singer/songwriter Travis Greene was awarded Song of the Year for his triumphant single "You Waited," which hit number one on Billboard's Hot Gospel Songs chart and earned him the title of Billboard's Gospel AirPlay Artist of the Year. The private ceremony was hosted by BMI President & CEO Mike O'Neill, Vice President, Creative, Atlanta Catherine Brewton and Assistant Vice President, Creative, Los Angeles Wardell Malloy.
The intimate occasion also celebrated the remarkable accomplishments of BMI's gospel community, recognizing the Ten Most Performed Songs of the Year (2018) from its affiliated songwriters. Those songs included "Change Me" written by first-time award-winner Thomas "TC" Clay; "Close" written by Solomon Edwards, Jr., Aaron Lindsey and Marvin Sapp; "Grace" written by Charles Jenkins; "He Promised Me" written by Bebe Winans; "Kept by His Grace" written by first-time award recipient Harry James Johnson; "My World Needs You" written by Kirk Franklin; "Pray & Don't Worry" written by first-time award-winners Branden Anderson and Rufus Johnson, III; "Won't He Do It" written by Makeba Riddick and first-time award recipients Raymond Reginald Murdock, Jr. and Richard Worley Shelton, Jr.; "Work It Out" written by first-time award-winners Stanley G. Green, Jr., George Allen Jordan and T.J. Simon; and "Your Great Name" written and performed by Todd Dulaney.
"BMI is proud to commemorate the artistry and achievements of these incredibly talented songwriters," said Brewton. "Their music and lyrics have been a pillar of strength and encouragement for many worldwide, and they continue to transform lives through their divinely inspired gifts."
ABOUT BMI:
Celebrating over 78 years of service to songwriters, composers, music publishers and businesses, Broadcast Music, Inc.® (BMI®) is a global leader in music rights management, serving as an advocate for the value of music. BMI represents the public performance rights in 14 million musical works created and owned by more than 900,000 songwriters, composers, and music publishers. The Company negotiates music license agreements and distributes the fees it generates as royalties to its affiliated writers and publishers when their songs are performed in public. In 1939, BMI created a groundbreaking open-door policy becoming the only performing rights organization to welcome and represent the creators of blues, jazz, country, and American roots music. Today, the musical compositions in BMI's repertoire, from chart toppers to perennial favorites, span all genres of music and are consistently among the most-performed hits of the year. For additional information and the latest BMI news, visit bmi.com, follow us on Twitter @BMI or stay connected through Broadcast Music, Inc.'s Facebook page. Sign up for BMI's The Weekly™ and receive our e-newsletter every week to stay up to date on all things music.
###