BUILDING 429 RECEIVES ONE OF THE BIGGEST RADIO ADD WEEKS IN HISTORY FOR AN INDEPENDENT ARTIST
"Fear No More" Becomes No. 1 Most Added, Gathers Impressive 35 "Out Of The Box" Adds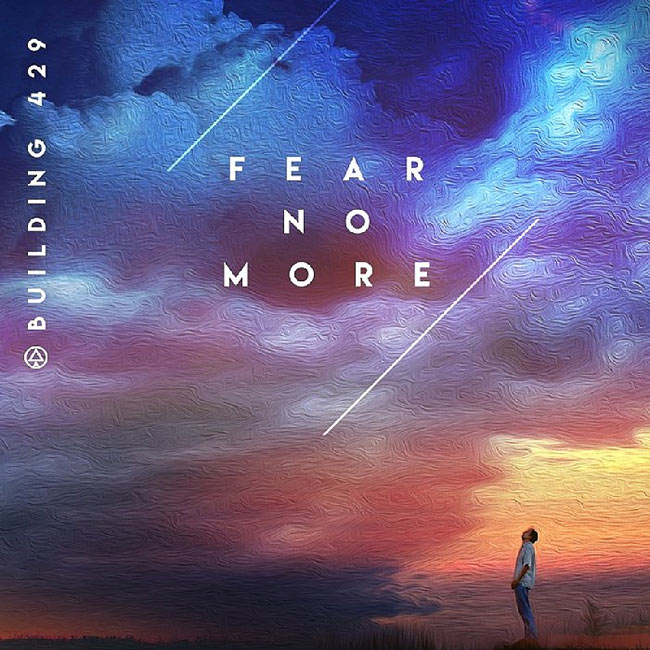 NEWS SOURCE: Hoganson Media
April 10, 2019
GRAMMY® nominated, Dove Award-winning Building 429 has released another coast-to-coast radio hit with its new single "Fear No More." Meant to encourage listeners to hold fast to faith amid life's inevitable setbacks, the song gathered a remarkable 35 adds in its debut week at radio to become one of the biggest independent artist singles to ever hit Christian radio. The song also becomes the No. 1 "Most Added" single at both AC and Hot AC/CHR radio this week.
Widely known for its RIAA Gold-selling "Where I Belong" and more chart-topping No. 1 radio hits like "We Won't Be Shaken," "Listen To The Sound" and "Glory Defined," Building 429's "Fear No More" is the first release from its newly-formed 3rd Wave Music with The Fuel Music distribution. The song is available now at digital retailers and streaming outlets globally from https://the-fuel-music.lnk.to/fearnomore.
Following Billboard premiering Building 429's new label and distribution news along with the single last month, "Fear No More" is being heard now at SiriusXM "The Message," who also premiered the band's performance video of the song. "Fear No More" is further being heard on Family Life Network (Bath, NY), KAMB (Merced, CA), KADI (Springfield, MO), KLJY (St. Louis), WBFJ (Winston Salem, NC), WBYO (Philadelphia), WCLN (Fayetteville, NC), WFRN and WHPZ (South Bend, IN), WJIE (Louisville, KY), WJTL (Lancaster, PA), WLAB (Ft. Wayne, IN) and many more.
"Love that we were among the first to hear Building 429 play their new hit single 'Fear No More' live as 3,500 enthusiastic music fans packed our local outdoor events festival, Chasco Fiesta, which the band headlined in New Port Richey, FL," says Dave Cruse, The Joy-FM Network Music Director. "And now we're inviting our listeners to re-experience the new music as we spin the song for everyone listening on The Joy FM to enjoy."
In this new season for Building 429, members Jason Roy (vocals), Michael Anderson (drums), Jesse Garcia (guitar), Aaron Branch (bass) and Steven Stewart (keyboards), are excited to release more new music and content as often as possible. The band's new model breaks the mold of release schedules that kept fans waiting two to three years between record cycles for new music and instead focuses on releasing songs, videos, remixes and covers every few months.
"The live show has been a point of focus for us," Roy shares, "and the fans have always been incredible supporters of our desire to push the boundaries live. It only stands to reason that we lean into that in the studio as well."
When recording the choir on "Fear No More," the band utilized the talents of Tim Davis, a critically acclaimed music producer known for his vocal work on Glee as well as numerous TV and live events, as well as invited Brooke DeLeary of the 2019 JUNO Award-winning duo, LOVECOLLIDE, to join in on vocals.
For Building 429, anthemic battle cries about living an unshakable faith have been the catalyst to multiple hit singles and playing for millions of fans in sold-out venues internationally. "Fear No More" continues this legacy as the band, one of Christian music's top artists, opened its current headline "Live The Journey Tour" with multiple back-to-back sold-out concerts. The tour features special guests Sanctus Real, Stars Go Dim, Blanca, We Are Vessel and The Color on select dates.
For all the latest tour dates, music and more Building 429 news, visit www.building429.com, Facebook (462,000+ likes), Twitter, Instagram and YouTube (over 15 million views).
About Building 429:
Since the release of its debut album in 2004, Building 429 has garnered widespread popular and critical acclaim, receiving numerous accolades all while delivering lyrically-driven, anthemic hit songs with a consistent message of hope along with high-energy concerts in sold-out venues internationally. The band received a 2013 GRAMMY® nomination for Best Contemporary Christian Music Album for We Won't Be Shaken, which debuted at No.1 on Billboard's Christian Albums chart and launched the title track to No. 1 at radio. Building 429 also received a 2014 and multiple 2012 "Song of the Year" Billboard Music Awards for "We Won't Be Shaken" and "Where I Belong" respectively, two BMI "Song of the Year" Awards ("Where I Belong" in 2013 and "Glory Defined" in 2005), a 2014 "Group of the Year" KLOVE Fan Award nomination and a "Best New Artist" GMA Dove Award in 2005. RIAA-certified gold single, "Where I Belong," further became one of the longest running Christian No. 1's in Billboard's history at 15-weeks and has well over 246-million accumulative audience impressions. The band is also endorsed by Fender Guitars, Gibson Guitars, PRS Guitars, Orange Amps, Ampeg Amps, DW Drums, Guitar Center and many others.
About The Fuel Music:
Established in 2008, The Fuel Music & Management, LLC, is a leading artist management and artist solutions company that independently distributes music internationally. Based in Nashville, TN, the Fuel team brings nearly 70 years of combined music industry experience in record label operations, major label distribution and marketing, and artist management for artists ranging from upstart bands to GRAMMY Award-winning, multi-Platinum artists. More information on the company can be found at www.thefuelmusic.com.
###
For more info on Building 429, visit the JFH Artists Database.