THRIVE WORSHIP ANNOUNCES SIGNING WITH INTEGRITY MUSIC, RELEASES DEBUT ALBUM, A THOUSAND MORE, ON MAY 3;
Pre-Order Launches Today With Instant Grat Single "A Thousand More"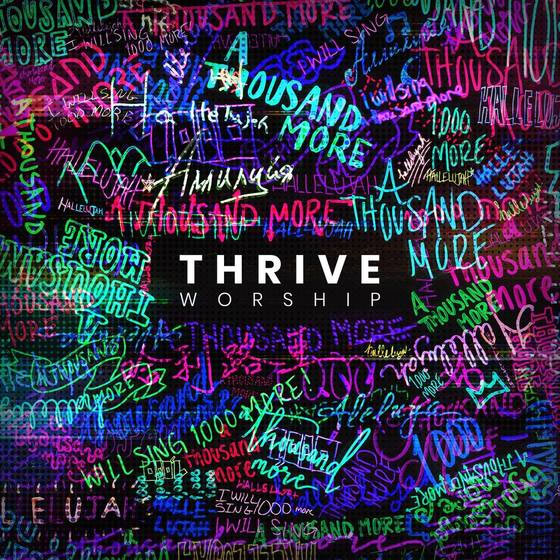 NEWS SOURCE: Merge PR
April 26, 2019
26 April 2019 - Nashville, Tenn - Integrity Music is excited to announce the newest signing to their roster, Thrive Worship. Starting out as the worship team for Bayside Church based in Sacramento, California, Thrive Worship has quickly grown into a sprawling eight-campus worship family whose songs and weekly Sunday night worship services are transforming their northern California community. As a growing and evolving group of diverse singers and musicians, Thrive Worship is writing songs for the church that sing of a hope for the future and love for the Savior.
Now in partnership with Integrity Music, Thrive Worship is eager to share their first recorded project, A Thousand More. Releasing May 3, 2019, the eleven-song album is packed with original worship songs born from the vibrant ministry happening at Bayside Church.
"Every song on this album is telling a piece of a story from our church," shares Corbin Phillips, one of the group's founding leaders, along with Peter Burton and Charmaine Wells. "When you have a lot of people from different backgrounds, you get a lot of different influences in the music from Gospel to pop to congregational. It gives us a lot of space within the boundary lines to create outside of the typical church worship band."
"We want to spread a message of hope," Burton explains. "We want people to feel like they can come and be comfortable, no matter what state of life they're in. Our hope is that these songs would be able to reach someone who's really far from Christ or someone who's been walking with Him for a long time."
Along with their eight-campus weekly services, they also run the Thrive Worship School from their main location. Students from all over the world come to hone their talents and learn to lead in worship, with a goal to take them from talent to impact.
Additionally, their focus on leadership has organically spread into their own community, as many area worship pastors attend their Sunday night services. "Our founding pastor has always been a pastor to pastors," shares Wells. "Because of that, we really love to minister to fellow leaders and build them up. They come here on Sunday nights to fill up their own well so they can go back out to their churches and minister to their people."
The Sunday night service has been such an integral part in developing new songs for the church. In fact with these songs impacting not only the Sunday night service but their entire congregation, many ended up on A Thousand More.
Adrian Thompson, VP of Song & Artist Development, Integrity Music, shares, "We are so excited to have Thrive Worship as part of our family at Integrity Music. Having spent time and getting to know the team, being part of the congregation when they have led worship, and seeing their passion engaging people in worship with songs that reflect their journey with a sound that reflects their culture, I am grateful that we get to present Thrive Worship and their songs on a global scale."
Today, Integrity Music also announces the album's title song is an instant grat for all pre-orders prior to its May 3 release. Find out more
here
, and view the lyric video for "A Thousand More" below.
A Thousand More
track listing:
Breakthrough Is Coming
Ruins (Rebuild My Soul)
A Thousand More
Praise The Name (Ancient Doors)
I Still Believe (Faithful Always)
Like No Other
Greater Things
Nothing Like Your Love
The Reason
What's Left To Be Afraid Of
All The Days
###