Avalon Inspires Crowd at LifeWay's WorshipLife Conference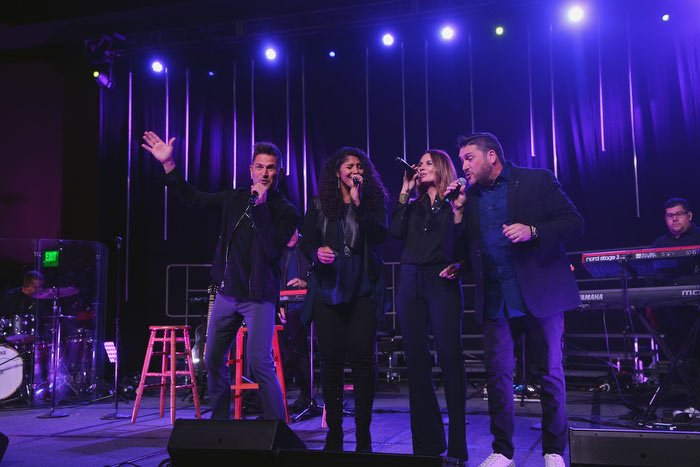 Avalon Performs During the LifeWay WorshipLIfe Conference in Gatlinburg, TN on Tuesday, June 25, 2019
Photos Courtesy of Red Street Records

NEWS SOURCE: Conduit Media
June 27, 2019
GATLINBURG, Tenn – Celebrated vocal group Avalon inspired LifeWay WorshipLife attendees during the evening concert session on Tuesday, June 25, 2019 in Gatlinburg, TN.
The award-winning band premiered new songs - including their new radio single, "Keeper of My Heart" – from their forthcoming Red Street Records project, Called, as well as beloved songs "Adonai," "Testify to Love," and more.
Jay DeMarcus - CEO/Owner of Red Street Records, producer and member of Rascal Flatts – accompanied the group along with Jason Scheff, formerly of the band, Chicago.
The crowd was surprised when Scheff took to the mic, delivering an impromptu set of some classic songs followed by the hymn, "It Is Well."
Avalon is gearing up for the release of their first project in 10 years and a brand new tour. The celebrated group will hit the road this fall in support of their inaugural Red Street Records project, Called.
ABOUT AVALON:
Red Street Records artist, AVALON, has been inspiring lives around the globe for years. When you hear the name AVALON, you may think of one or more of their number one hits like: "Adonai," "Can't Live a Day" or "Testify to Love" – just to name a few. However, there is much more to this dynamic vocal foursome than meets the eye.

The collective desire of every member is to deliver a message of hope and ultimate love, freely offered from Jesus Christ, and to blatantly declare their devotion to Him through the words of every song they sing.

This three time Grammy Nominated, American Music Award and Dove Award winning Christian artist is composed of Greg and Janna Long, Jody McBrayer, and Dani Rocca.

ABOUT RED STREET RECORDS:
Jay DeMarcus – lauded member of Rascal Flatts, GRAMMY® award-winning producer and bassist – launched Red Street Records on October 24, 2019 during a press conference held at the Hutton Hotel's Analog. Along with DeMarcus, industry icon and award-winning songwriter/producer, Don Koch (General Manager), lead the Red Street Records team with a vision for the future. The desire of Red Street Records is to touch lives and spread the Gospel of Jesus Christ through music. To that end, we seek to partner with musicians who share this aim and who strive to achieve it through their innovative and visionary craft.

CONNECT WITH RED STREET RECORDS:
www.redstreetrecords.net
Facebook
Twitter
Instagram
YouTube

CONNECT WITH AVALON:
www.avalonlive.org
Facebook
Instagram
Twitter.com
###
For more info on Avalon, visit the JFH Artists Database.