BETTER WORD, THE LIVE ALBUM FROM LEELAND, RELEASES TODAY
"The Songs On This Live Album Encourage Worshippers To Listen And Respond In A Way That Turns Their Eyes, Hearts, And Minds To Jesus"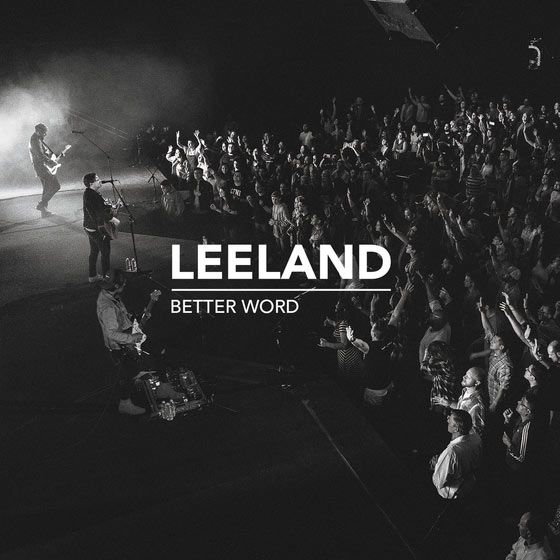 NEWS SOURCE: Merge PR
September 13, 2019
13 September 2019 - Brentwood, Tenn. -
Better Word,
Leeland's first-ever full-length live album, releases today. The 12-song worship experience was captured earlier this year during a gathering of fellow worshipers at Christ For The Nations (CFN) in Dallas, Texas. Listen to the album
here
.
The GRAMMY®-nominated group is comprised of founding frontman Leeland Mooring and fellow singer, songwriter, and worship leader Casey Moore. Beginning to record Better Word, their eighth career project, Mooring shares, "We usually don't start seeing a theme emerge until we're in that mode of finishing songs, but right in the thick of Better Word, we found that all of these songs weren't trying to be anything. They were simple, easy to sing, and the lyrical themes were either about Jesus and His goodness, or songs of faith that challenge us to lift our eyes off of our circumstances and onto the face of Jesus. I really feel like it's a returning back to the things Leeland did at first."
"Drawing from the promises and purposes of Scripture instead of human wisdom, Better Word braids together our scattered minds and wandering hearts around Christ, reminding us why we chose Him in the first place. Leeland speaks God's word in the hopes that we would allow Him to direct our footsteps along a better pathway than we would ever be able to forge ourselves."
"It's a very welcome return of such incredible talent and heart...I appreciate the live and more 'spontaneous' production of Better Word...an overall joyful experience. ' First Love Fire' is a tear-jerker for sure, but it is also an incredible reminder of how I often forget just how much it means to be 'in' Christ and not trying to go alone. Follow that up with 'Lead the Way,' and you have a cup filling experience.
As young veterans in the world of modern worship music, Better Word is bound to further cement Leeland as a primary musical leader in the world's progressing modern worship music movement. But for Mooring, worship is much more than a lyric, or a song, or even the gathering and singing.
"Worship is a combination of alone time with Jesus that is planned, and the not-so-planned moments – all of the in-between times in the day when I'm reminding myself to fix my heart and mind on Him," he explains. "It's incredible how fast singing, saying, and thinking on Him so quickly changes my attitude and perspective."
ABOUT LEELAND
: Leeland came to the forefront of the worship music world in 2004 and debuted their first project, the revolutionary
Sound of Melodies
, in 2006. Fast forward to now with four GRAMMY® nominations and eight GMA Dove Award® nominations under their belts, Leeland has become one of the most important voices in a new generation of worship music. Their lives, ministry, and music are a true extension of their passion to simply worship God personally and in community. For the latest information on Leeland, please visit
Leelandonline.com
###
For more info on Leeland, visit the JFH Artists Database.