SINGER/SONGWRITER RICK LEE JAMES PARTNERS WITH CRW RADIO PROMOTIONS FOR NEW RADIO SPECIAL
"Thunder Radio Special" Spotlights Stories Behind The Songs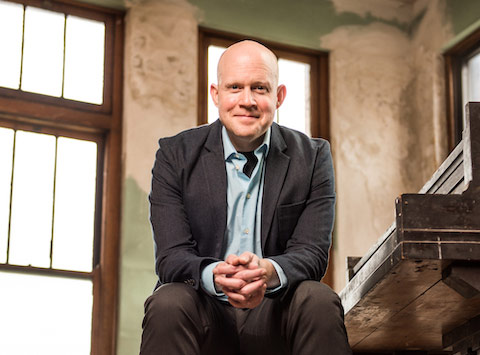 NEWS SOURCE: Turning Point PR
October 8, 2019
NASHVILLE, Tenn.—In partnership with CRW Radio Promotions, singer/songwriter and worship leader Rick Lee James debuts a brand new radio special. The "Thunder Radio Special" is available beginning today, October 8.
The "Thunder Radio Special" can be heard exclusively on James' official YouTube channel or his website. Radio stations interested in airing the "Thunder Radio Special" can contact Kathryn Ambrose at CRW Radio Promotions at kathryn@westarmediagroup.com.
The new radio special highlights five songs from James' critically-acclaimed 13-track album, Thunder, released in February, and features his thoughtful commentary on each selection. "I think part of the reason we often connect so deeply with a song is that the story behind it draws us in and gives us a deeper connection with both the music and the artist," James reflects. "The powerful thing about the format of a documentary-style radio special like this one is that it allows me to share my heart through both the songs and the stories."
Throughout the half-hour special, James shares the story behind the project's title track—a previously unreleased song co-written by the late Rich Mullins. In addition, the singer reveals his thoughts surrounding the deeply personal "The Lord Is Our Shepherd," a song he wrote as a love letter to the multiple children he and his wife have lost to miscarriage. Other selections spotlighted on the radio special include "Whom Have I In Heaven But You (Psalm 73)," "Glory To God The Trinity (Trinity Hymn)" and "Stay."
Just like he creates thought-provoking conversations around the songs he writes and records, James has become a well-known podcaster, sparking dialogue with a variety of well-known artists. He's recorded well over 300 episodes for his official podcast, "Voices In My Head," where he's interviewed leading singer/songwriters, including Andrew Peterson, Sara Groves and Keith Getty, among others. In addition, he recently launched a limited series podcast called "Welcome To The Neighborhood," in memory of the beloved Fred Rogers. Personally inspired by Mister Rogers and the wisdom he shared over his lifetime, James launched a Twitter account @MisterRogersSay in 2017, where he posts quotes from the iconic children's television star. The account is currently averaging 1K new followers each week. For James, it's simply one more way to spread the Gospel message.
"I honestly believe that running the Mister Rogers Quotes account @MisterRogersSay has been one of the best ministries of my life," he shares. "Fred Rogers always reminded us, with his Christlike spirit, that we are people who are dearly loved and that everyone has worth. All these years after he passed away, it's amazing to see the impact on our lives that his words still have, because they were spoken in truth and love."
The first six episodes of the exclusive "Welcome To The Neighborhood" podcast can be heard HERE.
Request the "Thunder Radio Special" at www.crwradiopromotions.com. For more information on Rick Lee James, visit www.rickleejames.com, or follow him on Twitter and Facebook. Listen to his official podcast at www.voicesinmyheadpodcast.com, and get a daily dose of wisdom from Mister Rogers at @MisterRogersSay.
Listen: "Thunder Radio Special"
About Rick Lee James:
Rick Lee James is an acclaimed singer/songwriter, worship leader, author, speaker and podcast host. His recordings include Basement Psalms Live; Hymns, Prayers & Invitations and his latest project, Thunder. James' 2018 hit, "Advent Hymn," remained at #1 on Christian Radio Weekly's "CRW Adds Chart" for seven consecutive weeks. The song has been played on nearly 700 radio stations in the United States, Canada and the United Kingdom.
James' book, Out Of The Depths: A Songwriter's Journey Through The Psalms, is used as a textbook for the National Praise & Worship Institute at Trevecca Nazarene University. He has contributed to Worship Leader magazine, Holiness Today, The Table and Worshiplife.com. His podcast, "Voices In My Head," has featured such leading singer/songwriters as Andrew Peterson, Sara Groves, Keith Getty, Jason Gray, Michael Card, Sandra McCracken, Paul Baloche, and Fernando Ortega. In addition, he hosts the limited series podcast "Welcome To The Neighborhood: A Mister Rogers Tribute Podcast," a complement to the popular Twitter account he runs @MisterRogersSay.
###