HIGHLANDS WORSHIP GLOBALLY RELEASES SHINE HEAVENíS LIGHT: A CHRISTMAS EP NOV. 1
Worship Teamís Songs Become One Of MultiTracksí Most Requested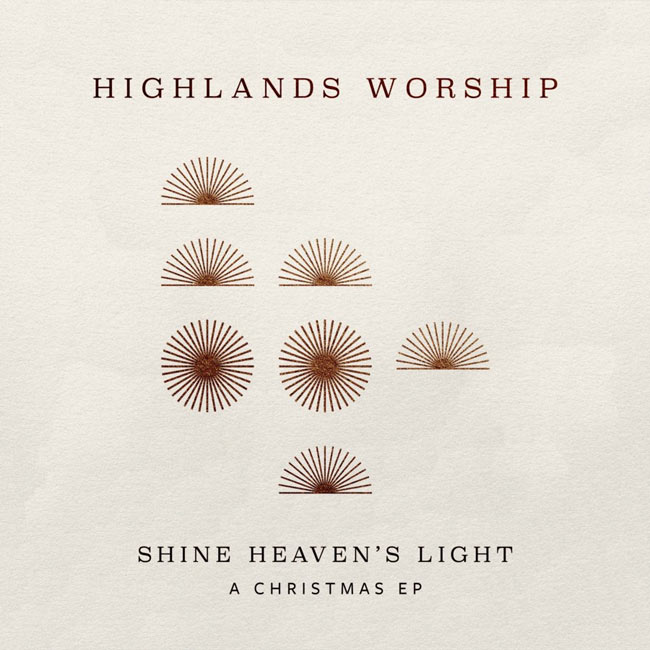 NEWS SOURCE: Hoganson Media
October 22, 2019
With a passion to encourage congregational worship, create resources for churches and draw listeners closer to God, Highlands Worship releases Shine Heaven's Light: A Christmas EP Nov. 1 with global distribution through The Fuel Music. The six-song recording features Highlands Worship's diverse group of talented songwriters and vocalists from the Birmingham, AL-based Church of the Highlands, one of America's largest churches.
The full Shine Heaven's Light production was meticulously recorded live at the church and produced by Highlands Worship's Chris Griffin (who also co-wrote three of the songs) along with mixing by Sam Gibson (Hillsong, Jesus Culture, Chris Tomlin). The recording features both new songs of worship for Christmas and classics re-crafted with ambitious modern interpretations featuring a full string orchestra and a resounding choir of voices.
The inspiring and uniquely percussive "O Come Emmanuel" features three massive sets of drums coming down from the ceiling, being played hanging in midair by three percussionists for the recording and companion video. The song was co-written by Griffin, Nicole McLean, Tyler Wester and Adam Wright and led by vocalists McLean and John Larson, who also leads Highlands Worship's 1,000+ active worship team members and 70+ full or part-time musicians on staff.
Other classics include the soulful, guitar-infused "Joy to the World" led by several Highlands Worship vocalists and the worshipful "Born in Bethlehem" led by GRAMMY Award winning Micah Massey.
Massey also co-wrote and leads the new song "Let There Be Peace" as well as sings "Earth Stood Still" penned by Eric Owyoung (Future of Forestry) while C.J. Blount leads the piano-driven, orchestra-lifted declaration "He Has Come" written by McLean.
The new EP follows Highlands Worship's first Christmas EP, My King Is Here (2013), and the No. 1 SoundScan Praise and Worship album Jesus You Alone that released earlier this year and features tracks like "Song In My Heart," "Who Is Like The Lord" and "How I Need You."
Highlands Worship also recorded these songs from Jesus You Alone live in an acoustic setting at CCLI and during MultiTracks.com Sessions as resources for churches. In fact, Highlands Worship songs have become the top 16 most-requested from worship teams that use MultiTracks' digital resources.
"Worship has been one of the central marks of Church of the Highlands since the beginning and is the heartbeat of our community," shares Larson. "It's not about us, it's about Jesus - and because of what He has done for us, we have a reason to sing."
For more information on Highlands Worship, its new music, chord charts, tutorials and many other creative resources, go to www.HighlandsWorship.com, Spotify, Instagram, Facebook, Twitter and YouTube.
About Highlands Worship:
Based in Birmingham, AL and leading at various conferences and events throughout the year, Highlands Worship is the worship ministry of Church of the Highlands. In 2012, the ministry released its first full-length, live album, Place of Freedom, followed by the acclaimed debut studio album, Here I Surrender (2016), which introduced worship anthems embraced by churches internationally.
Founded in 2001, Church of the Highlands, under the leadership of Pastor Chris Hodges, has expanded to 21 multisite campuses that collectively have over 50,000 people attending weekly. With the accredited Highlands College as well as student, kids, marriage and family and more ministry outreaches, the church purposes "to reach people with the life-giving message of Jesus that they might become fully devoted followers of Christ."
About The Fuel Music:
Established in 2008, The Fuel Music & Management, LLC, is a leading artist management and artist solutions company that independently distributes music internationally. Based in Nashville, TN, the Fuel team brings nearly 70 years of combined music industry experience in record label operations, major label distribution and marketing, and artist management for artists ranging from upstart bands to GRAMMY Award-winning, multi-Platinum artists. More information on the company can be found at www.thefuelmusic.com.
###