GRAVE ROBBER RELEASES ACOUSTIC ALBUM, DRY BONES, NOV. 30
Fort Wayne, IN theatrical punk band
Grave Robber releases "Dry Bones"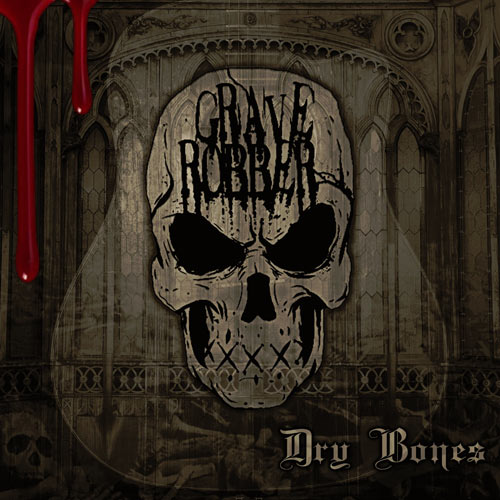 NEWS SOURCE: Gorilla Media
November 26, 2019
(Nashville, TN) November 25th, 2019 - Grave Robber (Rottweiler Records) releases new acoustic album, "Dry Bones," November 30.

Hard at work horrifying the masses since 2005, Grave Robber have been anything but idle. Combining bouncy, catchy percussion with riffs and guitar solos as sharp as Dracula's fangs, Grave Robber's rugged and raunchy releases - "Be Afraid", "Inner Sanctum", Exhumed", "You're All Gonna Die", "Straight To Hell", and "Escaping The Grave" - have garnered these horror rockers well deserved press from acclaimed punk and metal outlets alike for a good reason. Each song by these prolific punks creates an immersive and haunting atmosphere that has listeners so engaged that they are constantly glancing over their shoulders wondering if Grave Robber is coming for them next.

To answer the question of what comes next, one need look no further than Grave Robber's upcoming acoustic offering "Dry Bones", a moody gothic drive down the band's greatest hits via melancholy acoustic guitars, insouciant rhythms, and eerie sounding vocal deliveries. What is even more special is Grave Robber opened this release up to friends of the band to put their own spin on Grave Robber classics done acoustically.

Grave Robber shows no sign of slowing down and similar to a herd of zombies, their fan base continues to expand as Grave Robber's musical message of hope married to their theatrical delivery infects more unsuspecting victims.

Grave Robber is signed to Rottweiler Records.
Release date 11/30/2019
*Pre-orders will receive a digital download link AND cd
https://rottweilerrecords.bigcartel.com/product/grave-robber-dry-bones-cd
###