BRIDGES NASHVILLE RELEASES "JESUS YOU ARE" FROM VENTURE3MEDIA
Declarative, Hopeful Anthem Co-Written By Church Leaders Remotely Recorded Following Tornado, Stolen Equipment, Pandemic Hardships Strike Church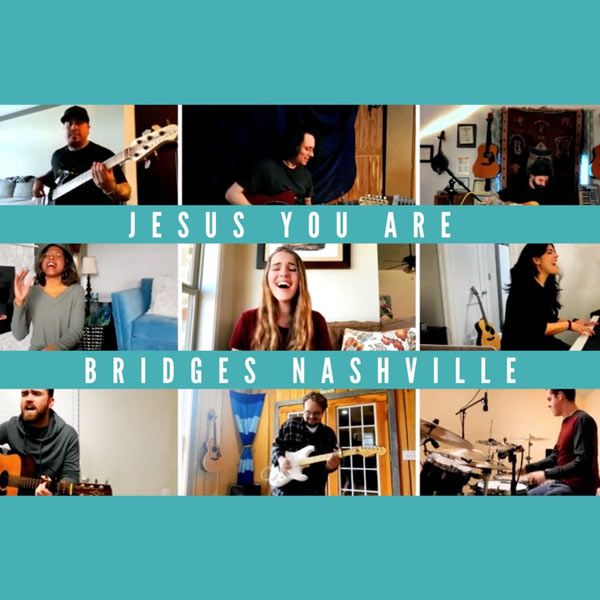 NEWS SOURCE: Hoganson Media
April 10, 2020
Worship team members from downtown Nashville, Tennessee-based Bridges Nashville church spent the week of March 23, 2020 recording video and audio from their respective homes for their new single "Jesus You Are" releasing today (Good Friday, April 10) from Venture3Media (V3M). The song is available now at Apple Music, iTunes, Spotify, Google Play and additional digital and streaming outlets globally. A Bridges Nashville: Jesus You Are Deluxe Versionis also available as exclusives from Apple Music and iTunes.
Following back-to-back hardships faced by the church planted Sept. 2018 by Kurtis Parks in partnership with National Community Church, a multi-site church led by Pastor and NY Times best-selling author Mark Batterson, "Jesus You Are" has been an anthem for the church to sing over the last couple months.
"Worship songs can become altar-moments to God's faithfulness, even in a tough season," shares Parks, Bridges Nashville's lead pastor and co-writer of the song with worship leader Delaney Ramsdell.
Over the last couple months, the church, which gathers at The Listening Room Café in downtown Nashville, had all of its signage, worship and production equipment stolen followed a week later by a devastating tornado that ripped through the areas of Nashville the church serves. Now dealing with the Covid-19 pandemic, Bridges Nashville's worship team remotely gathered online from their sheltering locations across the US to record the song from their homes. "From Texas to Virginia, and all in between, while social distancing, we were unified in worship," shares Parks.
With Travis Flynn editing the resulting iPhone video and Patrick McDermott and Cordell Bay mixing the audio, Bridges Nashville initially shared the "Jesus You Are" recording on its Facebook page April 3, which was quickly viewed by tens-of-thousands and shared hundreds of times.
"We knew that this is a song for right now, for our world and what we are all going through," says Parks in the song story video at www.youtube.com/watch?v=tGmQuY2csxw&feature=youtu.be. "The words of the bridge say that Jesus is the Prince of Peace and the Son of Truth. If there are two things our world needs to be reminded of right now, it's that God is peace in the midst the storm and Jesus is the way, the truth and the life even among confusion and much doubting. I pray that as you listen to this song, it's an inspiration and hope-filling for you today."
Prince of peace, Son of truth
Maker of all things new
Jesus You are, Jesus You are
More of You, less of me
Who is worth everything
Jesus You are, Jesus You are
("Jesus You Are" bridge.)
For all the latest Bridges Nashville news, visit www.bridgesnashville.com, Instagram, Facebook, Twitter and YouTube.
About Bridges Nashville:
A community-driven, Gospel-centered church meeting at The Listening Room Café downtown Nashville, Bridges Nashville combines music and message, teaching the Scriptures through song and focusing on discipleship, relationship and worship. With shorter, TED-style sermons on Sundays, the church engages in mission and community work throughout the week and is dedicated to seeing the residents of urban Nashville discover the love of God, the hope of Christ and the power of the Holy Spirit.
About Kurtis Parks:
Having written over 1,200 songs across several musical genres, Kurtis Parks has been a top 50 American Idol (fourth season) finalist, been featured on the Fox Morning Show, BET's Bobby Jones Gospel Hour, and had his "Forever Changed" song (written for his beloved Virginia Tech community after the April 2007 tragedy) featured on NBC News and CNN. Sharing the stage with such well-known artists as John Mayer, Howie Day, Sanctus Real, Reliant K, Gungor, Ben Folds and many more, Parks' worship choruses are also sung around the world in churches every weekend. Producing over 50 albums for various Christian artists nationwide and serving as worship director from 2010 to 2017 at Washington, DC-based National Community Church (NCC), Parks founded Bridges Nashville church in 2018 where he serves as lead pastor. He also released his first book in 2016, Sound Check, a book on authentic worship, as well as his first Kurtis Parks and Friends kids album, Story Songs from Scripture. Speaking, leading worship and preaching at conferences and festivals nationally, He and his wife Sarah are based in Nashville and have two children, Norah and Moses.
About Venture3Media:
Venture3Media is a global music label and song publisher with sales, marketing, promotional, radio, television and movie expertise. V3M provides distribution platforms across all digital channels, including but not limited to Spotify, Apple Music, iTunes, Amazon, Deezer, Tencent, 7Digital, Google Music, Facebook, Pandora, Tidal, Sirius and Rhapsody. Physical distribution includes online retailers such as Amazon, national retail chains, sub-distributors and internationally through well-established licensee's and distributors.
###