SEVEN-TIME GRAMMY WINNER TOBYMAC SURPRISES FANS WITH 'LOST DEMOS' EP OUT TODAY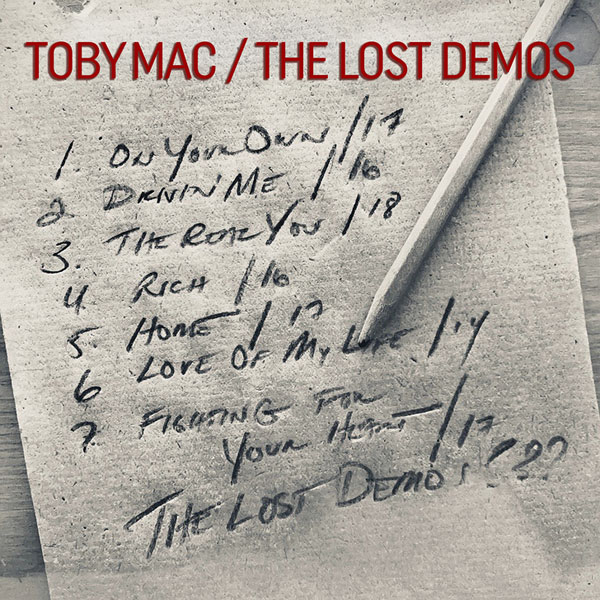 NEWS SOURCE: The M Collective
May 8, 2020
Nashville, TN.... May 8, 2020 - Seven-time GRAMMY winner and multi-platinum artist TobyMac surprised fans today with a very special and unique project, Lost Demos. Available at all DSPs, the collection contains seven never released tracks that he rediscovered while staying home during COVID-19.
"My Lost Demos ep was birthed in the quarantine/safer at home (Covid-19) season," he says "I was digging through old laptops and hard drives and realized there were some beauties that hadn't seen the light of day. Songs I could share that I hadn't for one reason or another. Songs that have a special place in my heart but wound up on the island of "Misfit songs". I hope some of these lost demos find a home in people's headphones and maybe even their hearts. There are many reasons demos end up lost or forgotten. Most would assume they were not quite good enough to make the cut. But many times it may be that they simply don't line up with the overall theme of an album or felt musically out of place within the body of work."
Also new from TobyMac is "See The Light," the newest single off his most recent and GRAMMY® nominated project The Elements.
About the song, he said "The heart of this song is hope, and we can all use a little bit of that right now. This season will pass and we will see the light! I would've never imagined The Elements could be as extreme as what I've experienced the last 6 months of my life...Please remember everyone you know is fighting a battle. Hope hard, love harder. This road IS getting hard...but we will #SeeTheLight."
Last weekend TobyMac invited members of his Diverse City band and his daughter Marlee to participate in a "Separate Altogether Acoustic" performance of the track, which is available here.


About TobyMac:
With more than 12 million units in career sales and a whopping seven GRAMMY® Awards, TobyMac's career continues on the fast track. His 2015 RIAA Certified Gold studio album, THIS IS NOT A TEST garnered a GRAMMY® Award and Billboard Music Award nomination on top of debuting at No. 4 on the Billboard Top 200. Each of his six studio solo projects have achieved Gold certification, a first for any artist in the history of his label, Capitol Christian Music Group. Among those is 2012's EYE ON IT, which debuted atop the Billboard 200, only the third Christian album ever to do so. THE ELEMENTS, his awaited newest collection of music, is available now boasting "Everything," "Scars," "Edge of My Seat," "See The Light" and more alongside the chart-topper, RIAA Gold Certified "I just need U."

Get Connected With TobyMac:
Website // www.tobymac.com
Facebook // www.facebook.com/tobymac
Twitter // www.twitter.com/tobymac
Instagram // www.instagram.com/tobymac
YouTube // www.youtube.com/TobyMacVEVO
###
For more info on TobyMac, visit the JFH Artists Database.